'Real Housewives of Dallas' Season 4 Episode 5: Worst Vacation Ever Recap
Previously on Real Housewives of Dallas, Kary Brittingham and LeeAnne Locken got off on a bad start after the Mexican native accused Locken of being negative the whole time.
During dinner, they wanted to talk privately to work their issues out, but a very intoxicated D'Andra Simmons demanded they sort things out in front of the rest of the ladies.
It turned into a disagreement between Brandi Redmond and Kameron Westcott, which resulted in the California native throwing a napkin and calling Redmond trash.
The word offended Redmond and Stephanie Hollman, who both did not come from money. Did the women make peace during the third day of their vacation in Mexico?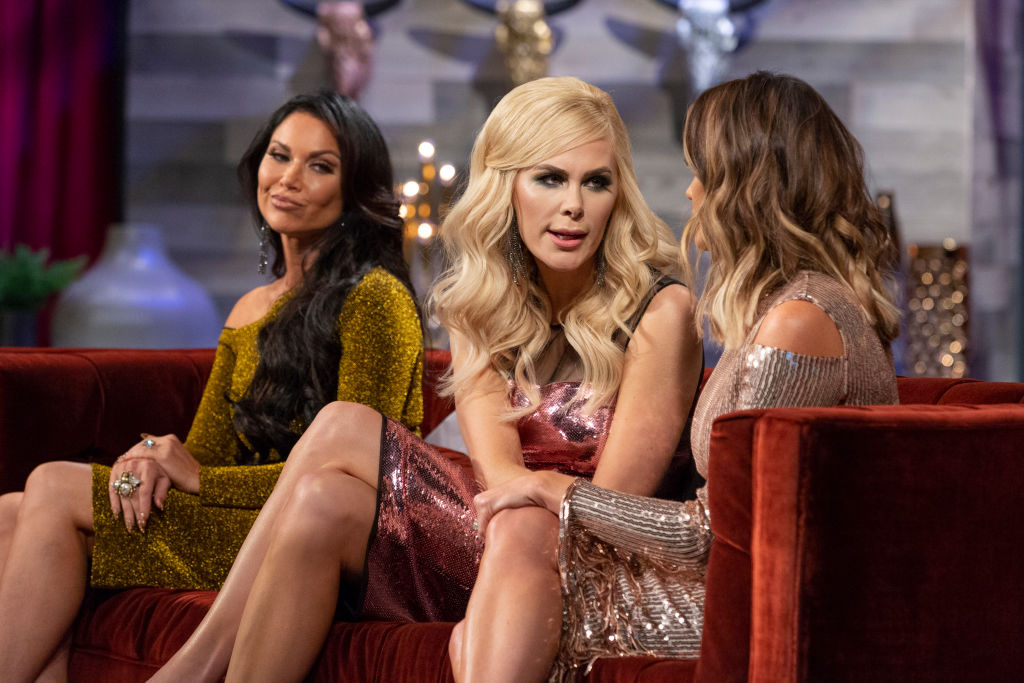 Stephanie Hollman 'poured her heart out' to Kary Brittingham
After not wanting to sleep in the same room as Kameron Westcott because she called Brandi Redmond trash, Stephanie Hollman went to Kary Brittingham's bedroom and opened up to her in the middle of the night.
Westcott noticed Hollman's absence when she woke up and told LeeAnne Locken about it. The pageant beauty tried to explain to Westcott why her calling Redmond "trash" offended her so much.
Still, the California native stuck to her guns and said Redmond was portraying "trashy" behavior by sticking her fingers in her face and using the "f" word.
'RHOD' ladies had a spiritual cleanse in Season 4 Episode 5
The ladies went to the beach where they had a spiritual cleanse in groups of two. First, D'Andra Simmons, Hollman, and Brittingham entered the "womb," or a clay oven, covered in mud where they said what they were grateful for and what they want to improve.
Simmons started by saying that she just turned 50 years old, so she wants to focus on having better relationships with everyone. Hollman followed suit and said that she's grateful for being in Mexico because she wants to let go of the shame that she's on antidepressants.
Finally, Brittingham said she's thankful for her friends and family, but wants to be a better mom to her children. Redmond and Westcott went in the second group, without Locken, because she was annoyed that they walked off and talked without her.
Brandi Redmond and Kameron Westcott made up in 'Real Housewives of Dallas' Season 4 Episode 5
While sitting on the beach and waiting for the spiritual cleanse, Westcott and Remond wanted to talk to their issues out privately. They sat in chairs about ten feet away from an annoyed Locken and Westcott explained she threw the napkin because it seemed like Redmond was coming at her and she wanted to retreat.
The Sparkledog owner began crying, so Locken came over, and Redmond quickly reminded her that they wanted to talk in private. The pageant beauty walked away, hurt, and Redmond opened up to Westcott and explained why the word "trash" hurts her so much.
They both apologized, and Westcott promised never to call her "trash" again while Redmond promised she would never get in her friend's face another time.
The two held hands during the spiritual cleanse and had fun in the ocean washing the mud off them. They even pulled a G-rated prank together where Westcott put flour in a blow dryer.
Brandi Redmond accuses LeeAnne Locken of 'living in the past'
The RHOD ladies then went to a candlelight dinner where Brittingham got married ten years ago but got into a fight on the way because Locken still felt left out.
They tried to quickly make up; however, Redmond asked to talk to Locken privately and work their issues out as well. Their conversation quickly turned into a yelling match after the former NFL cheerleader claimed Locken uses her story to get pity.
Redmond continued, explaining she also came from a rough life, but she moves on unlike Locken who is "living in the past." The last comment infuriated the pageant beauty, and they continued yelling at each other, with both women begging each other to be heard.
Hollman ended up breaking up the two women, and after Redmond spent a few minutes alone by the water, they finished their meal. Will Brandi Redmond and LeeAnne Locken also make peace? Keep watching Real Housewives of Dallas Wednesdays at 9 p.m. EST on Bravo to find out.