'Real Housewives of Orange County's' Gina Kirschenheiter Thinks Emily Simpson's Anxiety is Due to Marital Problems
Emily Simpson of Real Housewives of Orange County has had her share of media attention in recent months. Between her vocal stance on body shaming, partnership with alum Lizzie Rovsek promoting the former RHOC star's swimsuit line Sun Kitten, and rumors of problems in her marriage, Simpson has had more than her share of the spotlight, for better or worse. She recently confided in friend and co-star Gina Kirschenheiter on how the stress is impacting her.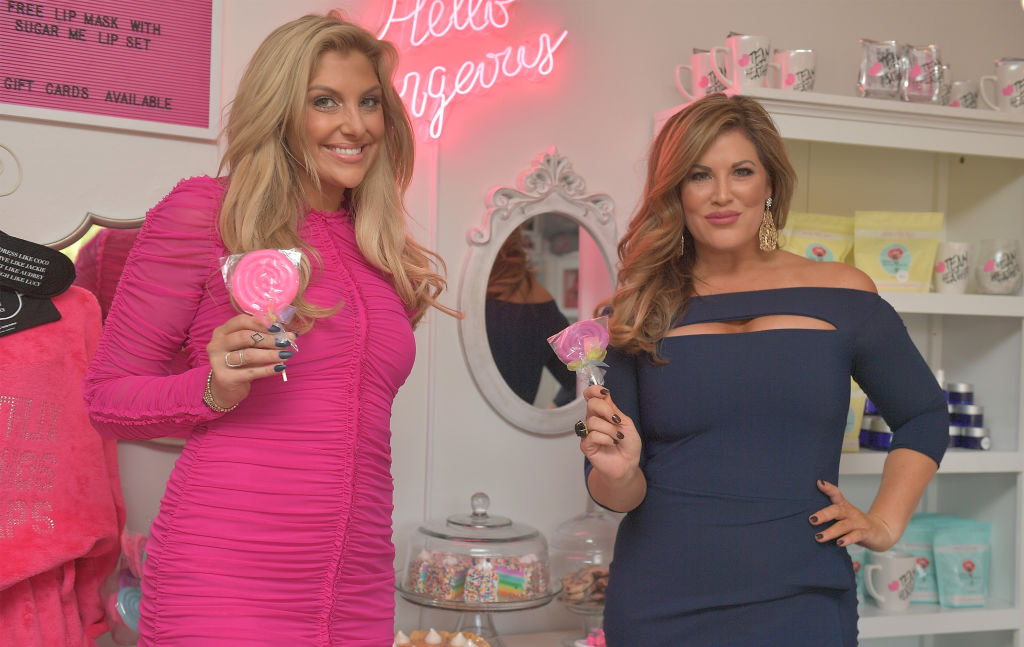 A close friendship
Simpson and Kirschenheiter have formed a close bond since they both joined the RHOC cast last season, according to People. Kirschenheiter is currently in the midst of a tumultuous divorce and custody battle for her three children with her estranged husband Matt. Due to her own challenges, she is a solid confidante for Simpson to share her current concerns.
Noticing a change in Simpson, Kirschenheiter felt the need to confront her. "You're a f***ing mess. I feel that I sense this is something more and you're not addressing it." Kirschenheiter told Simpson.
The RHOC star pointed to Simpson's marriage as the possible catalyst of her stress. "Emily can't pinpoint exactly what's the issue with her and I think that maybe it's because she doesn't really want to," she later said to the audience. "I think maybe there's something going on with Shane."
An anniversary post
Back in March, Simpson and her husband Shane seemed to be the picture of happiness, sharing an Instagram post for their tenth anniversary.
"Even after a decade together, we are still committed to each other, and committed to raising five kids (3 together and my two step-daughters) with heaps of love and laughter and the very best of parenting intentions to guide them to become kind, compassionate, inspiring and educated humans," Simpson captioned the post.
She also praised her husband's commitment and active role as a parent. "Thank you Mr. Simpson for always putting me and our family first after all these years together 😘😘," Simpson wrote. "Your integrity, commitment to family and hands on approach to parenting our children is always to be commended!! Here's to another 10 years!"
Sharing her troubles … somewhat
Simpson, who is a lawyer and mother of three, told Kirschenheiter of the mounting pressure she feels during the August 27 episode of Real Housewives in Orange County. "I just feel so overwhelmed and I feel so much anxiety that I just feel like, every little thing that happens, I can't handle it. I feel like I barely get through each thing I'm supposed to do. I feel like I'm barely being a good mom, I'm barely being a good wife, I'm barely being a good attorney. I'm just hanging on in each aspect of my life," Simpson said to Kirchenheiter, as reported by People. "I'm having an anxiety attack right now. I feel like I can't breathe. I just feel lost right now. I'm just really overwhelmed and I'm really sad right now and I'm kind of acting like a crazy person and I don't know why."
Simpson has kept some of her troubles with husband Shane somewhat quiet from the other women on the show, carefully choosing what she shares. The couple was facing some stress with several contributing factors, such as Shane's absence for studying for the bar exam. Simpson attempted to put some romance and adventure back in their marriage by booking a performance dancing in Las Vegas at a burlesque review, which Shane rejected since he is a practicing Mormon.
Simpson was careful on disclosing her husband's feelings about the getaway to the rest of the cast for fear of him being judged. "He said he wasn't comfortable, he didn't know that he wanted to be there," Simpson said on the episode. "We kind of got into a fight, an argument. It hurt my feelings … It's outside his comfort zone… Shane and I, we're in a difficult situation right now. I'm reluctant to share things about my marriage because I don't want people to jump on a bandwagon of bashing my husband."
Since filming for RHOC has been underway for a few months, fans will have to wait and see how things play out for Simpson and her husband this season.