'The Real Housewives of Potomac:' Candiace Dillard Threw a Knife at Ashley Darby
On the last episode of Real Housewives of Potomac, the ladies came together to celebrate with Monique Samuels as she hosted a rainbow shower. Candiace Dillard also told Gizelle Bryant about a name Samuels allegedly called Katie Rost. And finally, Ashley Darby and Karen Huger shared a spiritual moment that brought them closer together.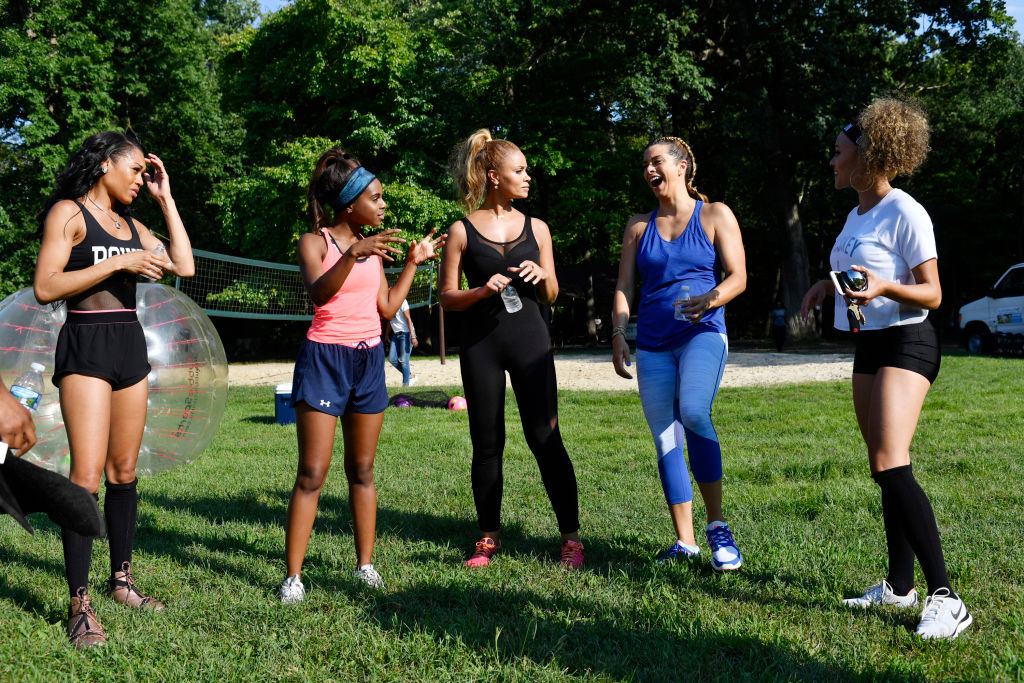 This week, Dillard invited the ladies over so they could taste her husband's recipes. However, Darby confronted Dillard about her negative comments, and they got into a verbal altercation during dinner. Keep reading to find out more!
Gizelle Bryant told Ashley Darby about Candiace Dillard's comments
Darby met up with Bryant and Dixon to go for a walk. They ended up talking about Samuels' rainbow shower, and Bryant told Darby what Dillard said about her actions at the party. Bryant said Dillard questioned Darby's intentions for telling their story on the microphone and called them fake.
Samuels invited Darby over to her house as she was doing a 27-week maternity photo shoot in the pool. While wading in the water, Darby told Samuels about a situation Bryant told her about during their walk. According to Bryant, Samuels made a comment to Dillard about Katie Rost, likening her appearance to that of a slave. Therefore, Samuels arranged to have lunch with Dillard the next day and get to the bottom of the story.
Monique Samuels clears the air with Candiace Dillard
Samuels almost immediately asked Dillard about the comment, and Dillard said Bryant was the one who compared it to a slave, and not her. However, Dillard admitted she felt like Samuels was judgemental. Samuels compared Dillard to her mother and said she is treating Samuels the way Dillard's mom treats her.
Even though Samuels tried to explain what she meant, Samuels' comparison upset Dillard. But, the lunch ended on a good enough note for Samuels to attend Dillard's husband, Chris Basset's, tasting party for a cookbook they want to sell.
Candiace Dillard and Ashley Darby get into a verbal altercation
Basset is trying to sell cookbooks and wants the Real Housewives of Potomac to give their feedback on his recipes. He made several dishes, including purple potato skins, which Bryant especially loved, duck quesadillas, and devil tea eggs. Bryant and Dixon were the first to arrive, and Dillard told them a drunken Michael Darby proclaimed he wanted to suck a sausage.
Dixon was also drunk but claimed she remembered Darby explicitly saying he wanted to perform oral sex on a man. According to Dillard, Michael Darby's actions prove that his marriage to Ashley Darby is a "sham," and they are lying about trying to have a child.
Finally, dinner began, and Ashley Darby arrived with Rost. Not long after she sat down, Darby confronted Dillard about her comments. Dillard admitted she felt like the Darbys were lying and putting on a show for everyone. Darby then brought up Dillard's mother, and of course, that angered Dillard. With a butter knife in her hand, she began screaming at Darby not to bring up her mother again.
However, Darby kept poking fun at her soft spot, yelling back, "Don't break your mother's table!" Basset left the kitchen and came over to the dinner table to pull his wife away, and Dillard threw a butter knife over Basset's shoulder. Darby looked down at the utensil as it landed close to her foot, and then the "To Be Continued" credits rolled.
To find out what happens next, watch Real Housewives of Potomac on Sundays at 9 P.M. EST on Bravo!