Meet the Seventh 'Real Housewives of Potomac' Housewife, Award-Winning Researcher Dr. Wendy Osefo
The ladies began filming for Real Housewives of Potomac Season 5 only a few weeks ago, and the cast picture, as well as an alleged brawl which resulted in police intervention, has already been leaked.
In the official photo, a mystery woman, Candiace Dillard, Gizelle Bryant, and Monique Samuels, are standing in beautiful purple gowns. Robyn Dixon is sitting in between the woman and Dillard, and Darby is also sitting down between Bryant and Samuels, while the Grand Dame herself, Karen Huger, is dead center, with all three ladies clad in white gowns.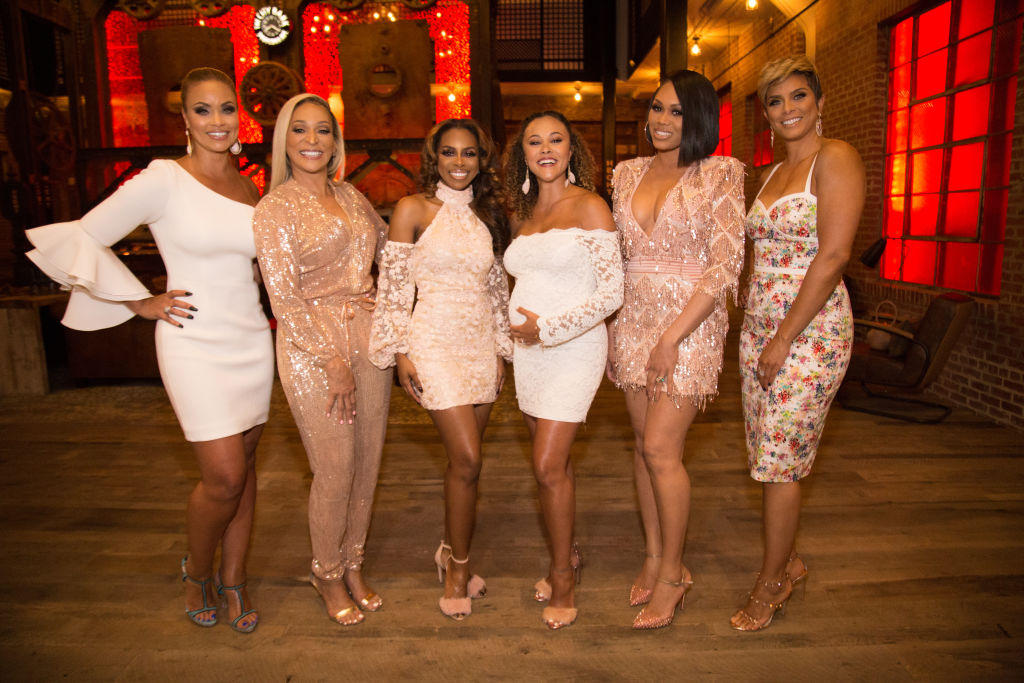 Internet sleuths uncovered the mystery lady's identity to be political commentator Dr. Wendy Osefo. She's a "self-described pescatarian who often falls off the wagon every few months," and fans already got a glimpse of her sitting next to Samuels at Dillard's anniversary party in Season 4.
Who is the seventh Housewife, and will she take sides in the Samuels and Dillard beef?
Who is the newest 'RHOP' housewife, Dr. Wendy Osefo?
Born May 21, 1984, in Nigeria, she is 35-years-old and provides commentary for several media outlets, including CNN, ABC, Fox News, BBC, The Steve Harvey Show, and more.
The political commentator received her Bachelor's degree from Temple University, a Master's from Johns Hopkins University, and Ph.D. from Rutger's University.
Osefo is also a contributor for news publication The Hill, an Assistant Professor at Johns Hopkins University, and the founder and CEO of the 1954 Equity Project, which "provides students with navigational capital to thrive in academia as their authentic selves."
Additionally, she's a Board Member for Congressman Elijah Cummings Youth to Israel Program, Children's Scholarship Fund Baltimore, and The Education Foundation of Baltimore County Schools.
On top of being an educated and successful businesswoman, Osefo is also a wife to Edward, since 2011, and they parent two sons, a six-year-old and four-year-old. 
Dr. Wendy Osefo's recognition and awards
One of 12 Pan African Women to Watch by Face2Face Africa
Distinguished Recent Alumni Award from the Johns Hopkins University
Diversity Recognition Award
Named in 2017 40 Under 40 Class by the Baltimore Business Journal
Named one of the 25 Women to Watch by the Baltimore Sun
2018 Black Women in Media honoree
Has Dr. Wendy Osefo chosen a side in the Monique Samuels and Candiace Dillard drama?
Osefo could already be a friend of Dillard's as she was spotted at the pageant beauty's anniversary party in Season 4. Additionally, as of today, Dillard is the only RHOP housewife following the political commentator on Instagram and vice versa.
However, after Monique Samuels and Dillard allegedly had their physical altercation, Osefo hasn't chosen sides. According to reports, Gizelle Bryant returned to filming sometime after the fight and brought her own security because she claimed she didn't feel safe around Samuels, mainly because the mother of three's alleged "blackout" is what lead to the brawl.
Reportedly, Ashley Darby, Karen Huger, and Osefo said they didn't mind filming with Samuels while the other women apparently agreed with Bryant. Real Housewives of Potomac Season 5 will premiere in Spring 2020.