'Real Housewives of Potomac': Katie Rost Blasts Ashley Darby In A Scathing Instagram Post
The ladies gave a deep dive regarding the fights at the farm in an After Show on Bravo's website titled 'The Potomac Wives Break Down Everything That Went Down at Katie Rost's Hoedown.' In the first few seconds, Ashley Darby commented about Rost's ranch, which resulted in Rost posting a scathing Instagram caption towards her friend. Darby responded and said she would "spare no one at the reunion." Keep reading to find out both ladies' comments and the reactions from the other Housewives.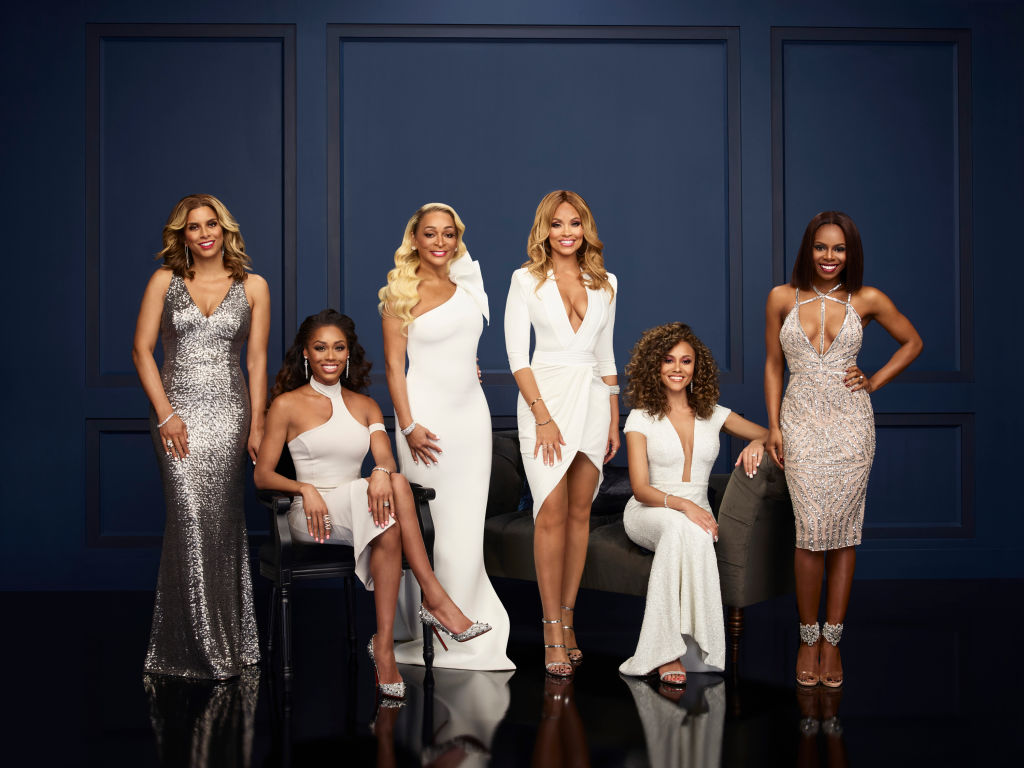 The 'RHOP' ladies break down what happened at Katie Rost's hoedown
Darby and Karen Huger went at it after Darby called her out for being two-faced. She felt like she was applauding Candiace Dilliard for attacking her, even though they recently had a breakthrough moment in their friendship. Huger got upset and turned the heat to Gizelle Bryant for allowing Darby back into Dillard's home after the blowout. In the Real Housewives of Potomac Season 4 Episode 10 After Show, Darby said the reason for their showdown at the hoedown was because Huger made digs towards her husband, Michael. Huger claimed she wanted to have a conversation with Darby, but Darby came for her, "so she got served."
Monique Samuels and Dillard also got into a fight at the farm, because Samuels called Dillard out for the way she treated Darby. Dillard said the disagreement happened because she felt like Samuels' judged her and spoke down on her for her behavior towards Darby. However, Samuels thinks she did the right thing because she's "not a hypocrite." Samuels also said she made the "I will drag you" comment because Dilliard got loud with her when Samuels wanted to have a civil conversation.
Katie Rost replies to Ashley Darby's comments on Instagram
Rost watched the After Show on Bravo's website and did not appreciate Darby's feedback on her ranch. In the video, Darby said her farm looked "a little on the scruffy side to say the least" while making a face. Rost, clearly offended by Darby, captioned a still-grab picture of her from the show with a long paragraph. She explained she bought her ranch, Sunny Hill Farm, at only 27-years-old. Rost then took a jab at Darby, saying she bought the farm with money she earned from modeling, which did not "involve banging an 80-year-old."
She also dug into Darby's past, exposing her impoverished upbringing and "being kicked out of homes all her life." Rost also claimed Darby now thinks she's better than her and takes "abusive digs at other women just to cover for sexual misbehavior" on Michael's part. Rost ended her rant by telling Darby to watch her mouth. Their co-star, Robyn Dixon, commented on Rost's lengthy post, saying, "ouch."
Ashley Darby responds to Katie Rost on Twitter
Darby tweeted that she will "step out of her peach bubble" and "spare no one" at the reunion. She then ended her short tweet by calling Dilliard a "hamster face" and claimed Rost has a "mail-order cooch." An Instagram page screenshotted Darby's tweet and posted it on their page. Dixon commented on the post, saying things "just got very interesting" and she needs popcorn and tea.
Replying to Dixon on the same post, Bryant said she would call Darby "to find out what on earth a mail order coochie is." Dilliard also responded to Darby's name-calling writing, "Mail order?? Pots and Kettles again…" using the old saying to claim Darby herself is a "mail order."
Is the friendship between Ashley Darby and Katie Rost finished? Watch Real Housewives of Potomac Sundays at 8 P.M. EST on Bravo!