'Real Housewives of Potomac' Season 4 Episode 14: Open House and Closed Doors Recap
Previously in Real Housewives of Potomac, Candiace Dillard brought her mother to therapy in an attempt to strengthen their communication. However, her mom refused to admit she was a part of any problem, hurting Dillard.
In another upsetting situation for the newlywed, her closest friend in the Real Housewives group, Monique Samuels, showed their text messages to her least favorite person in the group, Ashley Darby. After Darby relayed the information to Gizelle Bryant, she made sure to tell Dillard, who said she felt betrayed by Samuels.
Additionally, Darby told Bryant that Samuels felt like Bryant didn't care about her problems, to which Bryant quickly confirmed she didn't. Finally, Darby went to visit her father who she hasn't seen since she was a year old.
In Real Housewives of Potomac Season 4 Episode 14, Robyn Dixon stepped into the "discovery phase" of buying a semi-truck, Karen Huger and her sister held a private ceremony for their parents, and Samuels took CPR classes with her family. What else happened? Keep reading to find out.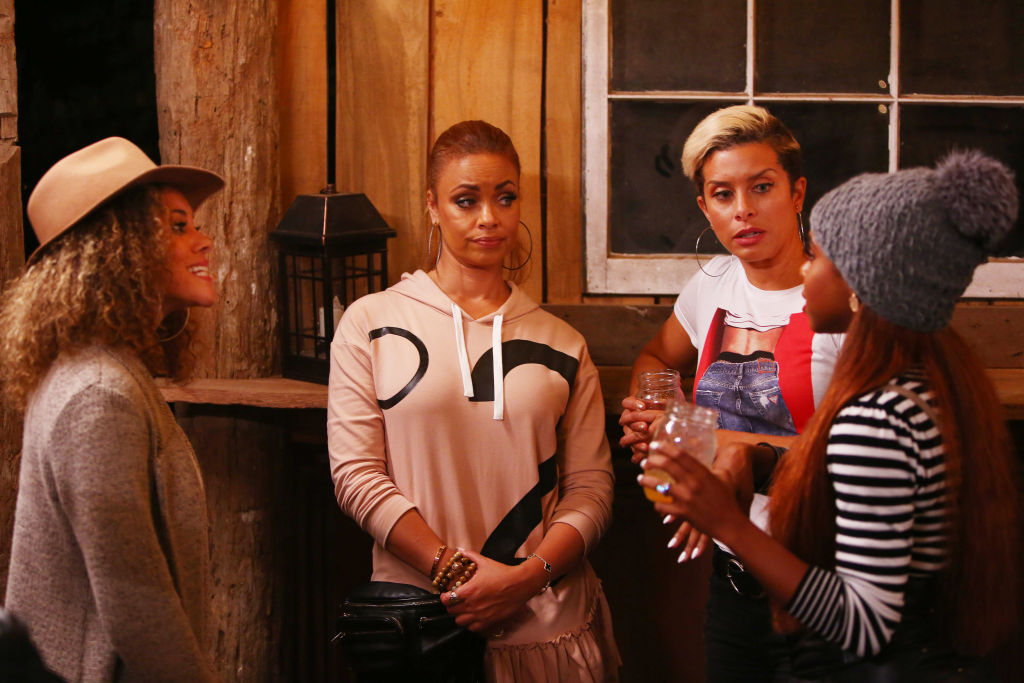 Ashley Darby attempted to meet her father
In The Real Housewives of Potomac Season 4 Episode 14, Darby went to Atlanta, Georgia with her Aunt Sheila and Uncle Jim to meet her father. After him sending letters and a message on Facebook (to which he then blocked her), Darby wanted to go to his front door to confront him face to face.
The viewers could not see what happened after Aunt Sheila knocked on his door. However, they heard Darby introduce herself to her father before he slammed the door in her face. Darby then left his property and sat in the car with her aunt, trying to process what happened.
Even though she was heartbroken by how he "scowled" at her, the entrepreneur claimed she's happy it happened so she can literally close the door on that chapter of her life.
Candiace Dillard had a girls day with her family
Wearing matching fur coats, Dillard, her little sister, Crystal, and their mother, Dorothy, went to a wine tasting and lunch. Before they sat down to eat Dorothy made comments about her daughter's weight, and then continued when Dillard began eating bread.
However, Dillard simply rolled her eyes and didn't allow herself to get upset with her mother. Crystal asked the two about how their therapy went, and Dorothy claimed she only went to help Dillard. Eager to change the subject and talk about drama, Dillard brought up a situation where Samuels, showed their text messages to Darby.
Dillard claimed Samuels' actions now have her questioning Samuels' real character.
The Housewives argue at Robyn Dixon's open house in 'Real Housewives of Potomac' Season 4 Episode 14
Dixon finally finished renovating the house she's selling and invited her family and the RHOP ladies to the open house.
Things took a turn for the worse when Samuels tried to greet Gizelle Bryant with a hug. The mother-of-three then immediately called her out being fake, and the women decided to hash their problems out in the living room, where anyone in the house could hear them.
Samuels doubled-down on her comments about Bryant not caring about her problems, saying she merely made an observation. Bryant then asked Darby about how she interpreted the comment, and Darby claimed she felt like Samuels was being expressive.
However, Huger called Darby out for trying to start drama by telling Bryant what Samuels said, but Darby said she just wanted things to be out in the open so they could work it out. Dillard walked in on the middle of their heated debate, but Samuels wasted no time catching her up.
Dillard, however, was more interested in finding out why Samuels felt the need to show Darby their texts when Samuels doesn't even like Darby. However, Samuels defended her friendship with Darby and the decision to show her the texts, explaining she shared the messages to be more transparent.
The argument then turned to the incident when Dillard waved a knife in Darby's face before Dixon's potential buyer abruptly left the house.
Things get worse when the ladies vacation in the Cayman Islands next episode on Sunday, August 18, at 8 P.M. EST on Bravo.