'Real Housewives of Potomac' Season 4 Episode 17: Unanswered Questions Recap
Previously in Real Housewives of Potomac, Robyn Dixon invited the women to a Cayman Islands vacation. Because Monique Samuels was eight months pregnant at the time, Dixon asked Katie Rost, who was going through a custody battle and needed the vacation.
The mother-of-two hadn't been feeling well during their stay and realized she could be pregnant. Gizelle Bryant could not find Rost the next morning and began to get worried. In Real Housewives of Potomac Season 4 Episode 17, the ladies enjoyed their third day on vacation while Samuels went fishing with her family.
Keep reading to find out more.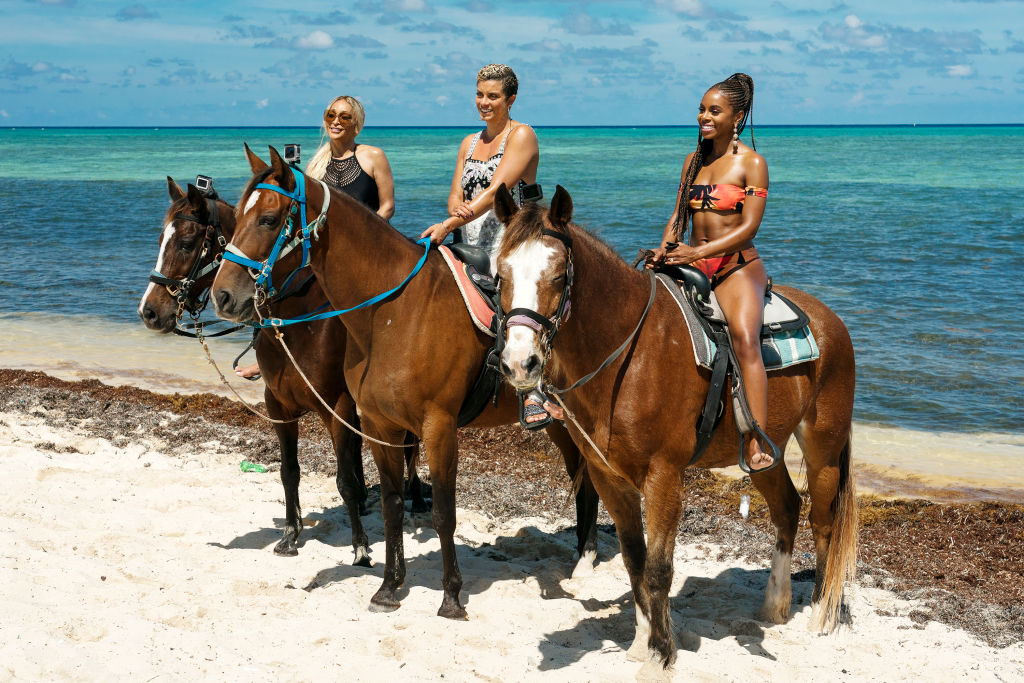 Gizelle Bryant and Robyn Dixon looked for Katie Rost
After Bryant told Candiace Dilliard and Ashley Darby that Rost's room was empty, the 31-year-old explained that she could have left because of a potential pregnancy. Bryant then informed Huger of the news who unflinchingly responded that Rost probably left because of Darby's harsh words to her on the first night.
Bryant and Dixon teamed up to try to find their lost friend, and they started by calling her boyfriend, Jacob. He claimed he hadn't talked to her all day and doesn't know where she is, so they went to the front desk for assistance. Eventually, they realized that Rost spoke to a production member and said she didn't feel well, so she flew home early. 
The 'Real Housewives of Potomac' went on more Cayman Island adventures
Sad about Rost but still wanting to have fun on vacation, the ladies went horseback riding in the water. Darby decided not to participate because she said she doesn't believe in the mistreatment of animals for human pleasure.
Bryant and Huger also realized they had enough of the horses and dipped out early. For their next activity, Darby, Huger, and Dixon visited caves while Bryant and Dillard went on a submarine excursion. Afterward, they reconvened to eat dinner together, and Facetimed Samuels at the table.
Dillard wasted no time filling her friend in on the gossip and immediately explained that Rost left the hotel early. She also described the situation in a way where it seemed like Darby's comments were the sole reason why Rost chose to fly back home.
After the phone call, Bryant called Huger out for not saying anything to Rost when they noticed how she was dressed when they visited her. Additionally, Darby admitted she stooped to a low point when she snapped at Rost and apologized again.
The ladies then decided to take shots of Fireball to try to forget about the Rost situation and have fun. However, it ended up in an unexpected blow-up between Darby and Huger.
Karen Huger and Ashley Darby fought on 'Real Housewives of Potomac' Season 4 Episode 17
Off-camera, Darby is heard telling Huger that she didn't know she could be so much fun. The compliment took a turn when Huger used the opportunity to claim Michael was not innocent of the sexual assault charges. Darby responded by trying to explain that the court of law did clear her husband of any wrongdoing.
However, Huger strongly felt that because there was unwanted contact, Michael should be held responsible for his actions. Feeling attacked, Darby began yelling at Huger, and they started fighting in the lobby before it moved to their suite.
Dixon then ended the argument by telling Huger to go to her room and calling it a night. The next day, Darby and Huger talked on the beach about their fight.
While Huger stood firm to her beliefs that Michael is guilty, Darby understood that the La'Dame owner was looking out for her best interests. Therefore, they agreed to put the situation behind them and continue to enjoy their vacation.
Will the women get into any more fights in the season finale? Watch Real Housewives of Potomac next Sunday at 8 p.m. EST on Bravo.