The Real Reason Meghan Markle Is Hoping She Has a Girl
Meghan Markle and Prince Harry will be welcoming their new baby in just a couple of months. And it's all the public has been talking about when it comes to the royal family. As for Meghan and Harry, they reportedly don't know the baby's gender. But that doesn't mean they aren't hoping for one or the other. Here's why Meghan Markle hopes her new baby is a girl.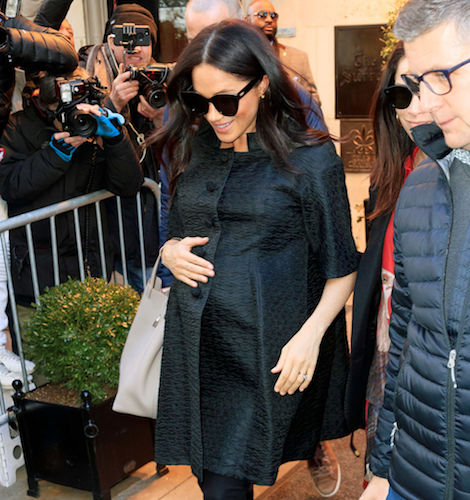 Harry and Meghan haven't given too many clues about their baby
Harry and Meghan announced their pregnancy last October, but they haven't given too much additional information about the newest member of the family. Although Meghan seems incredibly happy about her baby bump (she's often seen resting her hand on her stomach, which may signal her admiration for the new baby and motherhood), she doesn't say too much about the little one. However, the Palace originally said Meghan was due in spring 2019, but Meghan did let it slip that the baby is actually due in late April. But some think she's due even sooner.
The couple reportedly doesn't know their baby's gender
As far as the public knows, Meghan and Harry don't know what they're having. According to royal tradition, royal family members aren't supposed to learn the gender of the baby until the day he or she is born. Kate Middleton and Prince William supposedly never found out what they were having — for any of their three children — until the birth date. However, Princess Diana supposedly did learn the gender of Prince Harry (and opted not to tell Prince Charles) before he was born. But if Meghan and Harry are keeping with standard royal tradition, the couple likely doesn't know what the baby will be.
Harry has already said he hopes he has a girl
Harry hasn't been all that secretive about whether he wants a boy or girl. When Harry and Meghan were in Australia, shortly after the royal family announced the pregnancy, a fan yelled out, "I hope it's a girl." Harry turned toward him and said, "So do I." The royal family only has one young girl right now, and that's Charlotte. According to those close to the family, Prince Charles is also hoping for a daughter. Charles had wanted Harry to be a girl, and when he wasn't, there was a lot of disappointment. He's always wanted to have a daughter of his own, so he likely hopes that since he didn't have one, Harry will.
Meghan is also hoping for a girl — because she already has the perfect gift for her
Meghan said a few years back — before she met Harry — that she hopes to have a daughter one day. In an interview in 2015, Meghan said that she purchased a Cartier watch for herself that she wants to eventually pass on to her daughter. "I had it engraved on the back, 'To M.M. From M.M.' and I plan to give it to my daughter one day," she said. Now that Meghan is getting ready to welcome a child of her own, it makes sense that she hopes the little baby is a girl. At the very least, it's clear Meghan does want a daughter at some point down the road.
Check out The Cheat Sheet on Facebook