Reasons That Celebrity Chef Guy Fieri Is the Donald Trump of the Food Industry
Let's just be real for a moment. Guy Fieri, who hosts the long-running Food Network show, Diners, Drive-Ins and Dives, isn't exactly the most beloved chef in the world. In fact, many folks despise the bleached blonde with his terrible taste in clothing, crude and sexist jokes, and his poor quality restaurants. In fact, Fieri is so polarizing in the food community that it's worth noting he's very similar to another larger than life figure in popular culture — President Donald Trump.
Though the president's supporters would clearly walk through fire for him, his poor diction, offensive policies, and disgusting tactics haven't made the 71-year-old popular. When you think about Fieri and Trump together, you'll realize that the brazen chef just might be the Donald Trump of the food industry.
The horrendous hair cuts
As much as President Trump and Fieri like to comment on women's appearances and food dishes, respectively, they need to be concerned with the disasters brewing on top of their heads.
Trump's hair will probably be immortalized more than his disastrous presidency. Meanwhile, the chef's spiky bleached blonde updo seems to be stuck in 1993. Clearly, Fieri spends more time concerned with his frosted tips than his actual craft.
Let's not even get into his burnt orange tan and his flame shirts.
Next: A simple tattoo on Fieri's arm sums it up nicely.
Monumental egos
We all know that President Trump considers himself to be a "very stable genius." Fieri apparently thinks of himself in the same vein.
David Page, the creator of Diners, Drive-Ins and Dives, sued Food Network and let everyone know how Fieri acts behind the scenes. If that isn't enough proof, Fieri (who was born Guy Ferry) also has a tragic tattoo on his forearm that reads "kulinary gangsta." It's pretty sad.
Next: They claim to represent a similar demographic but that's not really the case.
They don't care about the average Joe
President Trump was able to snag his position by speaking to poor, uneducated white people who he promised to help and represent. Fieri also claims to represent a similar demographic, but that obviously isn't the case. Trump was born with a silver spoon in his mouth, and it's clear that his tax plan will only help the rich.
Meanwhile, Fieri pretends to be an advocate for down-home, no-fuss food. However, he didn't even know what a diner was when he first started Diners, Drive-Ins and Dives. The Daily Meal reported,
Fieri hails from a part of the country that doesn't really have many of the classic, Jersey-style diners, and on the first day of production he still really had no idea what a diner was. He thought that diners were synonymous with burger joints, and criticized the ones with long menus because he thought that meant that they couldn't do any one thing well.
Next: They both benefitted from a time when misogyny and sexism ran rampant.
Completely obnoxious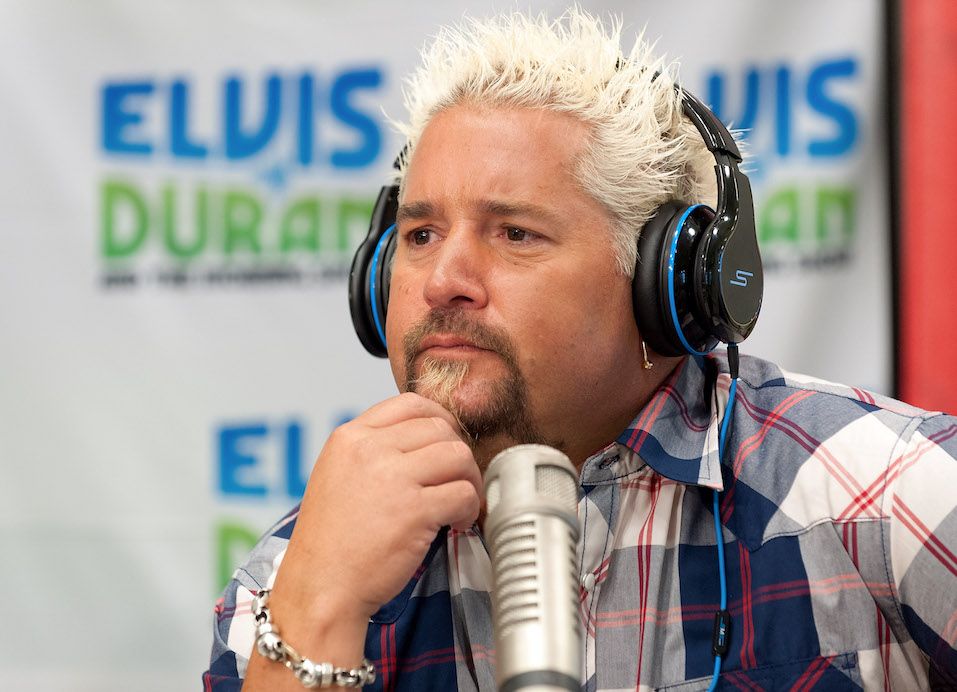 Like Trump, Fieri seems to suffer from "The Man" syndrome. It's clear why the pair began making a name for themselves in the '90s. It was a time when misogyny and sexism ran rampant and unchecked. Their brash language and crude jokes are artifacts of an era of toxic masculinity that we are rapidly hoping to erase.
In fact, Fieri has taken things to a new level with his "Garlic Mafia." His posse of friends follows him everywhere he goes. According to The Daily Meal, "One time, one drunk entourage member broke an elevator by jumping up and down in it, and yelled at the hotel staff after he was freed. The whole gang was almost kicked out of the hotel after that."
Next: Fieri has already crossed a line similar to Trump.
Misogyny
It's clear that both Trump and Fieri have issues with women. The president was caught on tape talking about assaulting women and has been accused by numerous women of sexually assaulting and harassing them.
Fieri has also reportedly crossed the line. Diners, Drive-Ins and Dives creator David Page alleged, "Anytime any woman mentioned 'cream,' Guy went into a sexual riff. When cutting the show, you had to tell the editors to watch Guy's eye line, because it's always on breasts."
Disgusting.
Next: Every annoying person has an awful catchphrase.
Those awful catchphrases
Before he became POTUS, Trump's claim to fame was bellowing out "you're fired!" on his reality show The Apprentice. Obviously, he's been using the same catchphrase in the White House since the turnover rate there has been astronomical.
Fieri also adores catchphrases. The self-proclaimed "Mayor of Flavor Town" just loves to tell chefs to "serve it on a trash can lid."
Next: Do people even like Fieri's restaurants?
Terrible reviews
Trump likes to refer to immigrants as people from "sh*thole countries" so it's no wonder that his approval rating is in the toilet. Like the POTUS, Fieri also knows a thing or two about terrible reviews. His Time's Square-based restaurant Guy's American Kitchen & Bar has also garnered ghastly reviews.
The New York Times rated it poorly saying, "How did Louisiana's blackened, Cajun-spiced treatment turn into the ghostly nubs of unblackened, unspiced white meat in your Cajun Chicken Alfredo?"
Yikes.
Next: What Fieri said about this group of people certainly isn't helping his standing.
Generally the worst
If the hair, sexism, ego, and antics of Fieri don't yet remind you of Trump, then perhaps you should consider another one of his horrendous statements. According to Complex, the chef has a history of being hateful toward the LGBTQ community, just like Trump.
Apparently, Fieri once said,"You can't send me to talk to gay people without warning! Those people weird me out!" He also reportedly sent an email to staffers saying, "I hope you die so I can dance on your f*cking grave."
Check out The Cheat Sheet on Facebook!