'Red Table Talk': T.I. Responds to Backlash Surrounding Daughter's 'Virginity Test'
T.I. broke the internet in early November when he revealed that he accompanies his daughter to her OB/GYN appointments to make sure her hymen is intact — and (obviously) not in a good way.
The rapper — whose real name is Clifford Harris — faced immediate and widespread criticism over his remarks. On Twitter, many people called his comments "disgusting" and accused him of violating his daughter's privacy. Others labeled him a misogynist.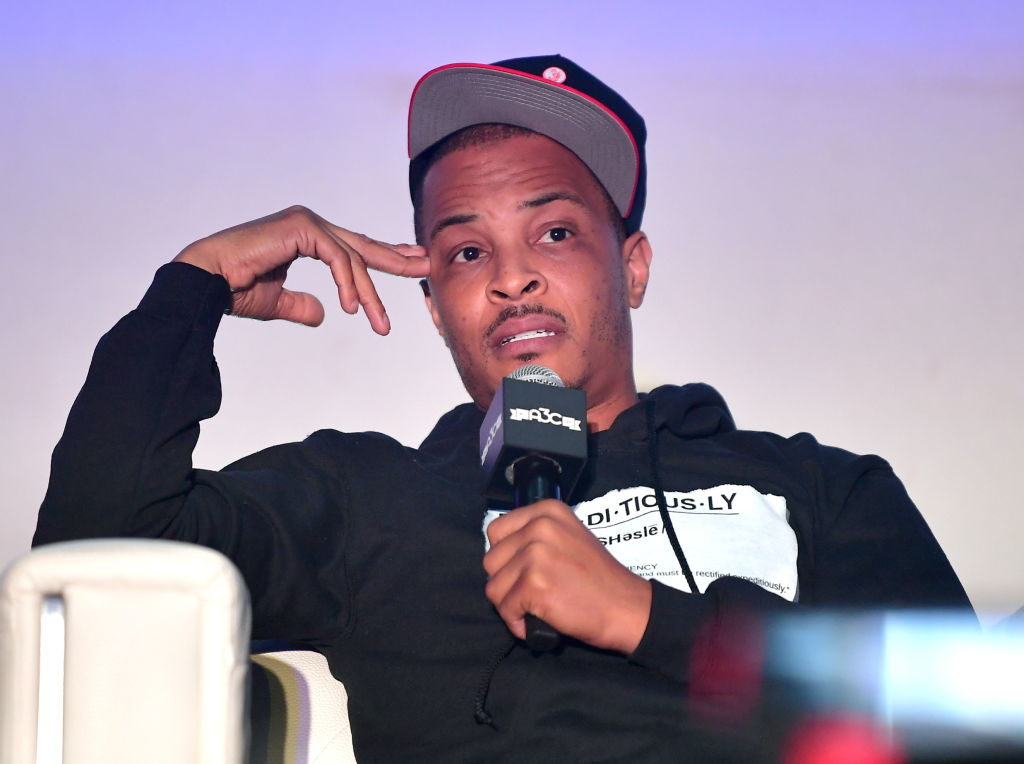 T.I. did not immediately speak out. But he's finally opening up about the situation. In a Nov. 25 appearance on Red Table Talk, T.I. said his comments were "misconstrued."
What exactly did T.I. initially say about his daughter?
In a November episode of the Life Hacks podcast, T.I. revealed that he accompanies his eldest daughter, 18-year-old Deyjah Harris, to her OB/GYN appointments to ensure she's still a virgin. These appointments apparently started around her 16th birthday.
As he told hosts Nazanin Mandi and Nadia Moham, on the first visit, he had Harris sign a waiver so the doctor could share her information with him. The rapper said he asked his daughter, "Is there anything you would not want me to know? See, Doc? Ain't no problem.'"
At some point, the doctor informed him that hymens can break in other ways such as "bike riding, athletics, horseback riding, and just other forms of athletic physical activity." But T.I. ignored it.
"So I say, 'Look, Doc, she don't ride no horses, she don't ride no bike, she don't play no sports," he continued. "Just check the hymen, please, and give me back my results expeditiously.'"
"I will say, as of her 18th birthday, her hymen is still intact," he concluded.
The comments drew widespread backlash and condemnation. Popular figures such as Gloria Steinem, Chrissy Teigen, and the founder of the #MeToo movement, Tarana Burke, were among the critics.
As the backlash mounted, Harris got caught liking negative tweets about her father. Then she unfollowed him on social media before deleting her accounts.
T.I.'s 'Red Table Talk' interview
In the sit-down, the Urban Legend rapper apologized to Harris, but not to others who were outraged by his comments.
"She did have a problem with me talking about it and I understand that and I am incredibly apologetic to her for that," he said (via BuzzFeed News). "Not to any of these other strangers and any of these weirdos who just kind of toss lies around."
He went on to defend himself, saying that his actions "have been terribly misconstrued and misconceived."
"I never said I was in any exam room. That is an assumption; that is a falsity. I never said it was being done present-day as an 18-year-old. I never said that her mother wasn't present," T.I. continued.
"All of this false narrative has just been sensationalized," he added.
T.I. said that he made the comments in a "very joking manner."
"From a place of truth, I began to embellish and exaggerate, and I think a lot of people took it extremely literal because if you put any of my reputation — who I am as a father and who I've been — I honestly thought people knew me better than that," he stated.
The full interview is available on Facebook Watch.