Reese Witherspoon and Nicole Kidman Join TV's Growing A-List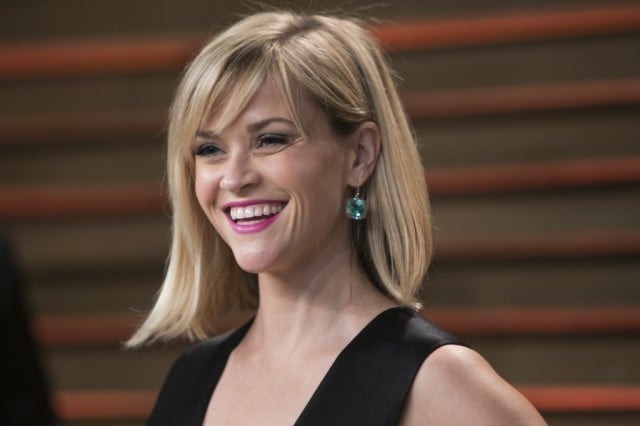 Reese Witherspoon and Nicole Kidman may be the latest of Hollywood's A-list stars to head to TV. The Oscar-winning actresses have found their next big roles in the miniseries Big Little Lies, based on Australian author Liane Moriarty's bestselling book of the same name.
The novel follows the story of three mothers, all of whom are at a crossroads in their lives: Jane, the single mom with a dark past, Madeline, the firecracker coping with her ex-husband and his new wife, and Celeste, mother to two mischievous twin boys. When a murder takes place at their children's school, the lives of all three women get turned upside down and they are forced to confront the dark secrets of the small town in which they live.
The book, which reached No. 1 on the New York Times bestsellers list, was published in July. Kidman and Witherspoon first optioned the rights to the novel in back August under their respective production banners, Blossom Films and Pacific Standard. Though their original intention was to turn the book into a feature film, the project eventually evolved into a limited series run.
It remains unclear which of the three main roles Witherspoon and Kidman will be taking on or who will play the third lead. Per Deadline, Emmy winner David E. Kelley, who most recently served as showrunner on the CBS  comedy The Crazy Ones, will pen the small screen adaptation. In addition to starring in the series, Kidman and Witherspoon will co-executive produce alongside Kelley. Moriarty will also serve as a producer.
As of now, no network is currently attached to the project. Per The Hollywood Reporter, the limited series will reportedly be taken to the marketplace soon, where it will be shopped to premium cable channels, such as HBO, Showtime, Starz, and streaming services, like Netflix, Hulu, and Amazon.
The project shouldn't have any problem getting picked up, given the high-profile creative team behind it. Kelley has also previously worked on hit shows like Ally McBeal and The Practice. Meanwhile, Witherspoon's Pacific Standard has found big success with their two recent book-to-movie adaptations, October's box office hit Gone Girl and next month's Wild, and is currently working on bringing fantasy book series Pennyroyal's Boot Camp to the big screen. Kidman's Blossoms Films also has its own literary adaptation underway, with HBO's upcoming The Silent Wife, based on the bestseller.
Though both Kidman and Witherspoon have appeared on the small screen before, Big Little Lies marks each of their biggest television roles to date. They're not the only actors to lend their talents and star power to the small screen recently. With miniseries only requiring a limited time commitment, more and more in-demand stars have been drawn to television projects. Thanks to the increasing participation from big names, broadcast and cable networks alike have been finding more success with limited series. HBO's True Detective earned Emmy nods for Matthew McConaughey and Woody Harrelson in its first season and has drawn big names for its second season, including Colin Farrell, Vince Vaughn and Rachel McAdams. Other stars who have recently joined upcoming limited series projects include Scarlett Johansson, who is set to star in the eight-part miniseries Custom of the Country, and Tom Hiddleston, who will co-star with Hugh Laurie in AMC's Night Manager. Still others, like Halle Berry, Viola Davis, and Octavia Spencer, have gone even further by committing to a regular series. With actors like Witherspoon and Kidman now embarking on a small screen project, it's clear the trend is only set to continue.
More from Entertainment Cheat Sheet:
Want more great content like this? Sign up here to receive the best of Cheat Sheet delivered daily. No spam; just tailored content straight to your inbox.