Regina Hall's Net Worth And Why She Loved Making 'Little'
Actress Regina Hall is no stranger to Hollywood. The accomplished star has been making waves in the industry for years. In March and April 2019, Hall has been busy doing promotion for her upcoming comedy Little, in which she stars alongside Issa Rae and Marsai Martin. Here's what you need to know about the movie, what Hall said about filming it, and her net worth.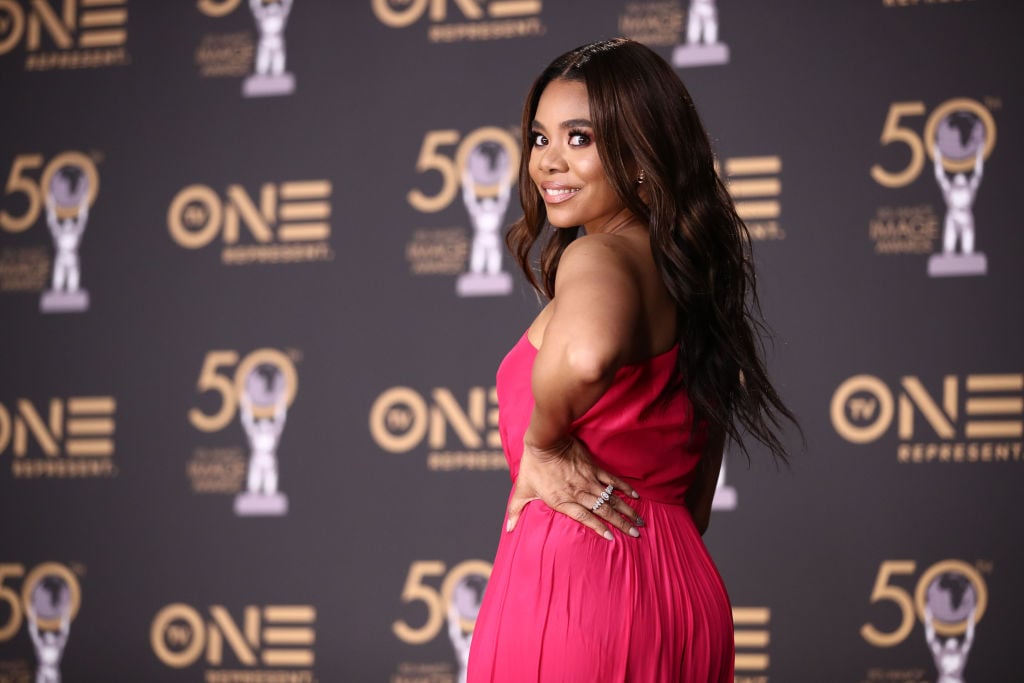 Here's what you know her from

Hall began her acting career in the late '90s. She began to attract attention with her role in the Scary Movie franchise, in which she starred in four out of the five movies. Hall has racked up an impressive number of credits over the years, starring in films such as Think Like a Man, Girls Trip, and The Hate U Give.

Though Hall has kept very busy with films, she has also done some notable small-screen work. She had a lead role in the final two seasons of Ally McBeal, as well as recurring roles on shows such as Law & Order: Los Angeles and Grandfathered. She has also made appearances on her Little co-stars' shows Insecure and Black-ish. Hall recently starred in the first season of the Showtime comedy Black Monday.

She's starring in the upcoming movie Little

Hall has once again hit the big screen in a highly anticipated comedy. She stars in Little as Jordan Sanders, a high-powered executive who is mean to everyone around her, including her assistant. After a girl calls her out for her behavior, she wakes up one day to find that she's now in the body of her young teenage self. Rae plays her assistant, April, while Martin portrays the "little" version of Jordan.

This is what Hall said she loved about filming

Hall has only had wonderful things to say about Little. Sitting down with Fandango for an All Access interview, she talked about how much she loved working with Martin (calling her "wise and professional beyond her year"), both of whom are also executive producers on Little.

Hall also commented on how it was playing a character who is kind of a nightmare. She said, "It's fun because in real life you would never behave that way. So for comedy's sake, it was really fun." Hall added how hard it was not to laugh sometimes. "You have to see people reacting to you being a monster," she chuckled.

She told his hilarious story to Jimmy Kimmel

As Hall has been making the rounds doing press, she has had the opportunity to talk about other parts of her life. On Jimmy Kimmel Live, she told a story about how she and her mom accidentally got very high together, during which time she thought her mom had had a stroke.

Hall told Kimmel that the product she used, which was a paste that she had given to her dog before he passed away to help ease his pain, was something she was trying out with her mom to see if it helped her arthritis. However, on the night in question, her mom ate too much, and Hall ended up taking her to the hospital because she couldn't open her mouth. "He was not amused," she said, referring to the doctor who had done an MRI on her mom when she told him they were high.

Regina Hall's net worth

There's some inconsistent information out there as to how much Hall is worth. According to Celebrity Net Worth, she's worth over $4 million. However, another site, TheRichest, puts her net worth at closer to $2 million. The first site seems to be more up-to-date and, considering how well Little is poised to do, as well as her recent Showtime series, we're willing to bet the actual number is closer to $4 million.