Regis Philbin's Most Unlikely TV Role: Who Did the Talk Show Host Play on This Disney Animated Series?
Regis Philbin, noted TV icon, was laid to rest on the campus of his beloved Notre Dame after he died of heart disease on July 24, 2020, at the age of 88.  Philbin graduated from Notre Dame in 1953 with a degree in sociology and remained a huge fan of the Fighting Irish his entire life. While Philbin is most well-known for hosting talk shows and Who Wants to Be a Millionaire?, he took on some less likely roles. For example, Philbin once voiced a Disney character.
'Who Wants to Be a Millionaire?' host Regis Philbin's death shocked TV lovers
The family released a statement about Philbin's passing, published in ET:
Our family would like to thank everyone for the incredible love and support you've given us and for the hilarious tributes and touching memories you've shared.
They requested donations in his honor be made the New York City Food Bank or to the Center for the Homeless in South Bend.
Philbin became one of the most popular talk-show hosts, most notably on the series Live with Regis and Kathie Lee Gifford, which ran from 1986 through 2000. Kathie Lee honored Philbin in an Instagram post the day after her former co-host's death, writing:
There are no words to fully express the love I have for my precious friend, Regis. I simply adored him and every day with him was a gift.
RELATED: Regis Philbin Revealed How Kathie Lee Gifford and Kelly Ripa Got Along
Kelly Ripa says her children 'worshipped' Philbin
In 2001, Kelly Ripa joined Philbin on Live with Regis and Kelly after Gifford's retirement. Then, in 2008, Philbin was honored with a Lifetime Achievement Award at the Daytime Emmys. Ripa and Philbin worked together for 11 years before Philbin's own retirement in 2011. 
Although their relationship after his departure was apparently strained, Ripa remembered him on her currently airing show. Per ET, Ripa said:
What I love to remember about him, is his relationship with my kids, because he had this ability … he would talk to them like they were adults, and my kids responded to that — they just worshipped him.
Philbin played a Disney character in 'Hercules' the TV show
Following the release of the 1997 Walt Disney Feature animated musical version of Hercules, a television series was produced under the same name. Per IMDb, during Season 1, Episode 13, Philbin was the voice for the mythical monster, Typhon. The 1998 episode was titled "Hercules and the Return of Typhon."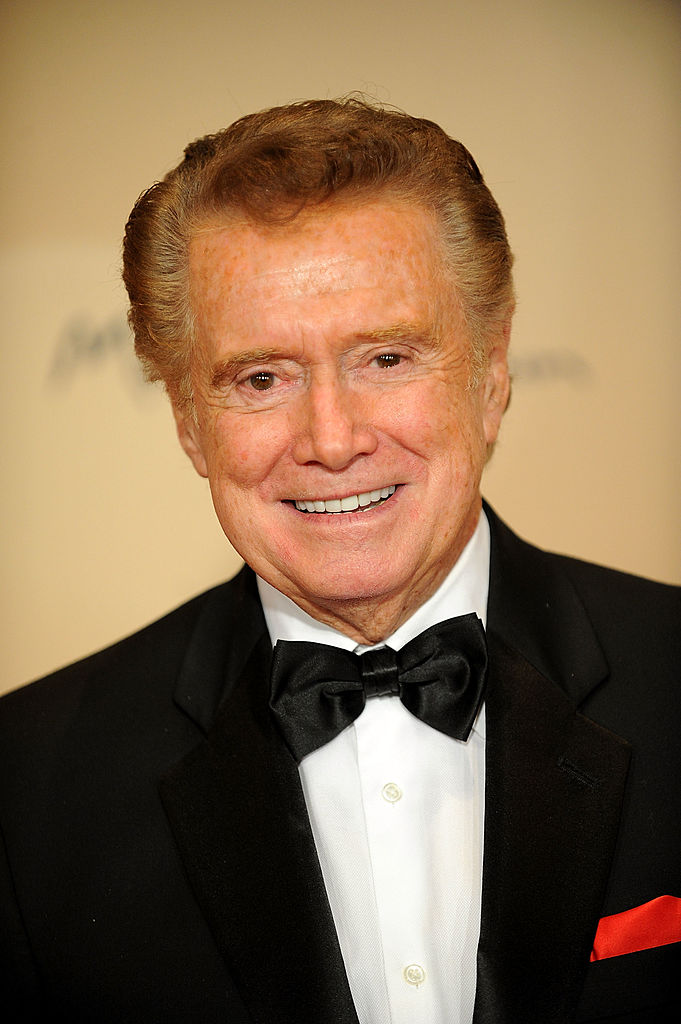 According to IMDb, the episode's storyline is described as follows:
A three-day weekend festival celebrating Zeus's victory over the Titans is the place to be, but when Hercules accidentally frees the Titan Typhon, the festivities are short-lived.
Typhon, voiced by Philbin, is the father of all Monsters and had been imprisoned by Zeus under Mount Etna with his wife, Echidna. 
Who played Echidna? None other than his hosting partner, Kathie Lee Gifford. Her character, who was a recurring role in the series, was an obsessive and doting mother to her children who, one-by-one, were defeated by Hercules.
Philbin also took on a voiceover role in the Lilo & Stitch: The Series — however, he played himself in the episode titled "Drowsy".
The Who Wants to Be a Millionaire? alum also hosted the Disney Parks Christmas Day Parade in the Magic Kingdom from 1991 to 2008. In 2011, Philbin was inducted as a Disney Legend in the television category.