Relationship Timeline: Khloe Kardashian and Tristan Thompson
Khloe Kardashian's relationship with Tristan Thompson has been full of ups (Kardashian giving birth to daughter True) and downs (Thompson's cheating scandals) since the two got together. Get a full rundown of their relationship ahead.

Aug. 2016: Tristan and Khloe meet

Kardashian and Thompson were spotted leaving the L.A. nightclub, Bootsy Bellows. Immediately, relationship rumors started swirling.

Later, during an interview with Ryan Seacrest to celebrate the 10 year anniversary of Keeping Up with the Kardashians, Kardashian explained how exactly she met Thompson.

"I was put on a blind date with Tristan," Kardashian told Seacrest. "Brandon Jennings, who's a basketball player, he's a friend of mine and Malika's, and he's like, 'You're such a good girl, I want to introduce you to someone.'"
"I was at the Bel-Air Hotel. He came to the dinner, cause I didn't want to go on a blind date, so Brandon kind of ambushed the blind date. So I had a bunch of people, and he brought him, and we just connected."
Sept. 2016: They vacation together

Their relationship must've been heating up because Kardashian and Thompson were photographed riding jet skis together in Mexico.
Also in September, they make their first official outing together as a couple. They attend Flo Rida's birthday party at LIV in Miami, Flo. together, according to Us Weekly.

Nov. 2016: Kardashian reveals she goes to Ohio

Kardashian revealed that she had been spending a lot of time in Cleveland, Ohio, visiting Thompson where he plays for the Cleveland Cavaliers.

"I live here, but I'm [in Cleveland] very often," Kardashian told Jimmy Kimmel on an episode of Jimmy Kimmel Live! in November 2016.
"I actually really do [like being in Cleveland]. I actually really like it. I like just having my routine and being a little more under the radar. It's nice."
Dec. 2016: Thompson's first child arrives
Thompson and his ex-girlfriend Jordan Craig welcome son, Prince, according to People.
Dec. 2016: They spend the holidays together
Thompson posted a picture to his Instagram account of he and Kardashian in fur coats on Christmas Day in 2016. He captioned the image, "Merry Christmas & Happy Holidays from me and mines, to you and yours."
Similarly, Kardashian posted a picture of herself and Thompson ringing in the New Year. She captioned the image, "Happy New Year!!! May you always be surrounded by the love you are deserving of, May Gods blessings continue to rain on us all!"
March 2017: Thompson appears on 'Keeping Up with the Kardashians'
In the premiere episode of Season 13, Kardashian introduces Thompson to her family at brother-in-law Kanye West's concert.
Kim Kardashian isn't pleased with the situation but makes it work. ""He's a little young," Kim said in the episode. "But I'm excited to tell Jonathan and like a couple of my friends!"
April 2017: Kardashian speaks about marriage
In an interview with ES Magazine in April 2017, Kardashian talked about the possibility of marrying Thompson and starting a family together, according to Us Weekly.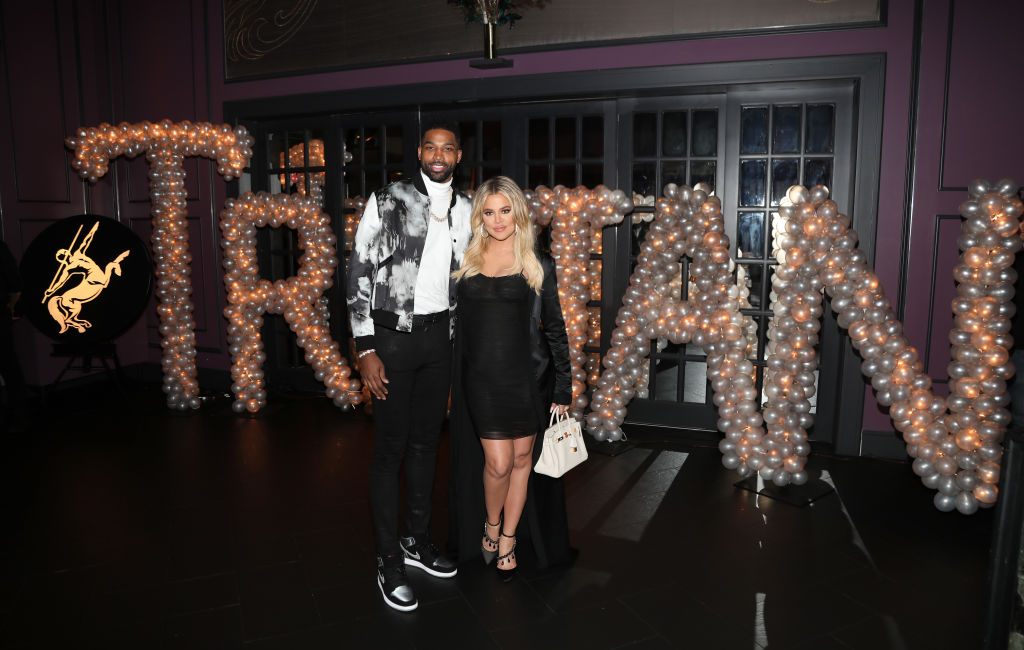 She said she's "never been in this type of love" and that she'd marry Thompson if he asked. "I would love to have a family. We've talked about it … I know for a fact that he would be an impeccable father," Kardashian said. "I definitely want to be a mom. But I don't put the pressure on it. It's not like, 'The clock is ticking.' I feel in my soul it will happen."
Aug. 2017: 'Best relationship'
During an Aug. 2017 interview with Mail on Sunday's You magazine, Kardashian spoke more about her relationship.
"I'm in the best relationship I've ever been in and it doesn't take a ring for me to feel that way," she told the magazine. "My boyfriend is very protective of me. Feeling loved and validated and secure is a huge thing. Tristan is protective of my entire family, which is beautiful."
Dec. 2017: Pregnancy announcement
On Dec. 20, 2017, Kardashian announced she was pregnant to her Instagram followers.
Jan. 2, 2018: Kardashian reveals pregnancy details
In an Instagram post, Kardashian shared a picture of her and Thompson kissing. She captioned the photo, "Mom and Dad." She also confirmed that day that she was six months along in her pregnancy.
Jan. 31, 2018: Kardashian mourns the loss of her dog
Kardashian took to Instagram once again to share a floral arrangement in the shape of a paw print Thompson sent her after the passing of her dog, Gabbana. She captioned the photo, "Thank you baby for being so thoughtful! This gorgeous arrangement brightened up my day! You are the sweetest my love!"
Feb. 16, 2018: They celebrate Valentine's Day
In another Instagram post, the couple stands in front of balloons both cradling Kardashian's growing baby bump. Kardashian captioned the image, "'When a woman is loved correctly, she becomes ten times the woman she was before' Thank you my love."
March 4, 2018: Gender reveal
On the Season 14 finale of Keeping Up with the Kardashians, Kardashian and Thompson find out that they're having a girl. Kardashian's sister, Kylie Jenner, told her the news. "You're lying! I don't feel like I'm having a girl. … I'm, like, in a state of shock," Kardashian said when Jenner told her.
On March 10, 2018, Thompson and Kardashian threw a baby shower complete with balloons, a neon sign, and a greenery wall. Three days later, Kardashian wished Thompson a happy 27th birthday in an Instagram post. They also celebrated with friends and family just days earlier.
April 2018: Cheating scandal
Shortly before Kardashian is set to give birth to her daughter, cheating allegations emerge about Thompson.
He's allegedly seen kissing another woman, according to photos and videos obtained by the Daily Mail. The same day these allegations went public, TMZ shared footage of Thompson kissing and touching women at a hookah bar in Washington, D.C., from Oct. 2017.
April 12, 2018: Baby arrives
On April 12, 2018, Kardashian gave birth to True Thompson at a Cleveland hospital with Thompson by her side.
The day is captured on an episode of the family's reality show and the footage shows Kim Kardashian making faces at Thompson behind his back while Kardashian waits to deliver her baby. Awkward.
Post-baby: They deal with scandal
After the birth of True, Thompson and Kardashian spend time working on their relationship in an attempt to put the cheating scandals behind them. While they don't have a formal custody agreement, True reportedly spends most of her time with her mom.
They spend the summer months rebuilding their relationship and in Aug. 2018, Thompson is seen getting "touchy-feely" with a woman at an L.A. nightclub. Neither Thompson nor Kardashian address the allegations publicly.
Thanksgiving 2018: Kardashian is in Cleveland
Kardashian spends Thanksgiving in Cleveland because Thompson can't travel while basketball is in season.
She shared a sweet picture of True on Instagram to celebrate.
February 2019: Thompson and Kardashian break up
The couple officially breaks up in February 2019 after another cheating scandal this time involving Kylie Jenner's best friend, Jordyn Woods. Woods reportedly went to a house party at Thompson's house where the two kissed.
Woods later gave her first public interview about the scandal after which Kardashian took to Twitter to share her feelings, telling Woods to stop lying. Woods moved out of Kylie's guest house where she was living but the two have reportedly seen each other one time since the scandal.
Feb. 27, 2019: Thompson on possible date
On what appears to be a date, Thompson is seen in New York City with model, Karizma Ramirez. The two are spotted on multiple occasions out and about in the city.