Relive 'Ghostbusters' When The Original Returns To Theaters For Its 35th Anniversary
No argument is necessary to acknowledge the fact that the Ivan Reitman-directed Ghostbusters movie is a classic. When it was released in 1984, it became a summer box office hit and is still regarded as one of the biggest—if not the biggest—comedy success of the '80s.
Those who grew up in that era remember the Ghostbusters cartoon series, the cereal, and the toy line. This year the film turned 35, and because people always need to know who to call when there's something strange in the neighborhood, Ghostbusters is returning to theaters to give us a great reminder.
Here's how to line up to watch Egon, Peter, Winston, Ray, and Janine wrangle all the supernatural bandits in New York.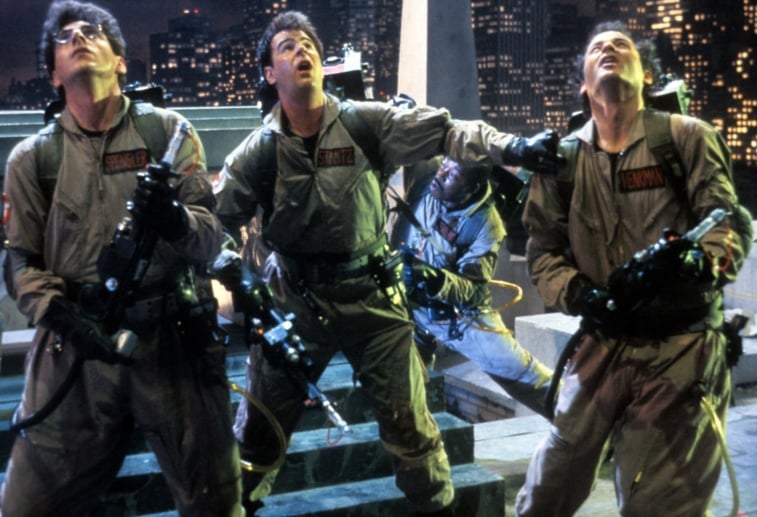 It's a limited-time anniversary celebration
The film's official theater birthday is June 8, but the timing couldn't be better for its re-release in October, near Halloween. Fathom Events is keeping things spooky with two showings: Oct. 6 and Oct. 10.
Each year, the company hosts special screenings of beloved films for the benefit of lifetime fans and to introduce old favorites to newbies.
For the Ghostbusters event this year, Fathom wants viewers to know that fond memories will be mixed with sprinklings of freshness. From their press release:
"Paranormal activity never looked as good, or as funny, as it did in the summer of 1984, when 'Ghostbusters' became a pop-culture phenomenon – and 35 years later, Fathom Events is giving movie fans a chance to get slimed again, but for two nights only: Sunday, October 6, and Thursday, October 10. While the Stay-Puft Marshmallow Man will remain safely at a distance, this special 35th anniversary presentation of 'Ghostbusters' will feature an introduction that reunites key members of the cast of this iconic film, sharing the memories of making a film that remains a cultural touchstone. The introduction will also include newly unearthed and rarely seen alternate takes from famous scenes."
Did you catch that? Alternate takes! Prepare to settle in for at least two hours to enjoy seeing Bill Murray, Dan Aykroyd, Ernie Hudson, and Harold Ramis as the brave foursome who battle spirits to save Sigourney Weaver and Rick Moranis.
Now that it's all coming back to you and sounds like a good bet, visit Fathom here to purchase tickets. According to Variety, the screenings will take place in more than 600 theaters.
Will the sequels play along with the first film?
No, not this time. In honor of its anniversary, only the first Ghostbusters movie will be shown for this event. Although Ghostbusters II turned 30 this year (it debuted in June 1989), part one is arguably the most loved installment in the series.
Diehard fans should not be discouraged because at certain times of the year, you can find local, one-off screenings of the sequel(s) playing in your area.
Other 'Ghostbusters' anniversary celebrations are happening too
Sony launched its inaugural Ghostbusters Fan Fest event in Culver City, California this year which included a screening of the film, appearances by the original cast, director, and Ray Parker, Jr., and a limited-edition Ghostbusters-themed Sony WALKMAN.
It's ok if you missed the festival, because Sony is stretching the celebrations out to lead up to the release of Ghostbusters 4 in 2020. Per a press release, fans should look for anniversary-related toys, apparel, gaming products, and collectibles.
Since Transformers is also turning 35, both franchises will be collaborating for a line of toys, video games, clothing, and comic books. That's not all. A Ghostbusters orchestra is touring 40 cities that will also feature a showing of the film.
Fans should get their tickets early for the October screening but stayed tuned to see what else Sony has in store for the year. Ghostbusters 4 is due to hit theaters in July 2020.