Remembering Seductive Screen Legend Lauren Bacall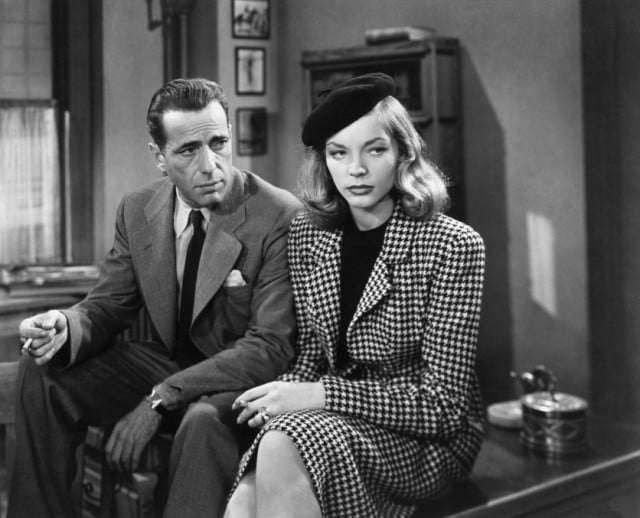 Screen legend Lauren Bacall, most famous for her on-and-off-screen romance with Humphrey Bogart, passed away on Tuesday evening at the age of 89 after suffering a massive stroke at her home in Manhattan. Her death was confirmed by her son Stephen Bogart to The New York Times.
Though Bacall detested the word legend, she is one of the most iconic actresses to come out of Hollywood's Golden Era, and in particular, film noir. Her signature deep, throaty voice spoke famous lines like "Anyone got a match?" and "You know how to whistle, don't you Steve? Just put your lips together and blow." Her signature "Look," chin down with eyes peering seductively upwards, has been often imitated but never matched.
While some of Bacall's early roles were focused on her intense sexuality, she also brought a certain tough-girl charm to her performances. While Marilyn Monroe made fun of herself by playing dumb, Bacall flirted by making fun of the men she was courting. She fell in love, but never seemed all that vulnerable while doing it.
Bacall began her career under the tutelage of Hollywood Golden Era director Howard Hawks. Hawks' wife Slim saw a modeling shot of Bacall on the cover of fashion magazine Harper's Bazaar and brought the 18-year-old to Howard's attention. He then cast her opposite Humphrey Bogart in her first film, the 1944 adaptation of Ernest Hemingway's To Have and Have Not. On the set of that film, Bacall fell in love with Bogart though he was 25 years her senior and married to another woman at the time.
Their chemistry is so palpable that it created one of the greatest on-screen pairs of all time and made To Have and Have Not a classic despite the fact that the film itself is basically a rip-off of Bogie's earlier hit Casablanca. Bogie and Bacall were married in the spring of 1945 and went on to act together in Hawks' complicated film noir The Big Sleep, another thriller Dark Passage, and John Huston's Key Largo.
Bacall has referred to her 12 year marriage to Bogart up until his death of esophageal cancer in 1957 as the happiest period in her life, though she told The New York Times that the high profile marriage limited her career. "I would not have had a better life, but a better career," she said, speculating what her life would have been like if she hadn't married Bogart. "Howard Hawks was like a Svengali; he was molding me the way he wanted. I was his creation, and I would have had a great career had he been in control of it. But the minute Bogie was around, Hawks knew he couldn't control me, so he sold my contract to Warner Bros. And that was the end."
Other notable films from Bacall include the 1953 comedy How to Marry a Millionaire, which saw her co-starring alongside Marilyn Monroe and Betty Grable as a group of gold-digging models, and the 1950 big budget jazz movie Young Man With a Horn, playing a scheming femme fatale alongside Kirk Douglas. Through the 1950s, Bacall earned a reputation for being difficult because she turned down scripts she didn't find interesting, and her film career slowed down greatly.
After Bogart's death, Bacall pursued theater work and won Tony awards in 1970 and 1981 for the musicals Applause, based on the film All About Eve, and Woman of the Year, respectively. Bacall's film career underwent a revival in recent years, starting in 1996 with her role in The Mirror Has Two Faces. She was nominated for a best supporting actress Academy Award and was widely expected to win before losing in an upset to Juliette Binoche. After that, she went on to have acclaimed roles in the 2003 Lars von Trier film Dogville and the 2004 Jonathan Glazer drama Birth.
While she was never a very prolific actress and will always have her memory tied to Bogart in one way or another, Bacall's style and swagger made her an iconic presence in Hollywood's Golden Age. Bacall hated being referred to as a legend while she was alive, telling CNN's Larry King in 2005, "I don't like the category. And to begin with, to me, a legend is something that is not on the Earth, that is dead." Now it seems we can bestow the title upon the tough and glamorous actress.
More From Entertainment Cheat Sheet:
Follow Jacqueline on Twitter @Jacqui_WSCS
Want more great content like this? Sign up here to receive the best of Cheat Sheet delivered daily. No spam; just tailored content straight to your inbox.