Revealed: Prince William and Kate Middleton Didn't Make Prince Harry and Meghan Markle 'Look Bad' With Budget Flight
It's been easy to make the assumption that Prince William and Kate Middleton were throwing shade at Prince Harry and Meghan Markle by taking a budget flight after the Sussexes were criticized for flying on private jets. It turns out, there was no shade involved.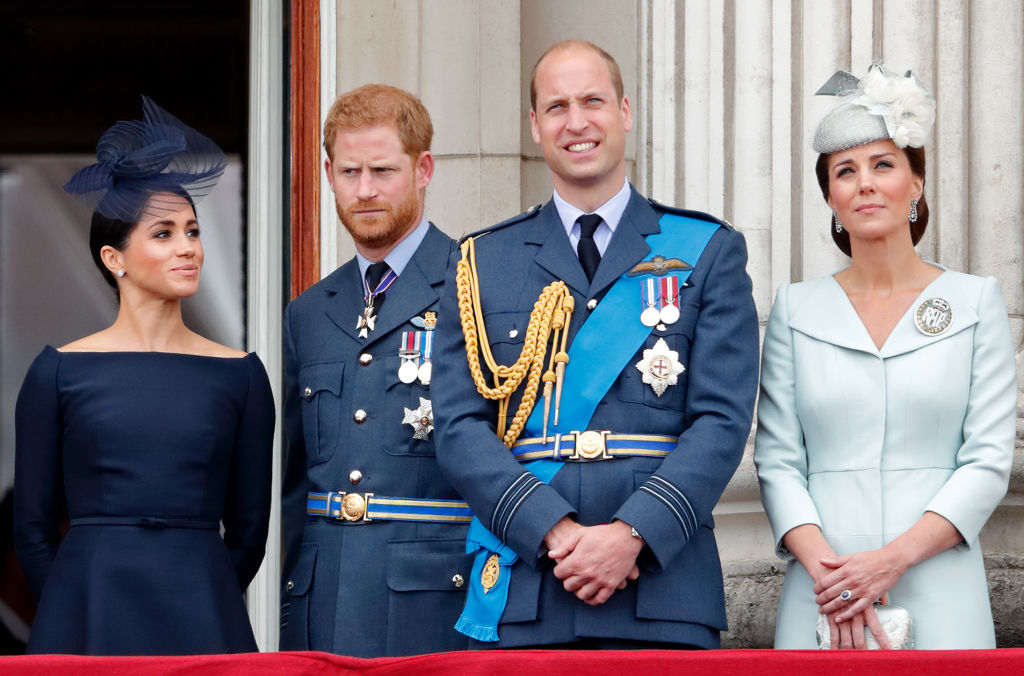 Prince Harry and Markle faced backlash
The Sussexes were accused of being hypocrites when they took private jets for their recent travel since they are often quite outspoken about environmental issues. The media and their critics were quick to pounce on their gas-guzzling mode of transportation and a number of celebrities came out to defend them.
Singer Elton John defended the couple
Elton John took to Instagram and Twitter to explain that he had paid for the couple's private plane to France and asked the media to back off. He wrote: "I am deeply distressed by today's distorted and malicious account in the press surrounding the Duke and Duchess of Sussex's private stay at my home in Nice last week. Prince Harry's Mother, Diana Princess Of Wales was one of my dearest friends. I feel a profound sense of obligation to protect Harry and his family from the unnecessary press intrusion that contributed to Diana's untimely death."
He continued: "After a hectic year continuing their hard work and dedication to charity, David and I wanted the young family to have a private holiday inside the safety and tranquility of our home. To maintain a high level of much-needed protection, we provided them with a private jet flight. To support Prince Harry's commitment to the environment, we ensured their flight was carbon neutral, by making the appropriate contribution to Carbon Footprint."
The singer noted that he was "calling on the press to cease these relentless and untrue assassinations on their character that are spuriously crafted on an almost daily basis."
Did Prince William and Middleton make the Sussexes look bad?
When Prince William, Middleton, and their children were seen taking a budget plane for their recent travels from Norwich to Aberdeen, many believed it was done to make Prince Harry and Markle look bad.
E! News royal commentator Melanie Bromley questioned the Cambridges' decision to take a commercial flight days after the Sussexes used private jets, sharing, "They had to get a commercial flight while the whole week has been about Harry and Meghan taking four private jet flights in a week."
She continued, explaining, "It's like — come on William and Kate. I get it, they are going to Scotland to spend the summer with the Queen. But of all the weeks to be pictured on your commercial flight, your $73 budget airline, it had to be this week?"
Bromley added: "Could you not, just for once, have taken a private jet this week so that Harry and Meghan do not look bad? Isn't that fascinating?"
There was no shade
It turns out, things didn't go down in a shady way at all, as royal reporter Chris Ship explained that, in reality, Prince William and Middleton couldn't be throwing shade at the Sussexes because royal trips are planned months in advance.
He noted on Twitter: "Anyone who thinks William & Kate might have chosen to fly budget airline to make a point after Harry & Meghan's private jets — doesn't have a clue about royal travel plans. They are made months in advance. Especially when it's about visiting The Queen at Balmoral."