Revealed: The Royal Nanny Has Strict Rules for Prince George and Princess Charlotte
She's no Mary Poppins, but the royal nanny does share a few traits with one of literature's most famous characters. One thing both child minders have in common? They don't let the children get away with nonsense, even if they are in line for the British throne.
Prince George, Princess Charlotte, and Prince Louis aren't like most other kids. But still, their parents try their best to raise grounded, down-to-Earth children who are respectful of their elders. That's why the little royals are expected to follow the rules set down by their nanny, Maria Borallo, without complaint.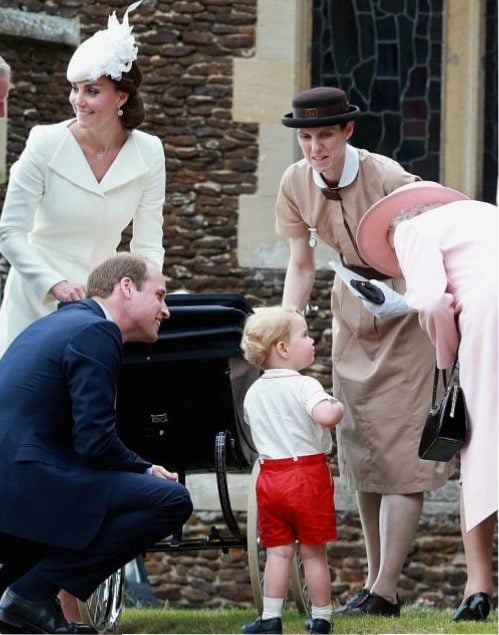 Who is the royal nanny?
Maria Teresa Turrion Borrallo was born in Spain but has lived in the U.K. for more than 20 years. This so-called "super-nanny" has past experience with celebrity clients including Mick Jagger and his wife Jerry Hall. She didn't begin working for the royal family until Prince George was about 8 months old.
Barrallo graduated from famed nanny school Norland College and has some impressive certifications. She's trained in Taekwondo, knows how to dodge paparazzi, underwent terrorism training, and is skilled at driving in dangerous conditions. Her main concern at all times is keeping the royal heirs safe from harm.
Tantrums aren't allowed
Most of the time it's business as usual in the royal household, which means that the youngsters need to follow the strict rules Borrallo has for them. First among these: tiny tantrums are unacceptable. One Norland nanny expert named Louise Haran explains this method by saying, "There will be no messing. That's because Maria will be aware that as they step off planes, holding mum's hands, smiling and waving to the crowds, there can't be any crying or terrible twos or tantrums."
In case you ever wondered why Prince George and Princess Charlotte were so well-behaved in public, this statement provides a great answer. Their nanny may be operating behind the scenes, but she's still having a profound effect on how the little royals act in public.
Bedtime is 7PM sharp
No doubt Prince George longs for a little extra time with his toy trucks in the evening. But with Nanny Maria in charge, the royal children must adhere to strict bedtime rules. The two older children must be in bed by 7PM sharp and soon enough Prince Louis will need to follow that same schedule.
The royal children must play outside every day
Fresh air is vital to health. Nanny Maria believes in this deeply and responds by requiring the royal children to spend time outdoors every single day – even in the winter.
Haran elaborated on this common practice by saying, "There will be lots and lots of outdoor play; that's the one thing you could say Norland are old-fashioned about. Loads of fresh air."
Barrallo is teaching the children Spanish
The Duke and Duchess of Cambridge believe in raising cultured, worldly children as this will help them with royal duties in the future. That's why they're so pleased that the nanny is assisting with teaching the kids how to speak Spanish.
Both Prince George and Princess Charlotte are learning the basics of the language. Obviously, Nanny Maria is fluent – she was born in Spain, after all!
Above all, she lets the kids act like kids
It's not all strict rules and inflexible bedtimes with the royal nanny, of course. The most important lesson she teaches the young royals is how to have fun and enjoy their childhood. It's clear that she's doing a wonderful job at it!