Revealed: Which 'Dance Moms' Alum Is Joining The Cast of Season 8?
The Lifetime hit series Dance Moms returns in less than two weeks and we are gearing up to watch the drama unfold. But who will star in the new series? Are any of the original dancers returning? And who, if anyone, will be the new Maddie?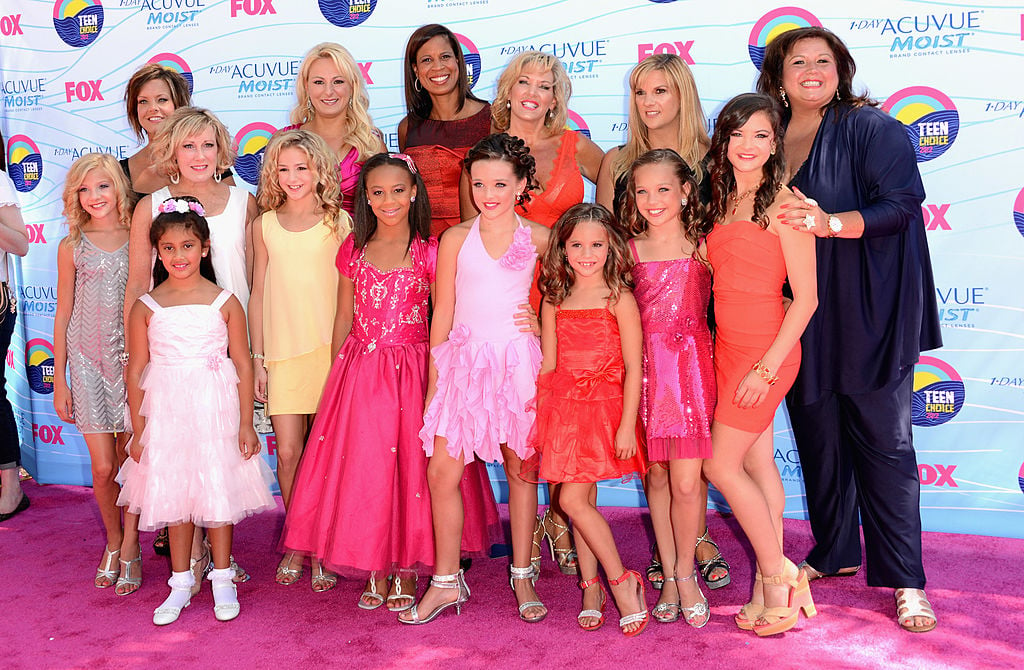 Dance Moms first premiered back in January of 2011. The show follows teacher and studio owner, Abby Lee Miller, her talented group of young dancers (know as the Junior Elite Competition Team), and their mothers. Teaching her students a new dance routine every week, the team travels across the country weekly to compete in dance competitions. The ultimate goal? Willing a national dance title.
Abby Lee Miller
But, the road to nationals is always a rocky one. Miller is famed for her ability to train "professional, employable, working dancers." But, there's a lot of madness within her method. Miller utilizes a brutally honest and abrasive teaching style to gain results from her dancers. Expecting perfection, the pressure she places on children is immense. This often triggers emotional breakdowns from the team and their mothers.
The super successful series abruptly went on hiatus when Miller was sentenced to federal prison due to bankruptcy fraud. But despite this, Miller's ongoing battle with spinal cancer, and her partial paralysis, a new season of the show is finally getting ready to air. Let's take a look at who's a part of the new competition team.

Lilliana Ketchman
Ten-year-old Ketchman is the only returning member of the team from previous seasons. (Though it has been confirmed that her former teammate, Elliana Walmsley, will rejoin the show at a later point in the season.) Specializing in ballet and acrobatic dance styles, Ketchman quickly became one of Miller's favorite dancers because of her strong technique, incredible flexibility, and penchant for winning first place.
Under Miller's guidance, Ketchman won a national title. Following in former teammate Maddie Ziegler's footsteps, she was also featured in a Sia music video. Ketchman has kept consistent with her training since Season 7 ended, so if she plays her cards right, she certainly has a shot at being the face of the new ALDC team.
Brady Farrar
At 14 years old, there seems to be nothing this dancer can't do. Specializing in a multitude of dance styles, from ballet, to tap, to ballroom, he seems to be a jack of all trades. He is being slated as "The New Maddie" because Miller seems to favor him and the moms harbor no small amount of jealousy towards him. With tremendous accolades under his belt already, including being named the Young Male Dancer of the Year by the American Dance Awards, he's absolutely one to watch.
Kamryn Smith
The youngest member of the new ALDC team, this 8-year-old still has 5 years of dance experience under her belt. Known for jazz and contemporary styles, she won the title for Petite National Dancer just last year.
GiaNina Paolantonio
Though she is only 13 years old, this dancer already has a resume that most professionals dream about. Specializing in jazz and ballet, Paolantonio has already danced in a major motion picture, The Greatest Showman, performed with Mariah Carey, had a role in a Broadway musical, and been on Nickelodeon. With such a bevy of experiences, she should be able to adapt to the stress of Dance Moms quite nicely.
Sarah Georgiana
This 11-year-old ballerina is known for her fantastic technique. She formerly attended Studio 19, where Dance Moms alum, Chloe Lukasiak, attended after her original departure from the show.
Hannah Colin
A triple threat, this 14-year-old excels at theater and singing alongside dance. Her dancing forte includes tap, hip-hop, lyrical, and contemporary.
Savannah Kristich
No stranger to dance competitions or to competing on television, Kristich finds her niche in lyrical, contemporary, and ballet styles. Having previously competed on World of Dance, her incredible talent helped her make it all the way to the division finals of the show.
Pressley Hosbach
If hip-hop is your favorite style of dance, this dancer, who also excels at lyrical and ballet, is someone to keep your eye on. At just 12- years old, she already has professional experience under her belt. Having danced back up for Justin Beiber during his Purpose Tour, she seems equipped to handle the pressures of the show.
Everyone is replaceable
We've met the cast, but nothing is set in stone. As Miller loves to say "everyone is replaceable." We'll be tuning in on Tuesday, June 4 to see who stays and who goes. We can't wait to watch the drama unfold.