RHOA: Kenya Moore Alludes to Husband, Marc Daly, Being Verbally Abusive During Latest Episode
Kenya Moore seemed to have finally found the love she longed for when she met and married restauranter, Marc Daly. She proved she would do what was necessary to have a lasting relationship by taking a hiatus from Real Housewives of Atlanta to focus on her family. She and Daly welcomed their first child, Brooklyn, in November 2018. The two appeared to have a lasting love and Moore called Daly the "love of her life." Fans were confused when Moore revealed she Daly were headed for divorce but a recent episode of RHOA hinted that poor communication, and bad arguments with Daly belittling Moore, may have caused the split.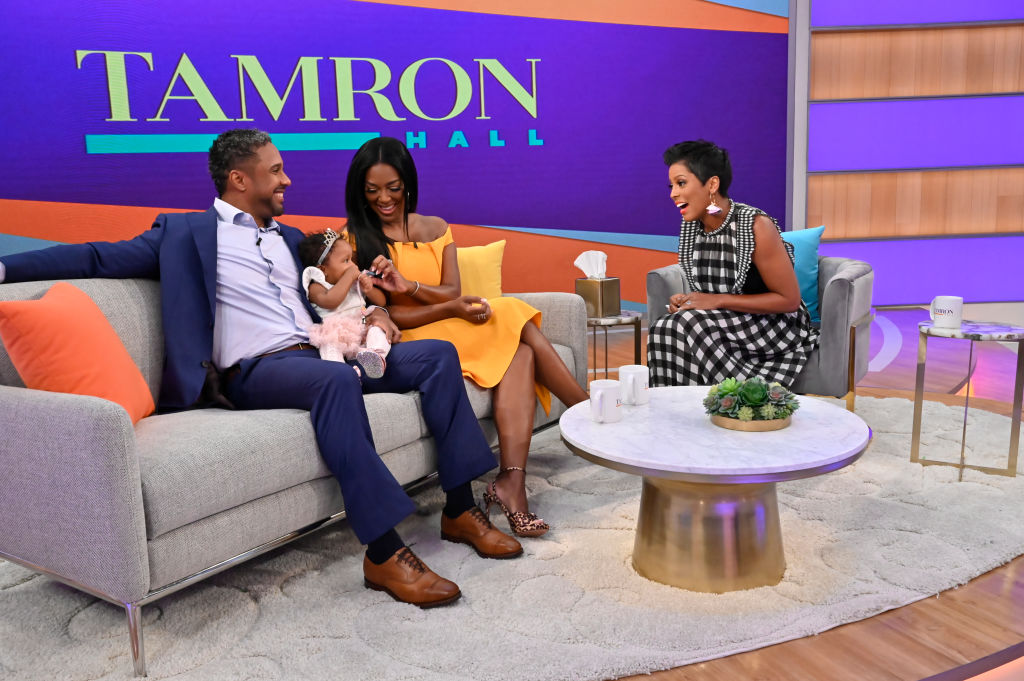 Kenya Moore splits from Marc Daly
Just a few months after celebrating their second wedding anniversary and a few weeks shy of their daughter's first birthday, Moore shocked fans when she announced that she and Daly were ending their marriage.
In statements to People Magazine, both Moore and Daly revealed they were separating.
"It is with profound sadness that I regret to inform my fans that I am divorcing my husband Marc Daly," Moore said. "Due to recent and ongoing circumstances, I can no longer continue in the marriage."
Daly shared similar sentiments, statement, saying, "I have come to the difficult decision to separate from Kenya at this time."
Both asked for privacy and committed to remaining cordial for a healthy co-parenting relationship for their daughter. 
Moore hasn't said much since the split. She did, however, reveal to both Andy Cohen and Wendy Williams in interviews that she hoped she and Daly could reconcile but was unclear of their future. 
Kenya Moore reveals that Marc Daly can be verbally abusive during arguments
The issues between Moore and Daly were more serious than viewers expected. While there were rumors of Daly having a secret ex-wife and children that Moore didn't know about, according to blogger Love B. Scott, Moore denied that Scott's claims were true. She later attributed the split to poor communication.
On the latest episode of RHOA, a tearful Moore broke down during a conversation with Kandi Burruss and revealed just how bad her and Daly's communication became. She first explained that she spent her and Daly's two year anniversary alone in Turks and Caicos with their daughter. Moore claimed that she and Daly argued about him not wanting a nanny to accompany them on their trip. Moore argued with without a nanny, she and Daly wouldn't get to spend any alone time together. The issue was never resolved and Moore ended up traveling without Daly.
Moore told Burruss that it's normally her who compromises in the relationship. In a confessional, Burruss admitted that she's observed Moore being the submissive one and found it shocking that Moore took on that role as she's normally the dominant one in her relationships. Moore agreed and admitted she picks her battles wisely because she wants to avoid nasty arguments.
"I just feel a lot of times stuck, 'cause I don't want a conversation to elevate to a full-blown argument because he doesn't compromise…I'm not a fighter [in relationships], I want peace. I like to resolve issues," Moore said as she wiped away tears. Moore then revealed that she feels Daly hits below the belt and takes things too far during their arguments.
Burruss questioned what Daly could say in the heat of the moment and asked Moore if he's ever called her out of her name. Moore responded, "He'll admit to that. He'll admit, 'I am a fighter. I like to fight.'"
The former beauty queen alluded to the arguments getting so bad that she feels it's becoming a toxic environment for her daughter. "I don't want it for Brooklyn. I waited my whole life for her and I was that little girl who was never protected and I will protect her," she said. 
Moore became filled with so much emotion that she stormed out of the room. The episode ended with Moore breaking down off-camera. 
Viewers will see more of the demise between Moore and Daly as the season progresses.