'RHOA': Kenya Moore Calls Nene Leakes a 'Bully' Ahead of Season 12 Premiere
Kenya Moore and Nene Leakes from 'RHOA' are still feuding. The Bravo stars are set to set off fireworks when they return for season 12.
Kenya Moore is returning to The Real Housewives of Atlanta for season 12. Her presence is most likely going to make Nene Leakes uncomfortable as fans were able to see during the season 11 finale. The ladies still seem to be feuding as Moore recently called Leakes a "bully" and revealed the reason why.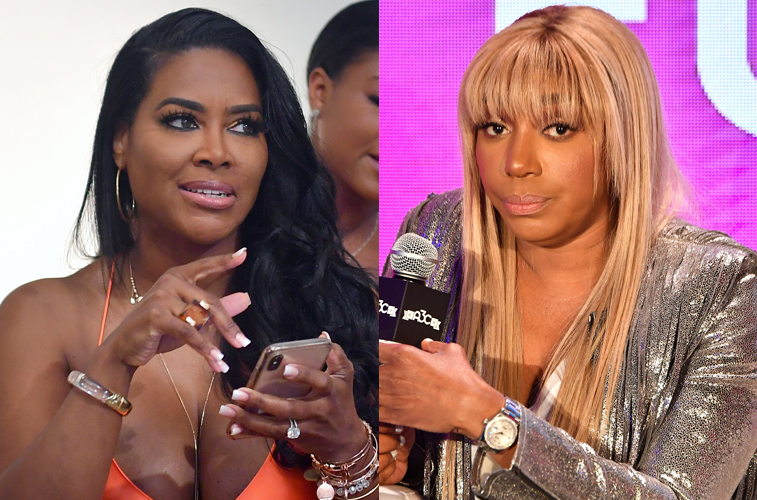 Moore and Leakes are still at odds with each other and the Miss USA 1993 winner is not holding back. During a beauty event, Moore was asked about why she thinks Leakes is so threatened by her.
"I mean, you know, I'm fabulous honey. Look at me I'm fabulous," Moore told TMZ. "You know what, honestly, I don't know. It is definitely an issue within her. I don't know why she is so intimidated by me. I really wish she would just get herself together because I come in peace but she just always seems to find a way to be bothered."
When the reporter asked the RHOA star if she thought Leakes was a bully, she did not mince her words.
"Oh, she's absolutely a bully, She's bullied everyone on the show," Moore answered.
Nene Leakes set to confront Kenya Moore on divorce
Moore recently confirmed she was splitting from Marc Daly after being married for two years. There are rumors that Daly allegedly had various affairs while the couple was together.
Now, there are rumors that part of the RHOA cast will confront Moore to get the real reason she's divorcing her husband.
"NeNe, Eva [Marcille] and Marlo [Hampton] don't believe that Kenya is telling the truth about the affairs," the insider told Radar Online. "They haven't said anything to her while filming yet. They're waiting for the right time to bring it up to her."
As of now, there are no reports any of the housewives have brought the issue up to Moore. However, there is a scene that was filmed for the show where Moore and Daly have an "aggressive confrontation."
Kenya Moore and her life post-split
Moore recently attended an event recently where she said it was "bittersweet" as the prior year she had attended with her husband.
"I have been gone for a year. Marc and I have been married for two years. So, you'll see him on the show," Moore shared with The Daily Dish.
It was in September when the Bravo star announced her split from Daly.
"It is with profound sadness that I regret to inform my fans that I am divorcing my husband Marc Daly," Moore said in a statement to People. "Due to recent and ongoing circumstances, I can no longer continue in the marriage. My sole concern and focus is and will always be my daughter, Brooklyn, my miracle baby. She was made in love and true commitment. I ask for our privacy to be respected moving forward."
Fans of the show are excited to see the new season of RHOA to see how the group dynamics change. Moore has a history with the rest of the group and the baggage is sure to weigh in on their relationships. With Leakes the biggest personality on the series, it will be interesting to see how she handles Moore's return to the circle. The Real Housewives of Atlanta returns to Bravo on November 3 at 8 p.m. ET.