'RHOA' Star Eva Marcille Welcomes Third Child! Who Is Her Husband Michael Sterling?
Eva Marcille has come a long way since winning cycle three of America's Next Top Model. The Tyra Banks trained runway and print model burst onto the scene as "Eva the Diva" in 2004 and hasn't stopped working since.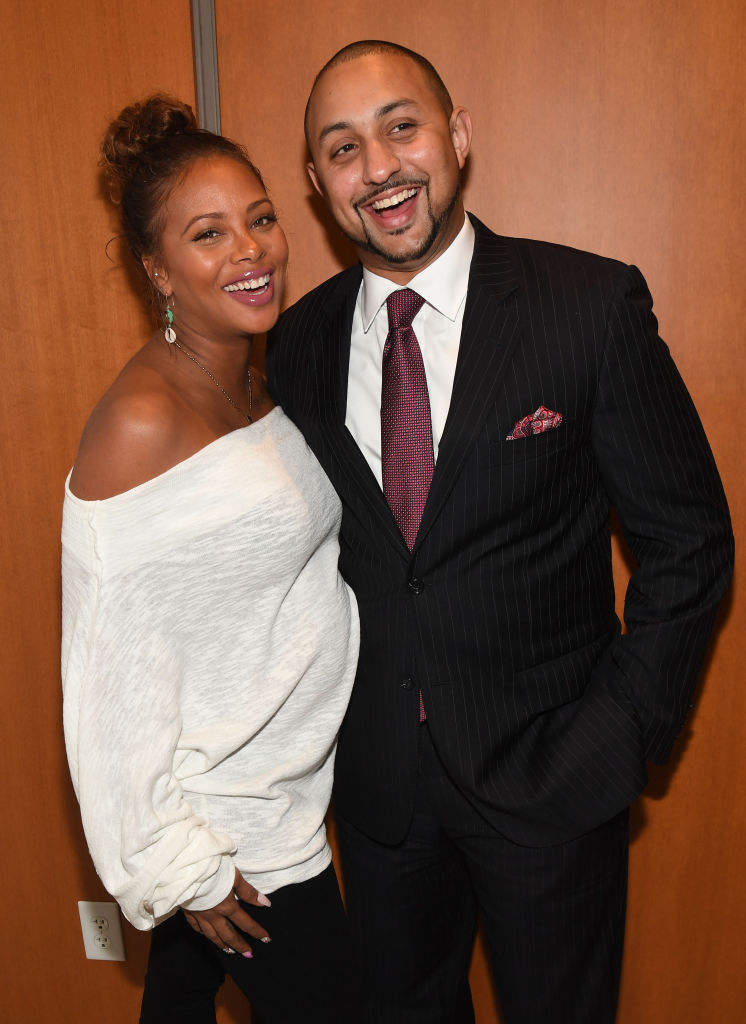 Eva added acting credits to her resume, with roles in Tyler Perry's House of Pain and Sister Code. She also executive produced her own competition show, My Model Looks Better Than Your Model, on TV One for a number of years.
Eva's success is something she is proud of but what she's the most grateful for is the family she shares with husband, Michael Sterling. The two just welcomed their third child and although he appears with her on RHOA, there's much more to Michael than the title of a model mogul's husband. 
Who Is Eva Marcille's husband Michael Sterling?
Michael Sterling was well established in law and politics before he began a relationship with Eva. Born and raised in Texas, he is a graduate of the all-male historically black college, Morehouse College. From there, he attended another historically black college, Texas Southern University and studied law at the Thurgood Marshall School of Law. He graduated summa cum laude from the program.
Michael's career is one that should be celebrated. He was the Assistant United States Attorney in the Northern District of Illinois and was hand-selected and appointed by Attorney General, Eric Holder. Michael became the youngest federal prosecutor in Chicago. He also worked in the General Litigation Group of Chicago's Sidley Austin LLP, where he managed commercial litigation.
Politics was a way for Michael to further his love of impact and change. After working as a Senior Advisor to the Mayor of Atlanta, he was inspired to run for Mayor. He chose to drop out of the pool for Mayor candidacy two weeks before the election in November 2017 and he endorsed another candidate. He continues his work in law today.
Eva Marcille and Michael Sterling relationship
Eva Marcille confirmed that she and Michael were dating in late 2016. Eva spoke with Bravo TV's The Daily Dish about meeting Michael and explained that he was a breath of fresh air after she'd broken up with her ex-boyfriend, Kevin McCall, following a domestic violence incident and a restraining order.
Eva met Michael at a mutual friend's charity event that she attended while she was in Atlanta for a job. Prior to arriving in the ATL, Eva was determined to become a better version of herself and create a new life after experiencing such a difficult relationship with her ex. She told co-star, Tanya Sam, in her Daily Dish episode:
"I had this dream catcher on my ankle and I had had that on there about two weeks before Mike and I met. And I said, 'I'm going to walk into my dreams this year.' Because I was going through drama with the donor [McCall]. So I put that dream catcher on and I came to Atlanta for a job and I met Mike. And then after we got married, I took Mike into the room and said, 'Cut the dream catcher off with me.' Because I feel he was the dream that I was looking for. And so we cut the dream catcher off and we put it around the bouquet. And it's one of those things that the world might see it, they might not, but it meant so much to me because I feel like God put me on my path to meet him and he knew I would journey all of my life with him."

The Daily Dish
Eva and Michael became engaged in December 2017. The two welcomed a son, Michael Jr., in 2018. She became Mrs. Sterling in late 2008 in a $350,000 ceremony fit for a queen. Eva and Michael welcomed another son, Maverick, in September 2019. Michael proved his commitment to Eva by legally adopting Eva's daughter, Marley, whom she shared with McCall, and changing Marley's last name. 
What to expect with Eva Marcille and Michael Sterling on 'RHOA' season 12
RHOA fans saw Eva and Michael's walk down the aisle in their fairytale wedding in season 11. The two fought back at castmates who accused Eva of being broke and moving from place to place because she could not afford to fund an expensive lifestyle. She and Michael stood together and claimed they did not disclose certain personal details of their lives due to being harassed by Eva's ex.
The trailer for season 12 shows a heated verbal exchange between Eva and co-star, Kenya Moore. Fans can expect to watch Eva and Michael as they prepare for becoming a family of five. As their family expands, so does their businesses with Eva continuing modeling and creating a home decor line.