'RHOBH' Cast Season 10: Denise Richards Confirms Return To 'Housewives of Beverly Hills'
The Real Housewives of Beverly Hills just finished airing Season 9 on Bravo and the rumors for Season 10 have already started as pre-production starts getting underway. With Lisa Vanderpump saying she wouldn't return to the reality show, which other ladies will get the ax and which ones will make a comeback?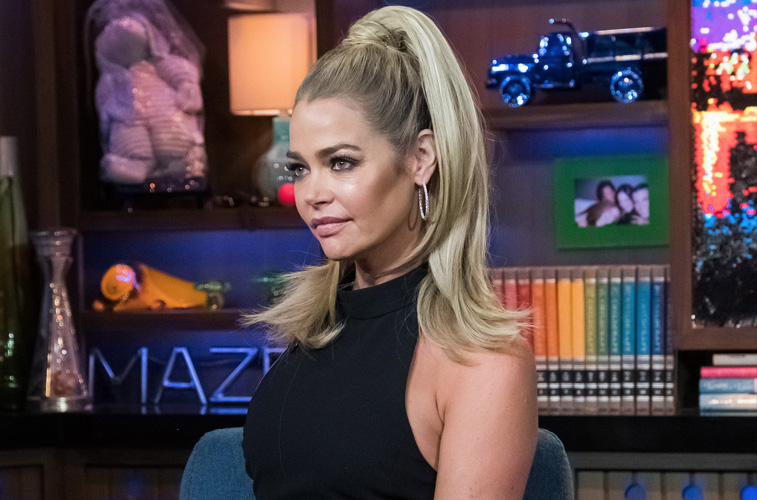 Is Denise Richards coming back to 'RHOBH'?
The "Wild Things" star made her fans happy when she revealed she would be returning for a second season of the controversial reality show. Poking fun at the rumors of facelifts and plastic surgeries that the ladies have done between seasons, Richards posted a picture of a Barbie doll with a botched procedure practiced on her face.
"Seeing this picture made me think of 'RHOBH,'" she wrote on Instagram. The actress also added the hashtags, "My second season" and "Season 10."
Denise had originally written, "All us girls prepping for Season 10 of 'RHOBH' be like…," before editing the caption to the previous quote.
Who Is Not Coming Back To 'RHOBH' Season 10?
Although things can certainly change, as of right now we know Lisa Vanderpump would be the only cast member not returning after a tumultuous season where she felt targeted by the rest of the ladies.
As of June of this year, the businesswoman and LGBTQ activist confirmed she was essentially too busy with her ventures to continue dealing with petty drama on the show.
"I made the decision to leave. It was a very difficult year for me, personally and professionally. I had wonderful things happen this year, opening up and TomTom and the cocktail garden in Vegas. The Housewives, it's just, it's emotionally too difficult to deal with," she told Us Weekly.
On the night of the Season 9 finale, Vanderpump shared a video on Instagram with the following caption: "The Pump has left the building. Thank you to all of you for your support for 9 years."
Petition to Fire Kyle Richards and Teddi Mellencamp
Kyle Richards was Vanderpump's closest friend and the one who ultimately betrayed her by calling into question if she had leaked stories to the press. Now an online petition from Vanderpump stans has been created on change.org calling for the firing of both Kyle and her new best friend Teddi Mellencamp.
"Kyle has persistently accused Lisa with no proof whatsoever. Teddi Arroyave should be fired for the fact she helped propel the propaganda and then only owning up to it so she could spin the narrative to make herself look innocent," the petition reads.
As of this writing, the online petition has already amassed 7,171 signatures of their 7,500 goal. Both stars are aware of the call to ax them from 'RHOBH' and a close source to them has already given insight as to what the think about it.
"Teddi and Kyle are not at all offended by fans calling for their firing. They're both 100 percent confident they'll be back for another season," the insider told Hollywood Life.
According to the source they "would be beyond devastated if either of them did in fact get fired," but if it happens they know it "would have nothing to do with Lisa's fans."
The close friend also added: "Kyle feels at peace with how things are with Lisa. The two talked a few months ago after bumping into one another and the conversation went as well as possible. The two will never be best friends again, but they're cordial should they see one another. Teddi on the other hand, not so much."
Who Will Join The 'RHOBH' Cast?
The faith of all the housewives are still up in the air and with an open spot to fill, a new lady is bound to join. One actress that has already put her name out there for consideration is Tori Spelling.
During the press tour for her new show BH90210, she stated that she was "sad" for not being asked to hold a diamond on the Bravo series.
"They never asked me … and it actually makes me really sad," she said during an interview on Sirius XM's The Jenny McCarthy Show. "Well, I was born in Beverly Hills, so I have one thing going for me. I'm married with a lot of kids, drama follows me everywhere."