'RHOBH': This Is How Denise Richards Feels After Lisa Rinna Fallout
Lisa Rinna and Denise Richards had a fallout during season 10 of The Real Housewives of Beverly Hills. Although the reason for the drama between the Bravo stars is not known, there have been hints of the feud on social media. Following the public quarrel, it has not been revealed what Richards' reaction has been to this spat.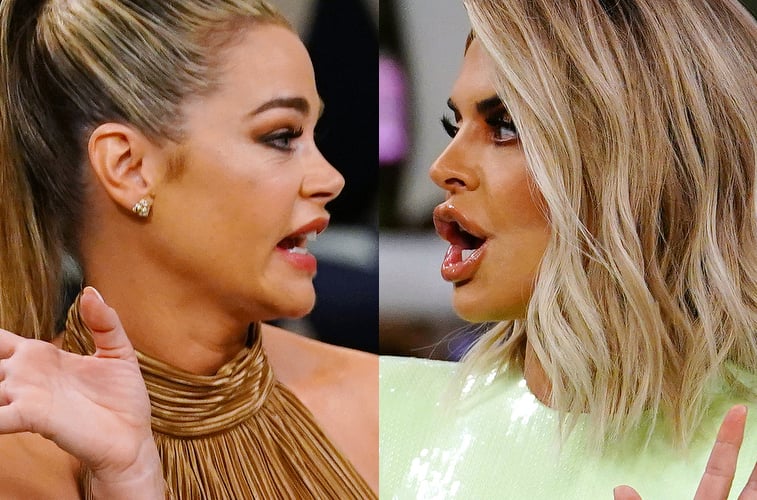 "Denise still considers Lisa Rinna a close friend despite the fact that they got into a heated argument over all of this," an insider told Hollywood Life. "She's really sad about how this has all played out. But the other women are not innocent in all of this."
The source says that Richards will be shocked by what the other women are saying about her too. They also added that the Wild Things actress figured out why Lisa Vanderpump didn't want to be friends with most of the RHOBH cast.
Lisa Rinna calls out Denise Richards
Fans of RHOBH noticed there was a feud between Rinna and Richards when the former called the latter out for skipping filming. Richards reportedly did not show up to film the season 10 finale party.
When Richards updated her Instagram with a new publication about her past surgeries, Rinna took a jab at her co-star.
"Denise are you ok?" Rinna asked. "You never showed up to Dorit's [party] Saturday night, we were all so worried about you. What happened? You said you were coming. You were meeting Garcelle. We never heard from you. What happened?"
Richards seemingly ignored Rinna's message online to avoid a bigger public exchange. A close source to the Bravo production revealed that Rinna is stirring the pot and playing up to the cameras to keep her job.
"Behind the scenes, Lisa Rinna is continuing to be the instigator and continuously stir the pot for maximum drama. Rinna does this to make herself relevant and maintaining job security," an insider told Us Weekly. "Denise has had enough of Rinna's constant meddling and passive-aggressive behavior, especially with social media. Denise and Rinna are headed toward a showdown on camera, which is what Rinna has wanted."
Denise Richards not enjoying 'RHOBH'
Season 10 of RHOBH is Richards' second season on the reality series. In contrast to last year, she is not enjoying her time in front of the cameras.
"She doesn't seem to be enjoying doing the show as much this season and nobody would be surprised if it were to be her last," the insider told Hollywood Life. "She wants to be doing acting more and Housewives has opened other opportunities for her. She's really not about the drama and seems to be disconnected from it at times. A lot of the cast is frustrated with her lack of participation still this season."
Richards also reportedly pleaded with producers to be excused from taking a trip with the rest of the cast to Rome. It has also been reported that Brandi Glanville is the one that exposed Richards for being fake.
"If you sign up for a reality show, any and all skeletons you have in the closet WILL come out eventually. You can't have secrets & expect to keep them EVER !!! So it's just best to be honest #own it," Glanville tweeted.
Viewers will be able to see all of the drama unfold when The Real Housewives of Beverly Hills returns in 2020.