'RHOBH' Fans Are Begging Bravo To Fire Kyle Richards And Teddi Mellencamp Before Season 10
The cast of the RHOBH is making a major change during the hiatus thanks to the departure of Lisa Vanderpump. And now, fans are urging Bravo execs to fire veteran cast members Kyle Richards and Teddi Mellencamp because they believe the ladies went too far with how they treated Vanderpump during Season 9 of the Real Housewives of Beverly Hills.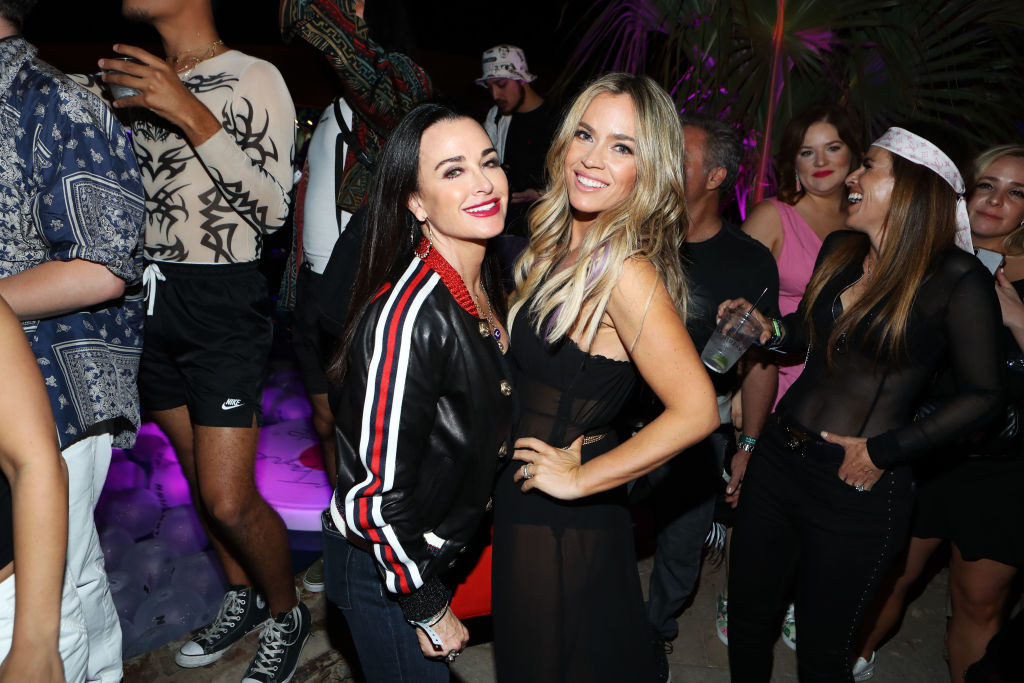 Collecting signatures on Change.org
Not long after Vanderpump announced she was leaving RHOBH because of her fractured relationships with her co-stars over the #Puppygate drama, an unhappy fan started a petition on Change.org to try to get Richards and Mellencamp fired.
In just a matter of days, the petition has almost reached its goal of 7,500 signatures, making it clear that there is a vocal part of the RHOBH fandom who want Richards and Mellencamp gone.
"Kyle has continuously slandered Lisa Vanderpump by accusing her of leaking stories…Kyle has persistently accused Lisa with no proof whatsoever," writes the petition's creator. "Teddi Arroyave should be fired for the fact she helped propel the propaganda and then only owning up to it so she could spin the narrative to make herself look innocent."
The petitioner went on to say that it is "blatantly clear" that Richards and Mellencamp sabotaged LVP, and she insists that Bravo fire them both. The petition ends with the fan saying that they are sick of this kind of behavior, and they want to say goodbye to the nastiness. They also claim that this could jeopardize RHOBH ratings.
Trying to sink Lisa Vanderpump
In the petition, RHOBH fan Jesse Roth wrote that both Richards and Mellencamp are "incredibly jealous" of Vanderpump, and Mellencamp would love nothing more than to sink her and Dorit Kemsley.
Roth says she rewatched all nine seasons of the Bravo reality show, and it was quite clear to her that Richards is "at the root" of all the rumors surrounding LVP, and she also has Mellencamp "helping her with the dirty work."
The petition also calls out Richards and Mellencamp for attempting to tarnish Vanderpump's reputation and propelling "propaganda" to fit their narrative that LVP leaked the #Puppygate story to the media.
Camille Grammer going full-time?
In addition to the petition calling for Richards and Mellencamp's firing, there are also rumors swirling that Mellencamp could already be on the chopping block for Season 10, along with Lisa Rinna.
According to LaLate News, Bravo is considering bringing in Camille Grammer as a full-time cast member and demoting Mellencamp to a friend of the show – or even letting her go altogether. Mellencamp has reportedly failed to resonate with viewers because she is a constant protagonist to other storylines, which "gets tiring to watch after a while," says an insider.
Because Mellencamp lacks her own narrative, that has left her future on RHOBH up in the air.
What about Lisa Rinna?
As for Rinna, her days on RHOBH may be numbered, too, as Bravo is reportedly examining her social media behavior ahead of Season 10. Bravo "has changed from where it was a few years back" when it comes to the ladies' activity on social media, and they are "examining how to deal with this," says an insider.
Earlier this year, Rinna reportedly angered Bravo execs by slamming her co-stars on Twitter and Instagram.
Rinna – who has been a full-time cast member since Season 5 of RHOBH – recently revealed that her future on the show is "uncertain. As is life." Executive producers have yet to make any casting decisions, and "all of this will be examined and discussed [in coming months]," says the source.
New episodes of Real Housewives of Beverly Hills will return to Bravo in 2020.