'RHOBH' Fans Say They Are Leaving In Droves, But Ratings Tell a Different Story
This season of The Real Housewives of Beverly Hills has been explosive, to say the least. Alliances were formed, with both the cast and fans drawing a line in the sand.
Viewers were warned the season would be a bumpy ride. Also, fans knew that the cast was at odds with Lisa Vanderpump. However, as episodes unfolded, viewers grew not only agitated with the storyline, they lashed out on social media at cast members.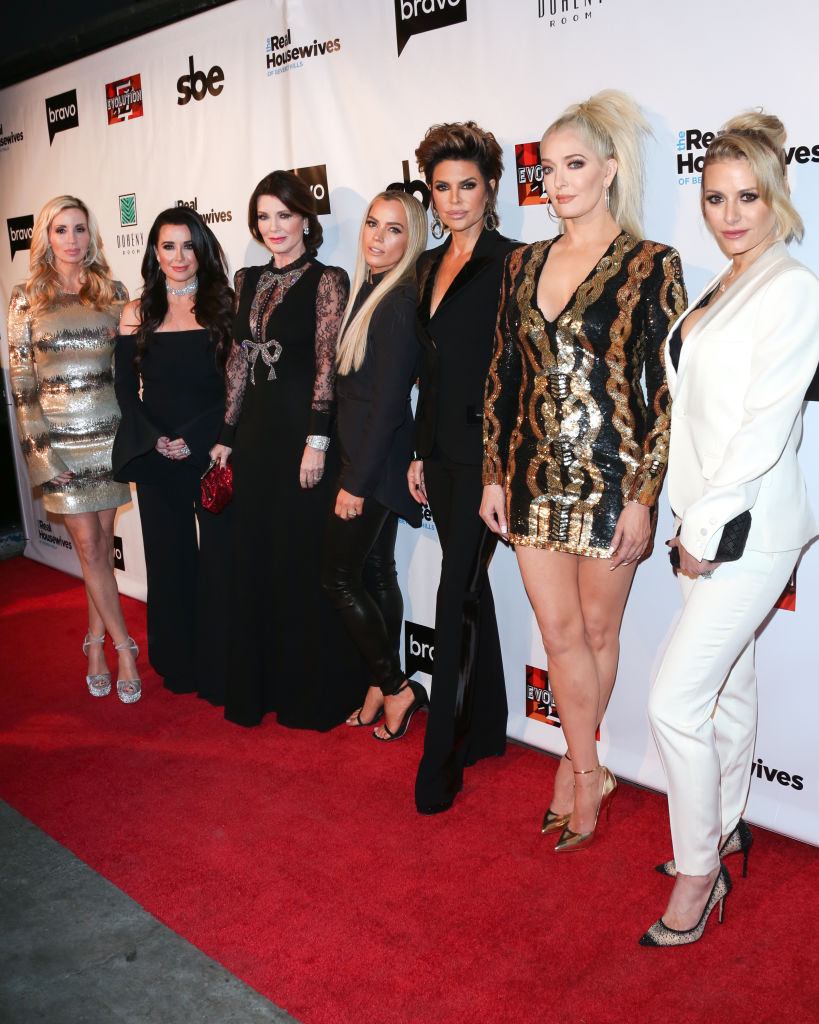 This tribalism grew even stronger with each episode and every tweet from the cast. When Vanderpump appeared on Watch What Happens Live, Vanderpump fans even became upset with how Andy Cohen treated her, vowing to stop watching the show.
Why so much animosity?
The season is difficult for Vanderpump without a doubt. Viewers watch her struggle with the loss of her brother. Plus she deals with how Dorit Kemsley clumsily handled the dog adoption mess. Kemsley adopted a puppy from Vanderpump's foundation, Vanderpump Dogs. But when she said the dog nipped at her children and husband, Kemsley found the pup another home.
Of course, viewers know how well that worked out. The dog ended up in a shelter but was recovered by Vanderpump Dogs. Some cast members insisted Vanderpump was so furious that she planted an article in Radar Online to make Kemsley look bad. Vanderpump insists she did no such thing.
Now the cast is split where it appears it is Vanderpump against everyone else. Fans too have taken sides, making angry and even aggressive comments toward cast members like Kemsley, Kyle Richards, Lisa Rinna, and Teddi Mellencamp.
Fans insist the cast are being mean girls
Fan alliances are very clear: they generally seem to side with Vanderpump. Many are calling the rest of the cast "mean girls" and vowing to drop the show in light of how Vanderpump is being treated. "#RHOBH#MeanGirls I am done with this show," one fan tweeted. "Its turned into mean girls and shallow. If this is their reality, poor them."
Others refuse to watch, even on their DVR. "I have just deleted from my DVR! All #RHOBH Thank you #MeanGirls for ruining my favorite show," according to this Twitter user.
When Richards made a joke about when Vanderpump's husband, Ken Todd tossed her from his house, saying "Goodbye Kyle," fans went nuts. Many were incensed that Richards would poke fun at him. Especially after the cast and other celebrities like Kris Jenner participated. "Is anyone else feeling gross about the #goodbyekyle challenge? It's so mean. #RHOBH," one person wrote.
Are people walking away?
Vanderpump loyalists may be leaving but it could be too early to tell if the franchise is damaged. Prior to the "Goodbye, Kyle" challenge, the franchise experienced a 73% viewership gain, according to rating site, TV by the Numbers. RHOBH ranked number four for the week of March 11.
However, during the first week of April, the show's position changed significantly. Instead of ranking number four, RHOBH dropped to number 14, experiencing a decent viewership drop.
Weekly ratings appear to be more volatile than daily rankings. The show has consistently been in the top five for Tuesday evening. The first week of April, the show ranked fourth but rose to third the following week. Cast members seem to be checking the daily ratings as Rinna tweeted, "Thanks Haters! You've made the ratings so high!!! Yayyyyyyyyyyyy!"
Check out The Cheat Sheet on Facebook!