'RHOBH': Was Kyle Richards the Mastermind Behind Denise Richards' Takedown?
Kyle Richards from The Real Housewives of Beverly Hills is being accused of being the mastermind behind the takedown of Denise Richards. The latter reportedly skipped major moments of filming because she's not having a good time on the show. Lisa Rinna sent fans of the Bravo show into a frenzy last week when she called out Denise for not showing up to the finale party shoot.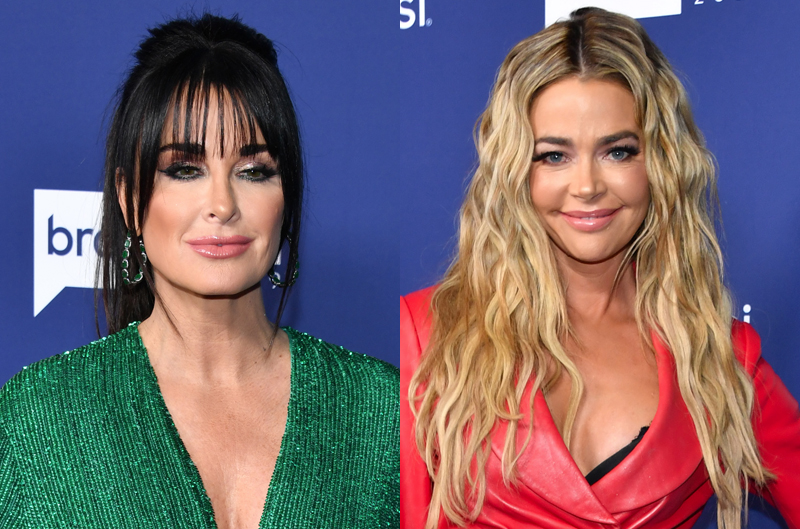 Denise is reportedly at odds with most of the RHOBH cast. An alleged source close to the production is now revealing that Kyle planned to target the Wild Things actress. It was Brandi Glanville, who is set to recur in season 10, that warned Denise about what was to come.
"Brandi called Denise early in the season because Kyle had told Brandi that Denise was going to be the one person that the other ladies picked on this season in Lisa Vanderpump's absence," the insider told Hollywood Life. "Kyle said that everything that the audience liked about Denise last season is what the ladies would use against her this season."
Glanville and Denise had a friendship and it was thanks to the latter that the former guest-starred during season 9.
Brandi Glanville denies rumors
After the news was published, Glanville posted a set of tweets denying Kyle's involvement in targeting Denise.
"I'm just gonna say that neither Kyle nor Denise has ever said a negative word to me about one another LIES !!! And Merry Christmas Eve," Glanville wrote on Twitter.
In another tweet, Glanville assured fans that the truth would be revealed once the show started airing on Bravo.
"What [I] would like for Christmas is for everyone on my twitter to each Venmo me 1 dollar and for people to stop making up and sharing lies with bloggers about RHOBH– the truth ALWAYS comes out just be patient," Glanville added.
Denise Richards does not enjoy 'RHOBH'
Denise returned to RHOBH for a second season but if rumors are true, maybe she might be thinking it was a bad idea.
"She doesn't seem to be enjoying doing the show as much this season and nobody would be surprised if it were to be her last," a source told Hollywood Life. "She wants to be doing acting more and Housewives has opened other opportunities for her. She's really not about the drama and seems to be disconnected from it at times. A lot of the cast is frustrated with her lack of participation still this season."
Rinna exposed Denise on Instagram for not showing up to filming the show.
"Denise are you ok?" Rinna asked. "You never showed up to Dorit's [party] Saturday night, we were all so worried about you. What happened? You said you were coming. You were meeting Garcelle. We never heard from you. What happened?"
Another message from Glanville might have given insight that something deep was revealed.
"If you sign up for a reality show, any and all skeletons you have in the closet WILL come out eventually. You can't have secrets & expect to keep them EVER !!! So it's just best to be honest #own it," Glanville tweeted.
The Real Housewives of Beverly Hills is expected to return in the first quarter of 2020.