'RHOBH' Season 10: Does Kyle Richards Miss Lisa Vanderpump?
Kyle Richards from The Real Housewives of Beverly Hills is going into season 10 completely different than the previous one. The major difference is that her former friend Lisa Vanderpump is not part of the Bravo show anymore. Both ladies had a fallout and have not been able to make up.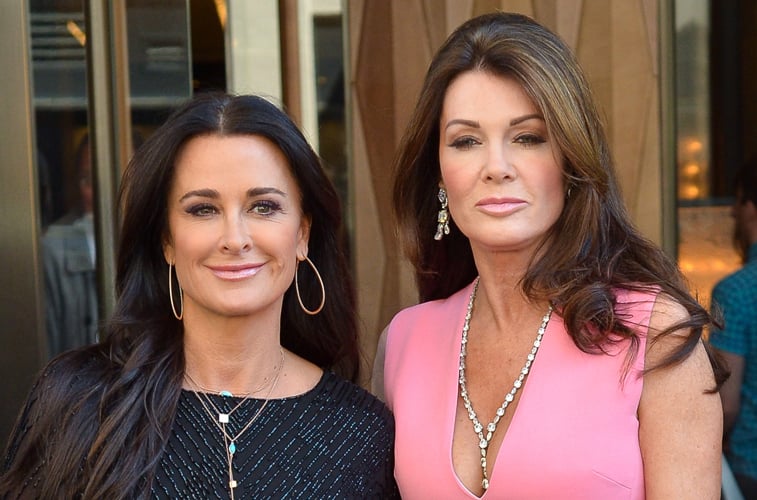 Richards has been extra busy this latter part of 2019 as she is not only filming scenes for RHOBH, she is also returning to the Halloween movie franchise. The reality show star was in the first movie and is reprising her role in Halloween Kills. With her time consumed filming, Richards doesn't seem to be missing her former co-star.
"It's been good," she told HollywoodLife about how she's juggling both jobs. "Really busy shooting Halloween and Housewives at the same time. It's been a little bit challenging, but it's been amazing."
When she was asked about the changes without Vanderpump she said, "I'm literally going back and forth, and 100 times I'm going back and forth and just carrying on. Business as usual."
Camille Grammer blames her for not being invited back to 'RHOBH'
As season 10 of RHOBH began production, Camille Grammer announced she was not asked back to the show. The former housewife had taken on a friend role in season 9 and was the culprit of major drama amongst the group.
"I wasn't asked back. It's fine. I did my time on the show. And it's Kyle's show," Grammer replied, in a now-deleted Twitter comment, to a fan asking where she was.
Grammer also told a fan that after doing the reunion show, she felt she was done with RHOBH.
"It was up to Kyle", she replied to a viewer in a since-deleted tweet. "I'm really fine. After the reunion, I didn't want to come back. It was an awful experience."
Richards was approached by TMZ for a reaction to Grammer's allegations against her, which she completely denied.
"That's not true. I never even had an issue with Camille, I don't know where that came from," Richards said.
Two new housewives join 'RHOBH'
After Vanderpump quit RHOBH there was going to be a huge absence in the cast. The restaurant business owner was a big personality on the show and Bravo producers had to have additions that would will that void.
That's where Garcelle Beauvais comes in as the first African-American cast member in the California-based franchise.
"I am excited and proud to be joining the cast of such a wildly popular and beloved show like The Real Housewives of Beverly Hills," she told The Daily Dish in a statement. "As a working actor who has been in the industry for some time, it's exhilarating to have the opportunity to delve into a new chapter in the entertainment spectrum."
Also joining the Beverly Hills housewives is Sutton Stracke, who just like Beauvais, is a friend of Lisa Rinna.
"I am thrilled and honored to be joining The Real Housewives of Beverly Hills. As a mother to three children, who is also deeply committed to my efforts in philanthropy, my life is a balancing act," Stracke also said in a statement to The Daily Dish.
Richards also told Hollywood Life how it was like to work with her new castmates for season 10.
"For me, anytime someone joins, I'm like, "Great, let's do this!" so I welcome them," Richards said. "Like everyone, I always do that. I know it's very scary for someone to join the show and especially because some of us have been there for so long. Most of us now have been there for quite a long time. This is my tenth year, so it's a bit crazy!"
RHOBH continues to film season 10 and is slated to premiere at the beginning of 2020.