'RHOBH' Star Denise Richards and Ex Charlie Sheen Have Successfully Navigated Co-Parenting and Communication
Charlie Sheen and Denise Richards have had their fair share of ups and downs during their two-decade-long relationship. Although they had only been romantically involved with each other for a couple of years, the fact that they have two daughters together meant that they had to stay in constant contact with each other, no matter how much they liked or disliked one another.
Sometimes, Sheen and Richards were able to put aside their differences and get along for the sake of their children. There were a few times, however, when the couple found it impossible to hide their disdain and would engage in very public, and sometimes very vulgar, arguments. Although their relationship was very tumultuous in the past, their communication and co-parenting skills seem to be drastically improving nowadays.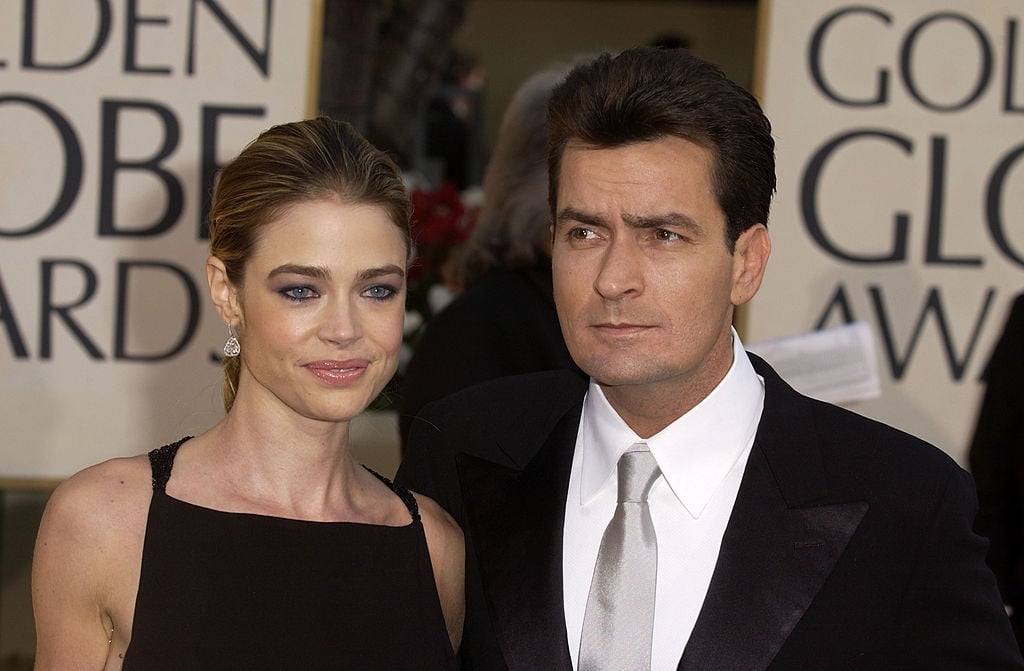 How long were Charlie Sheen and Denise Richards married?
Sheen and Richards met in 2000 while filming Good Advice together. The next year, they worked together again in the sitcom Spin City, and soon after that Sheen asked Richards out on a date.
Richards later said that it was while she was on her second date with Sheen that she realized that he was "the one," according to MSN. She also said that she didn't want to tell him right away because she was afraid that it would scare him off, but he apparently felt the same way because later that year, he proposed to her. 
The couple were married in 2002 and had their first daughter in 2004. Everything seemed to be going well for Richards and Sheen for a while. However, in 2005, when Richards was pregnant with their second daughter, she filed for divorce. After their youngest daughter was born, they got back together for a few months, but ultimately decided to continue with the divorce.
Their split was pretty nasty, to say the least. During their divorce, Richards had filed a restraining order against Sheen and said that he had threatened to kill her and had hinted at the fact that he was going to try to kill her parents.
Denise Richards and Charlie Sheen had a rocky co-parenting relationship
Since their divorce, Richards and Sheen's relationship has been an emotional rollercoaster. And thanks to Richards' role on the Real Housewives of Beverly Hills, a lot of the drama unfolded on national television.
For the most part, the two have tried to get along for the sake of their daughters. In fact, in the past, they have taken vacations together and holiday dinners together with their kids. They seemed to be getting along so well that there have even been several reconciliation rumors throughout the years, as reported by Women's Health. But Richards has always been quick to shut those rumors down. 
In 2012, after taking their daughters on a vacation to Mexico, Richards said: "[Sheen and I] have actually become like brother and sister, we really have. Nothing more than that."
Unfortunately, there have also been some pretty dark moments in their relationship after their divorce. In 2015, Sheen took to Twitter to call Richards the "worst mom alive," and an "evil sack of landfill [trash]."
In 2019, RHOBH fans got to see their latest custody battle unfold. Richards had filed court papers claiming that Sheen owed her $450,000 in child support. She claims that she only mentioned the amount of money that was owed to her after Sheen had filed papers saying that he could no longer afford to pay the child support payments for his two daughters and his two sons from another marriage.
No matter what Richards' reasons were for filing the court documents, Sheen said that her actions made her look as if she was "behaving like a coward," according to US Weekly.
Denise Richards and Charlie Sheen are on much better terms now
Despite having their latest drama play out on TV, Richards recently told US Weekly that she and Sheen are in a really good place right now. "Communication is great with him," Richards said. "[My husband] Aaron [Phypers] and I actually saw him the other day."
She went on to say that she doesn't think that Sheen has seen her show or knows that she talked about their latest court case on there. But if he does find out, she doesn't think it will be a big deal because "he knows obviously when you file something in court that it's public."
RELATED: 'RHOBH': Denise Richards Protects Daughters From Dad Issues With Charlie Sheen, But It Might Be Too Late