'RHOBH': Taylor Armstrong Is Here for The 'Woman Yelling at Cats' Meme (But Still Doesn't Hilariously Understand It)
An iconic moment from The Real Housewives of Beverly Hills became an oddly fit meme, which is now going viral as a Halloween costume.
Cameras captured a dramatic and upsetting moment when alum Taylor Armstrong had a breakdown at Brandi Glanville's Malibu beach party. She comes for Camille Grammer as other cast members have to restrain her. Since leaving the show, Armstrong is still recognized for the moment, which eventually became an iconic clip.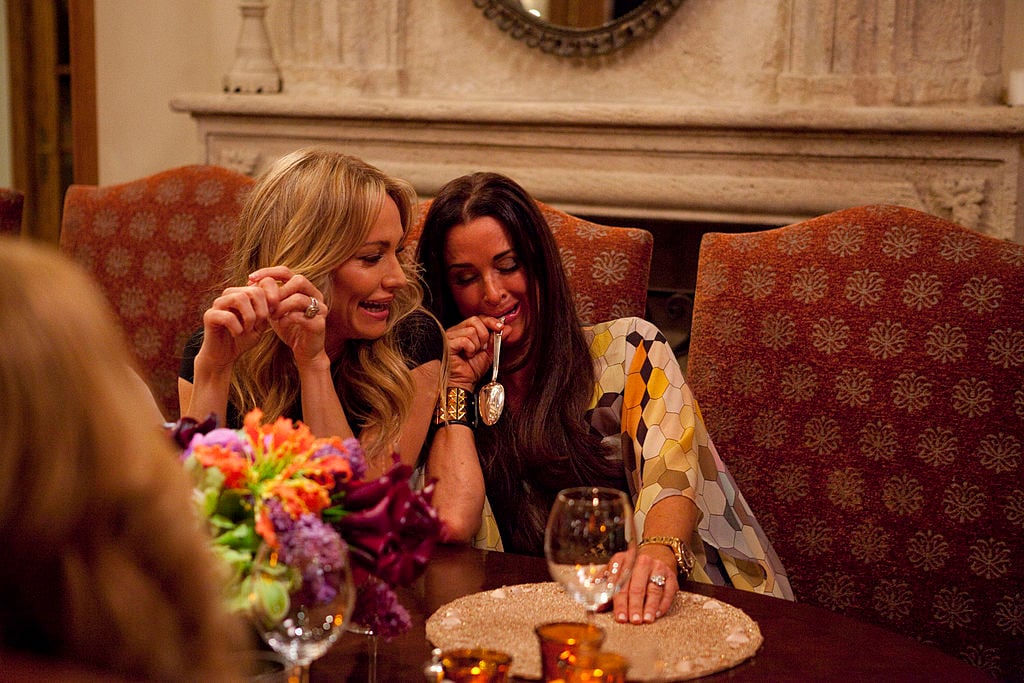 Although the moment stands on its own, the meme Gods had plans for a little enhancement. The internet coupled Armstrong's framed moment where she is furiously pointing and yelling with a white cat image from Tumblr. Along with the coupling are the words, "he no like vegetals." The standalone meme went viral and is now being turned into a Halloween costume. While Armstrong is loving it, she still doesn't understand the pairing.
Just yelling at cats …
Armstrong is now known as the lady who yells at cats. A fan wondered where (and really why) it was created. "Hi Taylor! Do you have any idea where that cat came from? I love the meme and it cracks me up because the cat is so random. Is there a backstory? Honest question," the fan asked. But Armstrong has no idea. "Thanks so much – it's some odd thing that's occurred on FB w Kyle and mew the cat."
She wondered if it was something perhaps she and talk show host Ellen DeGeneres could figure out. "I agree – http://Carson.cat  and I need to meet and sort it out on @TheEllenShow – lots to meow about !!" She added, "I have no idea where this came from but @KyleRichards and I are laughing." When one fan loved the meme but didn't know who Taylor was, she let the person know. "BTW 'woman yelling at a cat' is me." Someone responded from the Watch What Happens Live with Andy Cohen account, "Iconic."
But now that the meme is a Halloween costume, Armstrong loves it even more (but still doesn't get it). "Hysterical – well done," she wrote when a fan posted the image of the Halloween costume meme. Two fans posted images to Twitter with their costumes. Both represented the cat with one fan becoming the cat inside a fake television set. Whereas the other fan went in a cat costume and held the photo of Armstrong.
The meme was created from a very painful time in her life
The moment culminated from a significant amount of pain Armstrong was experiencing in her marriage. She and former husband Russell Armstrong had an extreme amount of tension in their marriage. They were at a breaking point when Russell took his own life. He died in 2011. Fans wondered if the meme, which is being used for jocular purposes was hurtful to see.
A fan asked, "Genuinely curious if that photo is hard to see circulate so much? I remember how upset you were during that scene." Armstrong replied that she is in a better place today. "Thank you – that is my past and I have moved on and am in a really healthy, happy marriage. It doesn't seem like my life any longer. I work w domestic violence shelters and support victims. It's ok to laugh at the images that have been created."