'RHOBH': Teddi Mellencamp Is Pregnant and the Bravo Stars Came out in Full Force to Celebrate
Teddi Mellencamp surprised fans of The Real Housewives of Beverly Hills today when she confirmed she was pregnant. The mother of two is expecting her third child with her husband Edwin Arroyave.
"I'm in my second trimester, 14 weeks," Mellencamp told Us Weekly. "Everything's good and I'm in the clear, so I'm just starting to get to that point where I'm sharing with everybody. Plus now I have a bump, so there's not much more hiding I'll be able to do!"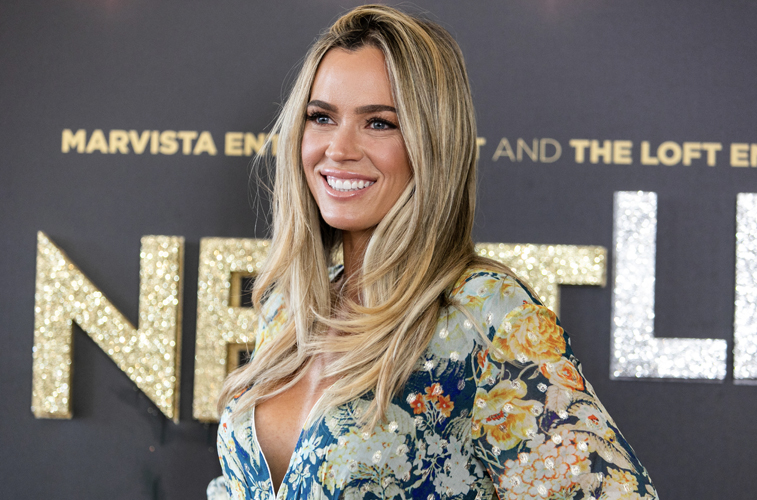 Mellencamp, who is already a mother to 6-year-old Slate and 5-year-old Cruz, says her kids are excited for their baby sibling.
"They've been talking about it for a long time and actually it's been my son who's been like, 'Mom, we need to have another baby,' and I never wanted to get his hopes up. So when we told him, he was through the roof. So excited. They're already calling it 'their baby,' and they have names picked for if it's a boy or a girl — they're ready!" she told the publication.
Mellencamp had conceived her children through IVF, but this pregnancy was a complete surprise for her and her husband.
"This time we really weren't doing anything! I was on vacation! Just having fun with my family! It was a complete surprise. I didn't even know I was because I didn't have a regular cycle," she also told Us Weekly.
Wishes from fellow 'RHOBH' co-stars
After Mellencamp made the announcement, her fellow RHOBH co-stars took to social media to congratulate her publicly on the amazing news.
Lisa Rinna: #BabyShower
Garcelle Beauvais: "Congrats again Teddi."
Erika Jayne: "BABY."
Brandi Glanville: "Congrats."
Messages from 'RHOC' housewives
The housewives from the Orange County franchise also joined in on the celebration.
Vicki Gunvalson: "Awe congratulations honey. Wishing you a beautiful healthy pregnancy and baby."
Tamra Judge: "Congratulations, I'm so happy for you guys."
Shannon Beador: "So happy for you. Congratulations."
Gretchen Rossi: "[Oh my God}, how exciting! Congrats love. So happy for you guys."
Congratulations from 'RHOD' cast
The girls from Dallas did not miss out on congratulating Mellencamp and her pregnancy.
Brandi Redmond: "Ahhhh. Oh Baby!!!! You are gorgeous and glowing but you always shine. So happy for you [and] your family. Keeping [you] and your precious miracle in my prayers."
Stephanie Hollman: "Such a blessing. Congrats honey."
LeeAnne Locken: "[Oh my God], Congratulations."
Felicitations from 'Vanderpump Rules' stars
The stars from Vanderpump Rules also sent their best wishes to the pregnant housewife.
Stassi Schroeder: "This is so amazing. I'm so incredibly happy for y'all."
Kristen Doute: "Congratulations. I'm so happy for you guys."
Teddi Mellencamp and how she handles anxiety
The accountability coach recently opened up about her struggles with anxiety. In a lengthy Instagram post, the RHOBH star asked her fans to talk about their experiences to get help on the matter.
"I've lived with anxiety for as long as I can remember," she wrote. "When I rode, horses were the thing that kept it at bay — distractions to help me mask it. Now, being a working wife and mother, I find myself constantly battling the why's and how's and what if's while trying to keep it all together. Some days I wake up and think, 'What if I just kept my feelings and emotions swirling inside me all day?' with the weight of the world firmly planted on my chest. It's not easy to describe to people this disorder, this pressure that unleashes itself on your body and mind simultaneously while you're just trying to eat your daily oatmeal, or drive into an underground parking structure, or sleep. To talk about the tears that sometimes come when your mind is racing, trying to figure out how you can control it all, and you realize you cannot. That's anxiety. And it can be crippling, but I won't succumb."
Mellencamp also gave tips on how she deals with her anxiety.
"So now my workouts, my journaling and being open & vulnerable about my anxiety— those have become my horses. And while some days the anxiety creeps up despite it all, I do my damndest to rein it all in. Because I won't let it win. I can't let it win. If you are silently struggling with anxiety, I hope you know you are not alone. And if you'd like to share in the comments how you choose to deal with it, I'd love to hear," she ended her post.