'RHOC': Andy Cohen Really Doesn't Want to See Vicki Gunvalson's Post-Op Incisions
Even though Bravo producer Andy Cohen typically wants all the inside intel from Real Housewives, he apparently draws the line at viewing surgical incisions.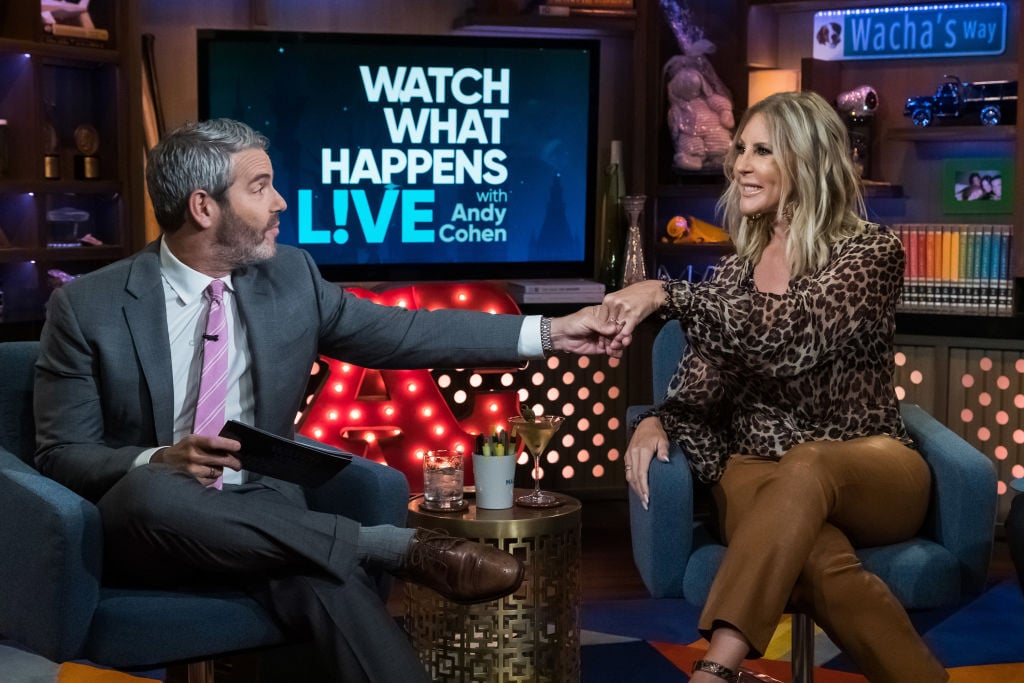 Bravo recently shared a clip to TikTok of an exchange between Cohen and Vicki Gunvalson from The Real Housewives of Orange County. The interaction appears to be a greeting as Cohen comes by Gunvalson's dressing room to say hello. The interaction could have been filmed in between takes for the RHOC reunion or before a RHOC promo as both Cohen and Gunvalson appear to be getting dressed and ready.
Cohen appears with several ties strewn over his shoulder. Plus Gunvalson has several people in the room with her, likely her glam squad. So what was the first thing Gunvalson said to Cohen and how did he respond?
'I was gutted'
Cohen appears in Gunvalson's dressing room doorway in the TikTok. As he walks in to give her a greeting hug, she blurts out, "Do you wanna see my incisions from my …," she asks as he comes in for a hug. But before Gunvalson can continue, Cohen backs away, "No, I don't. No, I don't wanna see," he says.
He continues to shake his head no, reiterating he has no interest in seeing Gunvalson's incisions. But Gunvalson insists. "No, they're good! Look at how good they are! They're little dots!" But Cohen repeats he doesn't want to see them.
"I was gutted," she exclaims. "That's why I feel puffy." Gunvalson's team can be heard giggling in the background too. Cohen then says, "Okay, you look great," he reassures her.
Gunvalson has had several procedures
While Gunvalson has copped to getting more than her fair share of plastic surgery, she's also had surgery for "non-elective" procedures too. But last year she told ET she was finished with plastic surgery. "I went to Tamra's doctor, 'cause she told me I needed a face-lift," Gunvalson said. "So I thought, 'OK, I gotta listen to Tamra so she doesn't get mad at me.' No, but God love Tamra, she tells me how it is." Gunvalson also had the fillers in her face removed.
"That was one thing that I think a lot of doctors overdo," she continued. "Through the last four, five years, as I got older, they kept wanting to [add] Juvederm, and Restylane, and this and that, and Sculptra, and before I knew it, I didn't look like myself. So, I took all the fillers out. I have totally smooth skin now."
She addressed her "puffiness" too. "Some people were saying my promo pictures didn't look like me," she said. "It didn't. I was puffy, and I was — I didn't feel like I was myself. They do the cheekbones, and we gotta inject here, gotta bring the jawline down. Just, stop! I want everything out of my skin. I want to be back to, you know, being a 56-year-old and looking the best I can be. Then they tightened my neck. My neck's got no more wrinkles! I feel great."