'RHOC:' Do Fans Want Vicki Gunvalson, Tamra Judge and Shannon Beador to Have Their Own Show?
When Vicki Gunvalson, Tamra Judge and Shannon Beador from The Real Housewives of Orange County posted "Tres Amigas" videos, fans begged for the trio to go rogue and started their own show.
In fact, some media sources implied the group was actually planning to launch their own show. The ladies shared a funny Instagram video courtesy of Judge, of their wake up call. Apparently, Beador and Gunvalson kept Judge up until 4:30 a.m. with their drunken hijinks.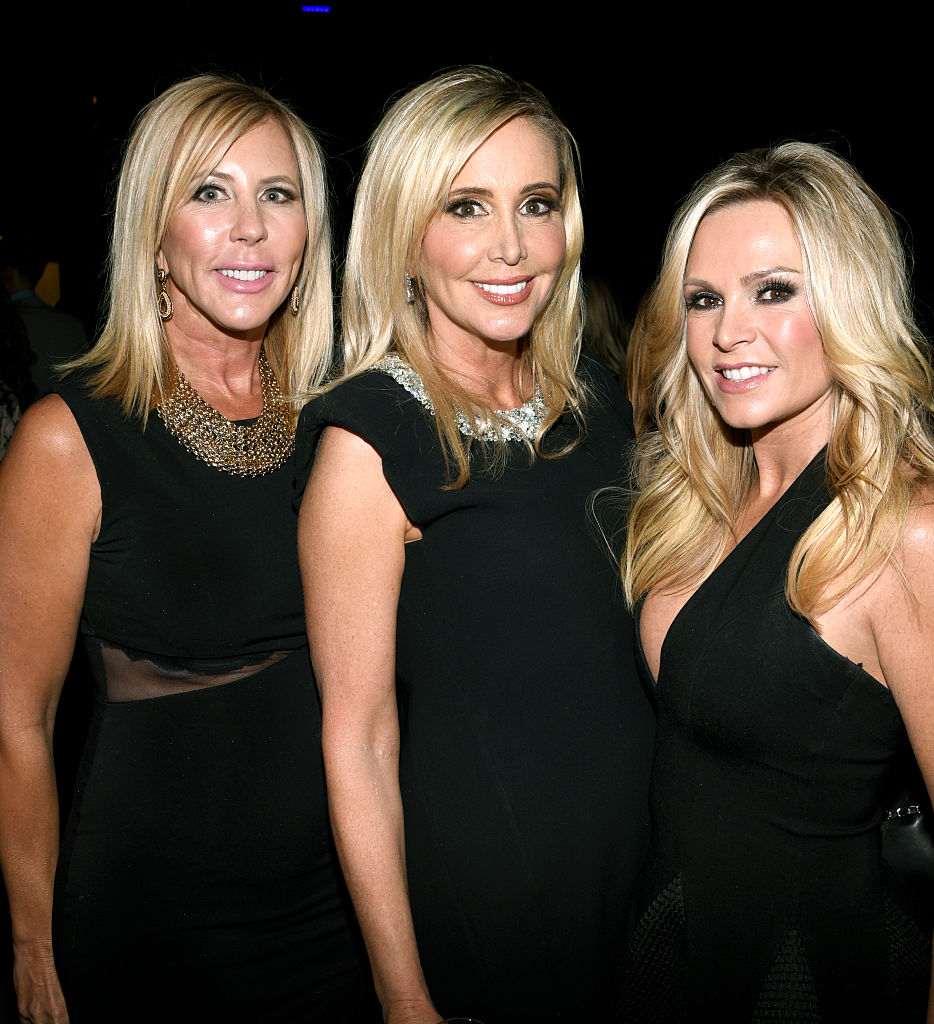 Judge decided to seek"revenge" by waking them up only hours after they crashed. But now, in light of Gunvalson's demotion to "friend" status on the show, fans are wondering if the trio will get their own spin-off show.
They posted to Instagram about a show
The ladies could be joking about doing their own show, but some sources are taking the posts as gospel. What may have started the gossip mill churning was a picture Judge posted. "It's happening …. Tres Amigas is going on tour! Call my agent," Judge wrote along with a snap of the three ladies. Gunvalson's fiance, Steve Lodge responded, "Oh dear Lord, it's a conspiracy."
Judge then shared the two-part video of her now-infamous wake-up call. Most of the video includes Judge trying to convince Gunvalson and Beador they were "screaming and yelling" into the wee hours of the evening.
She then shared a video of Gunvalson and Beador gleefully (and probably buzzed) singing together. "Okay are you ready for it? Now I feel bad that I wouldn't get out of bed to sing with you two knuckle heads @[email protected] #tresamigas theme song," Judge wrote.
Some fans are into it
One "Tres Amigas" fan account may have stoked rumors that the ladies were going on tour. Team Tres Amigas posted, "I can't believe the tres amigas are going on tour!! I've been waiting for something like this. If there's a NYC stop I'll definitely be there with all my friends since we all love this trio. Stay tuned and also follow @tresamigas_official in case anything is announced on there." Both Gunvalson and Judge follow this fan account too.
But fans were begging for a show or a tour on Judge's original post. "Andy Cohen ! They need their own show!" one fan wrote. On another Instagram post, a fan hilariously wrote, "Watch out Countess Luann, they're coming for your Cabaret and starting their own."
But calls for a "Tres Amigas" show didn't sit well with some fans. While many comments were positive, several fans felt it was time to move on and expand the cast roster.
This may be why rumors of a spin-off started
One reason why a spin-off rumor started may have been because of Gunvalson's new position on RHOC. She was one of the last remaining original cast members of the flagship franchise. Now that Gunvalson has taken on the "friend" role, Judge is the longest standing RHOC.
After the news that Gunvalson would not be a full-time cast member, she took to Instagram to reflect on her new role. "For the past 14 years I've opened up my life, my loves, my ups and downs on The Real Housewives of Orange County and I am proud to be the "OG of the OC". I am back again this season right in the middle of the action in a different role. I hope you have as much fun watching the show as I did living it in front of the cameras. Stay tuned to Bravo August 6th for more of the Tres Amigas."
Real Housewives producer Andy Cohen responded, "Vicki you ARE the OC. Here's to another 14 years….. #OGofOC." Plus Judge added, "We wont let you leave …..ever❤️" Also, Beador chimed in. "Had a ball with you this year mi amiga! ❤️ You're not going anywhere…."