'RHOC': Emily Simpson Shades Vicki Gunvalson After She Takes Issue With an Age Comment
The cast of The Real Housewives of Orange County has delivered low blow jabs at each other's looks and ages. Some of the younger cast members have tried to age shame the older cast members and Vicki Gunvalson says enough is enough.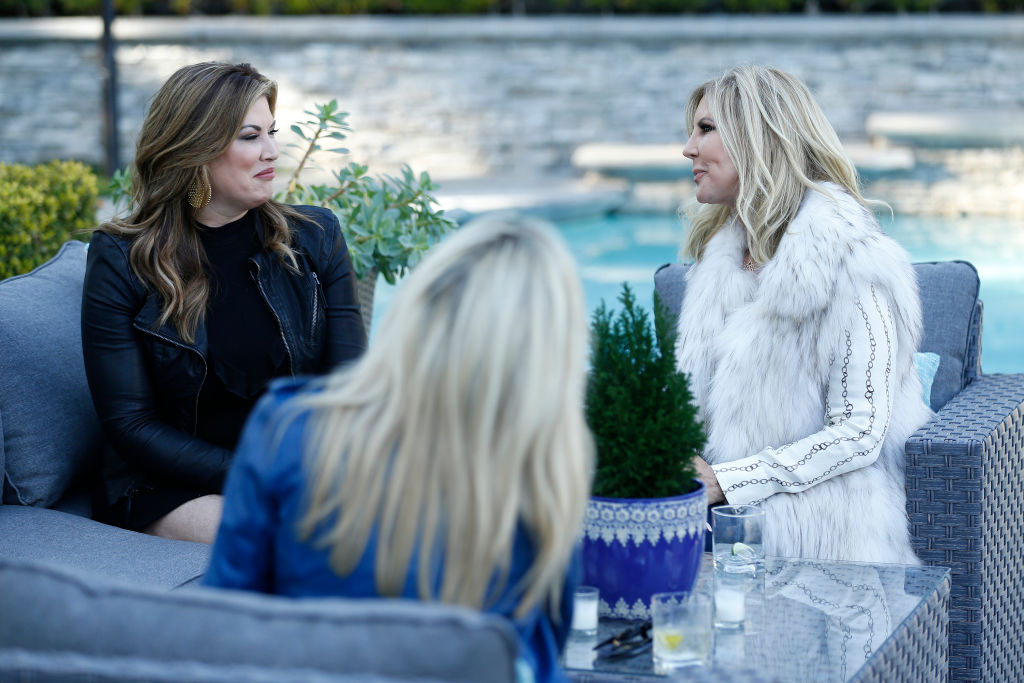 Gunvalson and Tamra Judge were the recipients of age shaming by Emily Simpson and Kelly Dodd in a recent episode. Dodd also attacked Gunvalson's looks too and all of the cast members told Dodd it wasn't cool to go that low. But the age attack clearly got underneath both Gunvalson and Judge's skin.
Gunvalson took to Twitter to fight back. Meanwhile, Judge posted some bikini shots in response to being called "old and geriatric."
Simpson doubles down on her remarks
Gunvalson reminded fans that everyone ages. "Watched @BravoRHOC last night & was shocked to hear @RealOCEmily bash me about my age of 57. Referencing me as "old, I should be in a convalescent home, and geriatric". Really? I can't change my DOB and you will get there too. #disrespectful #rude."
Simpson responded by taking her comment even further. "And I said "senior citizen" … McDonalds and Arby's offer "senior discounts" for 55 and older. So enjoy your roast beef sandwich." While some fans were on Gunvalson's side, others applauded Simpson for giving it back to Gunvalson. "LMFAO…I love you Emily!!" a fan responded.
But others backed Gunvalson. "Nothing old about you!!! I hope when I am 57 I look half as good as you do……..you look amazing…….you rock 57!!" a fan wrote. Gunvalson replied, "Awe thanks. My dad got diagnosed of Alzheimer's at 59 and died at 66 in a long term facility so I guess it struck a nerve with me. @RealOCEmily NOT cool."
Is this really Dodd's fault?
Some fans believe that Dodd got to Simpson and turned her against Gunvalson. "I guess this is what happens when people @RealOCEmily spend too much time with the vile @RHOC_KellyDodd," a fan wrote. Gunvalson agreed. "Yep. She drank the koolaid."
But Simpson was still in it to fight. She wrote, "And by "drank the kool aid you mean I didn't turn on Kelly and hate her like the three of you wanted me to do. Your agenda was to turn everyone on the cast against Kelly and ice her out so she would be fired. I didn't fall for it."
Gunvalson says she was shocked by this season too. "No actually the whole show has 'shocked me this season'. I don't normally comment publically on the show, but I'm waiting for a flight to take off," she wrote. Some fans think that if the women talked about each other less, perhaps there wouldn't be as many arguments. But Gunvalson reminded the fan, that's what happens in a reality show. "It's a reality show… we ALL talk about each other."
Meanwhile, Judge shared hot bikini photos to her Instagram. "Cheers to being " old & geriatric" #rhoc #age shamming  #52  #grandma  #4kids  #fitmom #myhipswork #fitoldlady #hardworkpaysoff💪 #vegetarian ~The hypocrisy is disgusting." A slew of fans commented including RHOC alum Heather Dubrow and Dorinda Medley from The Real Housewives of New York City. "Omg that body," Medley wrote.