'RHOC' Feud: Are Shannon Beador and Kelly Dodd Friends Again?
Shannon Beador and Kelly Dodd from The Real Housewives of Orange County have not always been the best of friends. The relationship between the two seemed to have been going on a positive route until an incident reignited their feud. Now, Beador is speaking out about the status of their friendship.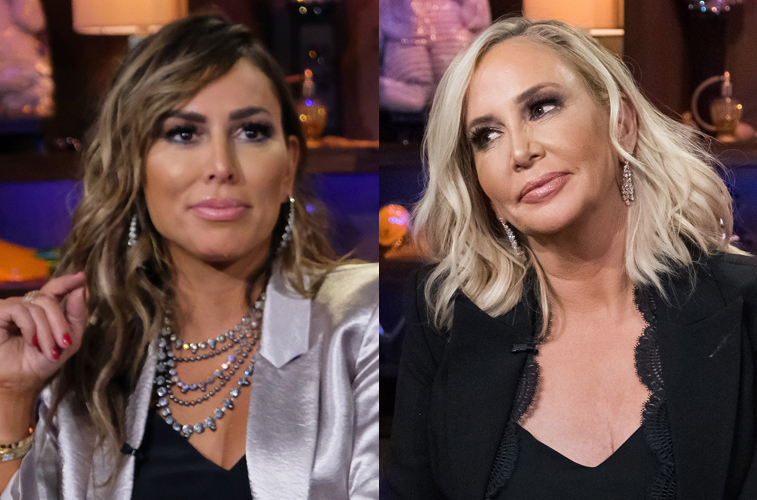 It was during a trip to Arizona that Dodd thought it would be funny to bang Beador in the head during a meditation ritual. The whack was resonated so hard that Beador believed she might have had a concussion. She rushed to the hospital to get it checked out while Dodd claimed she was just being dramatic.
"You know, everyone said, 'You're being a baby,' whatever, you know what? I'm a mom and I'm not going to screw around with a hit on top of the head," Beador told Reality Blurb. "Call me a hypochondriac, call me whatever you want."
"It's disappointing because you couldn't see my legs and how they kind of buckled," she continued. "I was just trying to keep my balance and you don't get a feel for how heavy the mallet was and how heavy the bowl was."
Beador continued saying she "had a huge bump on my head" and "just wanted to be checked" to make sure everything was fine.
What is the status of Kelly Dodd's friendship?
After the incident, Beador was left upset by Dodd's actions. Their friendship took a tumble but they eventually made up. However, Beador says that other things since then have contributed to the dwindling of their relationship.
"I always will forgive but it's hard for me to forget. I don't think that there's a friendship anywhere in the near future," Beador added. "That being said, never say never because I'm friends with [Vicki Gunvalson] today [and I] never thought I'd be saying that. It is disappointing that it has to be this way. It really is. It's sad but it is what it is."
For now, neither Beador or Dodd are friendly and continue to feud on social media. It will be interesting to see if they are able to resolve their issues during the reunion show after RHOC season 14 ends.
Kelly Dodd at odds with 'RHOC' cast
Dodd has been at odds with the "tres amigas" that consist of Beador, Tamra Judge and Gunvalson. Ahead of the current season 14, Dodd had made aggressive claims about the latter and even saying she was happy she was demoted to a friend.
"I think that she uses everybody as a storyline. She doesn't really have anything in her life. You know, her kids are gone, her grandkids are gone," Kelly told Us Weekly. "All good things come to an end. And I think, you know, everyone was kind of sick of their story, money, Tamra and Vicki. So you know, I think it's kind of time for them to go bye-bye. I feel like, out with the old, in with the fresh. It's stale, it's getting stale."
Gunvalson reacted to Dodd's comments by taking to Instagram and writing: "I used to feel sorry for her, now I don't. She is an angry, volatile person. Regarding her stating we are stale and don't have storylines… listen up girl! Our lives are always evolving and changing. We don't have 'storylines.' It's a 'reality show'…our reality. Not fake stories like you."
The tension grows on RHOC and fans will be able to see the reason the ladies continue to feud. The Real Housewives of Orange County air every Tuesday at 9 p.m. ET on Bravo.