'RHOC' Insider Dishes About Smoking Hot Reunion Looks
The Real Housewives of Orange County cast steamed up the set with the drama they brought to the reunion, but also their dazzling glam.
Real Housewives reunions typically feature the cast taking their glam game to 11 as they go all out with hair, makeup, and wardrobe. But what do most have to do to arrive on set looking so fabulous? RHOC insider and beauty expert Leah Shafer dished with Showbiz Cheat Sheet about some of the beauty moves the ladies made.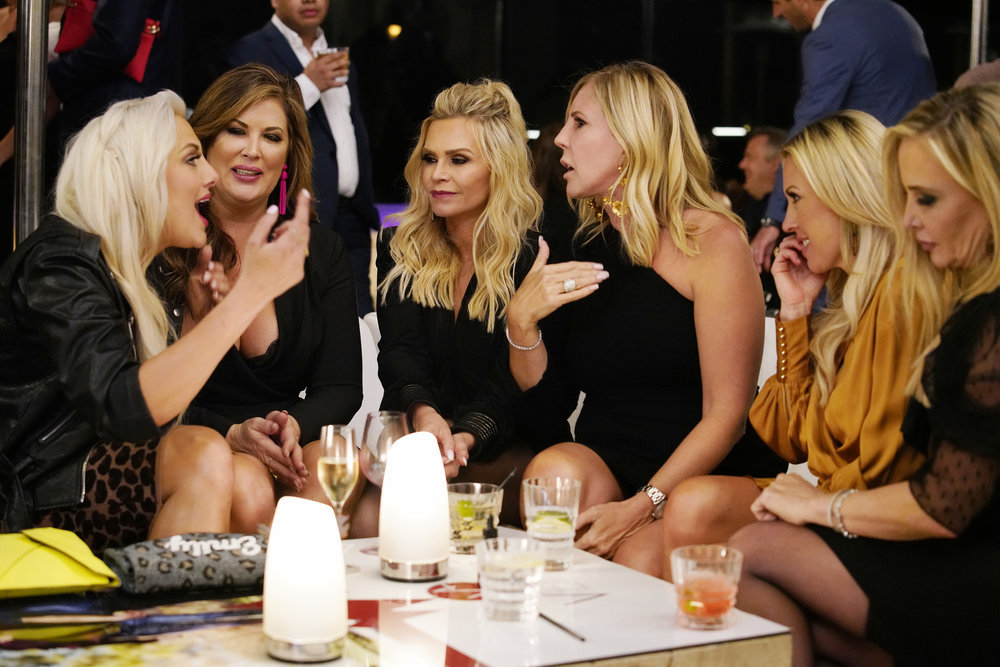 Shafer, who is the girlfriend of Below Deck Med's Captain Sandy Yawn, is the owner of Skin by Leah. She shared that not only is she originally from Orange County, but she is also close friends with many of the cast members from the show. While she didn't style the women for the reunion, she offered some insider insights into their reunion glam. "The OC has a unique vibe," Shafer shared.
"You are always dressed up! Even going to the grocery store or gym, you need to look cute and absolutely need to have money in order to 'keep up.'"
Shafer adds that living in the OC means that you can't leave the house without looking perfect. But it "can also be exhausting and create a lot of pressure." So how do they do it?
Tamra Judge works for that body
Shafer shared that although she knows Tamra Judge has had some plastic surgery, she also spends plenty of time on health and fitness.
"Tamra works hard for that body," Shafer says. "She is the example that you can still look like you are 20 in your 50s. She walks the walk of health and fitness."
Also, Shafer observes that Judge is blessed with a good bone structure. "She's sexy and confident and doesn't care what others think of her. She's one strong cookie. I love when her hair is shorter or off her face. She is petite so having a high ponytail is so flattering to her.
"Tamra drinks a ton of water because of her fitness and you can tell," Shafer adds. "She is a natural beauty and I love when she doesn't wear a lot of makeup, to be honest. But she has a body that can rock any outfit, including that metallic jumpsuit."
Shafer loves Kelly Dodd's style
Dodd rocked Shafer's favorite reunion look. "Classy, sexy, and on point! Now if I had her budget I could look like that all the time too," Shafer shared.
"I have to say I relate to Kelly in many ways," she continued. "We were both married to an older man for years. Also, we both have a 13-year-old daughter. We are single moms and trying to create our own success, and she's rocking it!"
Shafer also shares Dodd's secret to her dewy glow. "Her skin is amazing because she drinks so much water," she says. "She loves animal prints like me, big earrings, sleek hair, and the warm winter fall colors. Stunning. I wish I had her energy too. Because of her complexion, she can wear many lip colors and they look gorgeous on her."
Gina Kirschenheiter and Emily Simpson are getting into the OC vibe
Two of the newer cast members, Emily Simpson and Gina Kirschenheiter, both seem to be finding their way to being true OC girls. Shafer says Simpson's eyes are stunners. "Her eyes are beyond stunning. She can get away with a beautiful red lip," Shafer says. "She reminds me of Raquel Welch. That timeless look. Now, I have to say when she doesn't wear makeup, she is even more beautiful. She has gorgeous skin and perfect brows."
Originally from New York, Gina Kirschenheiter is quickly becoming an OC girl, Shafer says. "I feel she is finally getting into the OC vibe. I love her shorter hair, to be honest. She is a beautiful girl. A young, fit mom trying to survive in life."
Shafer added, "I felt on this season she is trying to find herself, and sometimes that's through trying to find her signature look. She even admitted that she made some poor hair choices, and I agree. I actually would love to see her with super dark rich hair. It would compliment her complexion and bring out her eyes. Slowly but surely she is looking more and more put together … and her personality is even more beautiful."
Shannon Beador is coming into her own
Shafer delivered mad respect for how far Beador has come and her newfound strength. "She looks amazing," Shafer gushed. "Her weight loss, surgery and more and her overall survival after her divorce, she's rocking it."
Shafer also likes Beador's newest haircut too. "I do like when she has her shoulder-length hair. I love her beach wave curls, smokey eyes, and lighter lips. She has beautiful full lips," she says. "So funny, we have the same dress and I wore it recently on the new reality show sizzle I just shot. Good taste Shannon," Shafer laughed.
Hello, Braunwyn Windham-Burke
Shafer remarked on how fit Braunwyn Windham-Burke looked after having seven children. "Good lord that woman has a killer body," Shafer exclaimed. "I love that she is her own person. She knows she looks good and flaunts it."
Shafer added that Windham-Burke has also become a friend too. "She has become a friend and truly as a bubbly personality and heart of gold," she dished. "We met her husband at Bravocon and he is just as gorgeous and truly a sweetheart. I loved her natural colors and light lips. I believe there is nothing better than a good nude lip when you have full lips and a good smokey eye. Congrats to her first season!"
Vicki Gunvalson will always be the OG of the OC
Shafer shared that Gunvalson will always be the groundbreaking first cast member of the series. "She is iconic to me. It's funny because I'm from the OC, I see a lot of the same things in my closet," Shafer remarks.
"She's changed a lot with her looks because of her surgeries, but to me, she looks beautiful. I love when she wears softer colors, low cut blouses, and hourglass dresses. Her hairstylist Ty Alexander is a good friend of mine and he's done a great job on brightening her blonde hair and giving her those messy beach wave curls."
Gunvalson spent a good amount of time during the first part of the reunion reminding the cast (and producer Andy Cohen) that RHOC was the show she started. Shafer agrees. "She is the reason behind why Housewives even exist, so for that and lasting this long, I give her a huge shout out."