'RHOC' Reunion Drama: This Is What Really Happened Between Vicki Gunvalson and Andy Cohen
Vicki Gunvalson from The Real Housewives of Orange County was at BravoCon where she participated in different panels. During one of the sessions, Tamra Judge revealed that Gunvalson went at it with Andy Cohen. The OG of the OC is now putting the situation in perspective and explaining what went down between her and the Bravo boss.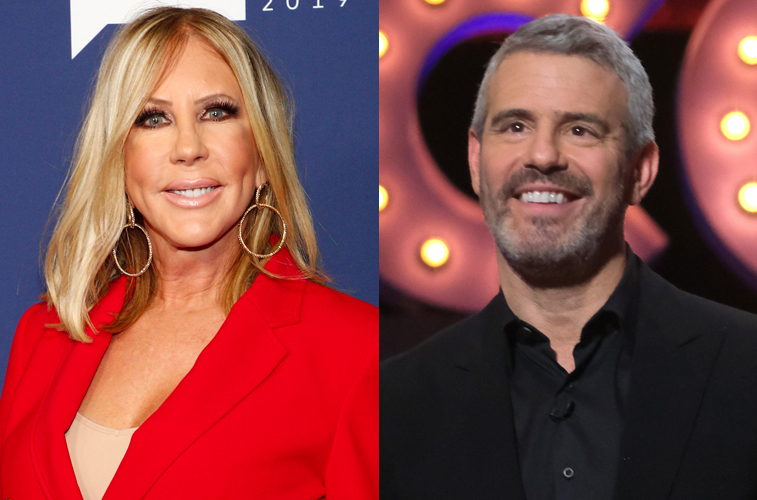 What happened between Vicki Gunvalson and Andy Cohen?
The drama came about during the filming of the RHOC reunion. Gunvalson alleges that producers told her she would appear throughout the special episodes. Fans know that only regular full-time housewives are given that honor. Gunvalson was a "friend of" during season 14 after she was demoted and only made an appearance during a segment of the reunion.
"I was very, very sad, very emotional and very sad," Gunvalson told OK! Magazine. "I was told I was going to stay the whole reunion and you'll see what happens. It was not good."
Gunvalson felt disrespected as she's always maintained that she's the one that originated The Real Housewives franchise.
"I felt very disrespected and I don't deserve that," she added. "I give Bravo my life, all of my life, and I don't fake my reality. My reality is crazy. On other casts, women have created storylines. I don't create that. My life is my life, either you want it or you don't."
The insurance maven also pointed out that she did not fight with Cohen as Judge had suggested, she merely gave him a piece of her mind.
"I did not get into it with Andy… told him what I felt, as well as I told everyone involved what I felt," she explained. "I thought that I should have been notified ahead of time. They lied to me, basically. They lied to me."
Vicki Gunvalson not returning as a friend for Season 15
Gunvalson has made it clear that she will not return to RHOC as a friend ever again. She is either getting her orange back for season 15 or she will say goodbye to the franchise for good.
"First of all, when they told me I was going to have a reduced role, I said, 'I'm never a Friend. I started this franchise. I'm never going to be a Friend.' They said, 'We'll never use those words.' And they've been using those words," Gunvalson told Entertainment Tonight. "I will never come back part-time. I'm either all in or all out. I'm not a part-time girl."
In that same interview, Gunvalson also touched on the scandal that happened during the reunion.
"Well, I didn't know they were filming it. Actually, they escorted me off the couch a little early, and I was not told that. So, you'll see my reaction," Gunvalson told ET. "I'm not no frickin' Friend, let's just put it that way."
As season 14 wraps up on RHOC, a new season is set to start shooting the first weeks of 2020. It is yet to be determined if producers offer Gunvalson a full-time role on the show next season.
The Real Housewives of Orange County airs Tuesdays at 8 p.m. ET on Bravo.