'RHOC' Vicki Gunvalson Is Not Done With Her Shocking Accusations Against Kelly Dodd Just Yet
Real Housewives of Orange County star Vicki Gunvalson is not backing down on her drug accusations against Kelly Dodd. With season 14 officially underway – and Gunvalson receiving a demotion – the OG of the OC is determined to take Dodd down with a new rumor. While season 14 continues to unfold, Dodd is taking to the defense with some new claims of her own.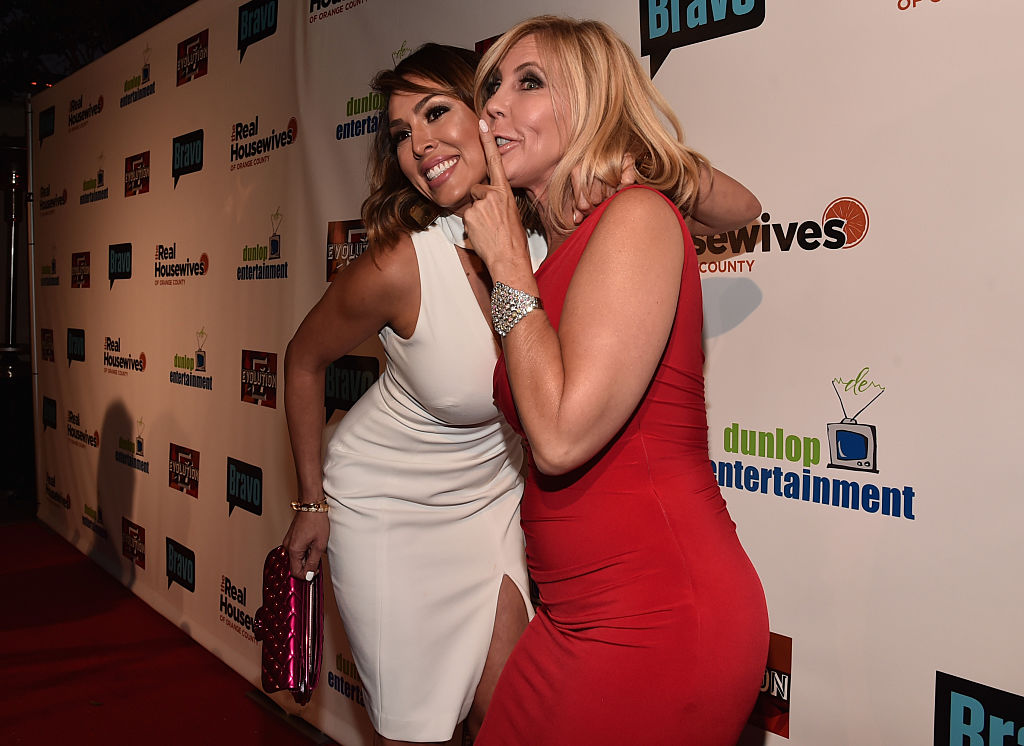 Kelly Dodd responds to sex train rumors
At the end of season 13 of RHOC, Vicki Gunvalson accused Dodd of using cocaine. The allegation heated up their feud and spread to social media. Things reached a point where Dodd said she would not return to the show if Gunvalson was not punished for spreading the rumors.
Fast forward to the current season and Gunvalson is no longer a full-time cast member. But just because Gunvalson is now a friend on the show does not mean she is dialing back on the drama. In fact, Vicki Gunvalson refuses to back down on the cocaine claims, which have sparked another rumor about Dodd.
According to All About The Tea, there are reports that Kelly Dodd took part in a sex train while high on cocaine. It is unclear when the alleged incident happened, but Vicki Gunvalson has not been afraid to keep the story going.
Following the most recent episode of RHOC, Dodd addressed the rumors in an interview, denying that she participated in the sexual act. She also slammed Vicki Gunvalson for spreading the rumors in the first place and is clearly not afraid to call her co-star out whenever she gets a chance.
"Vicki makes everything up," Dodd shared. "She said I've done a sex train… [But] did Vicki see me do it? Because you can say anything, you can [spread] rumors all you want."
What about those cocaine rumors?
Aside from the sex train allegations, Kelly Dodd also fired back against the rumors that she uses cocaine. The reality star revealed that Vicki Gunvalson has never witnessed her do drugs and that the rumors are simply not true.
Dodd also told fans that she encourages her daughter to stay away from drugs and that she would be setting a terrible example if she did them herself. Dodd then shared how the rumors have disrupted her family life.
Not one to back down from a fight, Dodd bashed Vicki Gunvalson for allegedly doing drugs in the past. The RHOC star claimed that Gunvalson has eaten edibles. It is unknown if Gunvalson still partakes in recreational drugs, but Dodd is definitely not a fan.
Kelly Dodd also reiterated that Gunvalson is a "big fat liar" who will say anything to drum up drama. Considering how Gunvalson has been demoted for Season 14, Dodd might have a point.
This, of course, is not the first time Gunvalson has been involved in a scandal on the show. A few seasons back, Vicki Gunvalson and her then-boyfriend, Brooks Ayers, got caught up in a controversy involving his cancer scam. Ayers lied about having cancer and Gunvalson seemingly went along with the false pretense for the majority of the season.
Gunvalson changed her tune – making herself a victim in the whole scam – when it became readily apparent that Ayers was lying.
Dodd moves past the drama
Despite the drama with Vicki Gunvalson, Dodd is trying her best to move forward. Unfortunately, the reality star is also going through a breakup, which has not made the situation any better. Dodd recently parted ways with Brian Reagan after dating for the better part of nine months. Dodd commented on the split in an Instagram post, saying that she was saddened by the breakup. She also wished Reagan the best of luck moving forward.
Dodd has also been sharing photos of herself on social media rocking a new summer look. This includes a shot of Dodd in a gorgeous bikini on Instagram. She might be going through a rough time with the rumors and breakup, but it looks like Dodd is making the best of it. It also probably helps that Dodd is dating a new man named Rick Leventhal, who works as a senior correspondent for Fox News.
Fans can catch Kelly Dodd in action when new episodes of the Real Housewives of Orange County air Tuesday nights on Bravo.