'RHOC': Vicki Gunvalson Reacts to Predicting Meghan King Edmonds' Divorce
Vicki Gunvalson from The Real Housewives of Orange County is just as shocked as fans about Meghan King Edmonds' divorce. Although the OG of the OC predicted the demise of the latter's marriage, she was still surprised after finding out. Gunvalson is now reacting to the news in a new interview.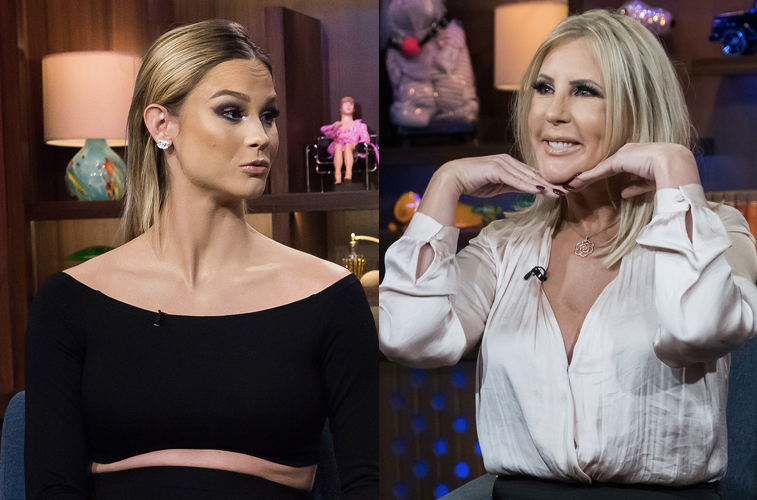 "While I did say on the show that I predicted Meghan and Jim's marriage would last five years, I, of course, never really wanted that to come true and certainly didn't think by putting it out there the way I did that it would be an omen of any sort," Gunvalson told Life & Style.
Gunvalson and Edmonds did not have a friendship on RHOC. It was because of the latter's meddling that Gunvalson's boyfriend was exposed to faking having cancer.
"If you remember back during the time I said that, Meghan had come on the show and she was not very nice to me at all. She came on trying to make a name for herself by taking my relationship with you know who, tearing it down, and trying to claim that I was in on a cancer scam," she added.
Although time gave Gunvalson on Edmond's relationship, she did not wish for it to happen for real.
"[My] heart truly goes out to Meghan during this tough time. I hope that, with time, she will find peace and happiness again," she added.
Meghan King Edmonds not sure husband cheated with the nanny
Initial reports pointed to Edmonds' husband cheating on her with the nanny. When the former RHOC star wrote a blog post to explain the situation she was living, Edmonds did acknowledge that her husband had an affair.
"During this difficult time my closest family and friends rallied behind me when I told them I wanted to do everything in my power to address Hart's diagnosis while also trying to save my marriage," she wrote.
At the time, Edmonds had also found her child had irreversible brain damage and was seeking medical attention. She felt her husband's family was not supportive during this emotional period of time.
Even though Jim had a sexting affair with another woman, Edmonds is not too sure it was with Nanny Carly.
"To be clear, I don't know if Jim slept with our babysitter or whether they were just being exceedingly inappropriate by hanging out socially," she wrote. "I've gone back and forth with my thoughts for a couple [of] days but as I write this, I don't think he did."
Jim Edmonds wants peace
Jim is not comfortable with all the media speculating about his romances and following Edmond's blog post, he released a statement of his own.
"The last couple [of] years have been rough on my wife and me for many reasons. Marriage is difficult but add three small children under three, two adolescent children, two adult children, building a house and two busy, hard-working spouses and the stress of living our lives in the public eye," Jim said in a statement to Us Weekly.
The former MLB player attributes the marriage falling apart to the lack of "quality time." With both having careers and their "son's medical needs," the couple lost touch.
"I'm removing myself and all of my family from this unnecessary publicity that I obviously have never quite enjoyed. I have way too much love for my wife and kids for this to happen and it's time for us to get back to the private life we used to live. Meghan is a truly special woman who my kids are so fortunate to have as their mother," Jim also said.
It's difficult for a couple going through a divorce and we can only imagine how much harder it is doing it in the public eye. To add to the difficulty of the situation, the estranged pair have three kids together which adds to the strenuous relationship.