'RHOD': Brandi Redmond 'in Tears' After Brutal Criticism of 10-Year-Old Daughter
Brandi Redmond does not shy away from showing her life on The Real Housewives of Dallas. The former Cowboys cheerleader has been an open book to viewers with her marriage struggles and parenting dilemmas. It's the latter that's become an issue for the Texas resident and the criticism online has left her in tears.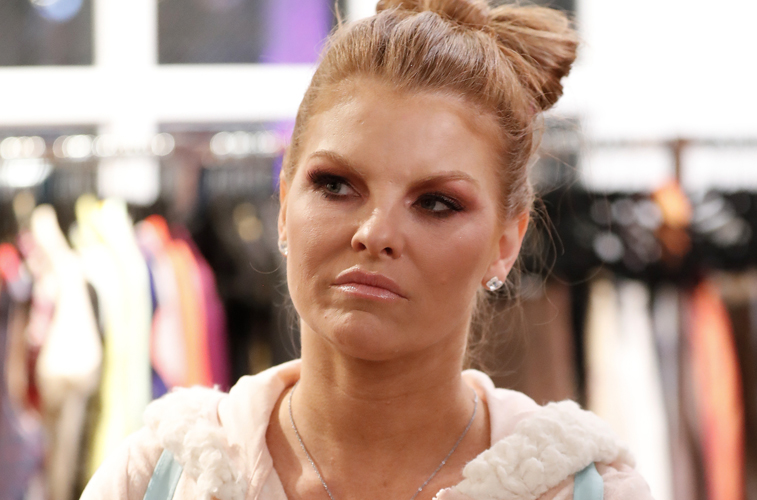 Brandi Redmond defends daughter Brooklyn
Redmond is a mother of three kids: Brooklyn, 10, Brinkley, 7, and Bruin who is 20 months old. Mothering is not an easy task and the Dallas housewife has shown on the show how tough it is. Her eldest daughter is going into her tween years and Redmond has noticed she's acting up.
In the most recent episode of RHOD, Redmond takes her daughter shopping to bond with her and make a connection. Throughout the episode Brooklyn talks back at her mother and is defiant of her. As fans of the show watched, they also tweeted nasty comments that Redmond read that left her upset.
"I have to share what I'm feeling to get this off my chest," she wrote on Instagram sharing a photo of her daughter sleeping with her baby brother. "This is my baby girl. She is kind, loving, sweet and one of the smartest kids I've ever known. She is the first in our family that wants to bring everyone together. She's the best big sister to Bruin & Brinkley."
Redmond was so distraught by the negativity she read online, she even cried.
"As I'm writing this I'm in tears. You can say anything you want to about me but not children. Who knew so many people could be so hurtful and judgmental," Redmond added. "I don't always get the parenting thing right and children are not always perfect but my love for my children is undeniable. Those who truly know my family, know Brooklyn. She's a blessing. Thank you for watching and to those of you who can relate, sending. Those who've got this all figured out, where is your NY Times Best Seller?"
Fellow housewives react to Brandi Redmond's struggle
One of the first to react to Redmond's heartfelt letter was Andy Cohen.
"Do not listen to ONE WORD OF IT. It's nonsense," he replied in the Instagram post.
New RHOD housewife Kary Brittingham also weighed in on the post.
"[Oh my God], LOVE this Brandi, completely agree," she said. "F*** anyone that talks about your daughter. She is amazing."
Redmond's bestie, Stephanie Hollman, also gave her emotional support.
"I am so sorry you are hurting and that people are being so judgmental," Hollman wrote. "Brooklyn is an incredible, smart, talented, beautiful, sweet girl and is part of our extended family. Chance and Cruz always go crazy when we are filming as well and it's so stressful and impossible to parent on camera without being judged."
Hollman also gave Redmond some sage advice: "You have nothing to prove to anyone. God sees your heart and knows how amazing you are. I am always here for you and your beautiful family. Please ignore the hate and focus on the love."
LeeAnne Locken also added: "IGNORE THE HATERS."
The Real Housewives of Orange County's Braunwyn Windham-Burke also read the post and weighed in on the subject, being a mother of nine kids.
"The more kids I have the more I realized I have no idea what I'm doing," she Windham-Burke replied. "What works for one won't work for another, I also know that having a camera crew is like when you're on the phone times 100!"
As a first-year housewife, Windham-Burke knows the struggle of having to film with her kids for the show.
"Kids get nervous and want your attention (even my 19-year-old apologized after filming one day because her behavior was so unexpected). I haven't met your daughter, but from what I saw she was strong and independent, 2 qualities I wish I had more of. You're doing great," she added.