'RHOD': What Are 'The Real Housewives of Dallas' Season 4 Taglines?
The Real Housewives of Dallas returns to Bravo on September 4 and the taglines have been revealed. The hit franchise will see the return of LeeAnne Locken, Kameron Westcott, Brandi Redmond, D'Andra Simmons, Stephanie Hollman and will be adding newbie Kary Brittingham.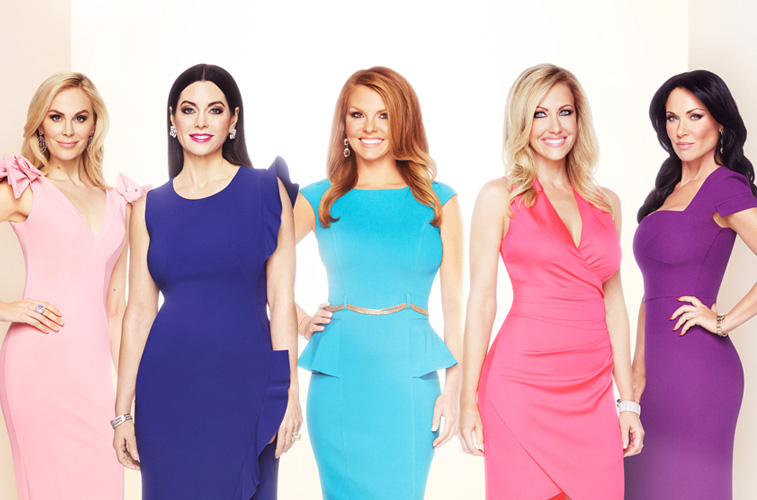 What are the 'RHOD' Season 4 Taglines?
The Season 4 RHOD intro gets a makeover with new graphics and new looks from the ladies. With an even number of Housewives, no one gets the center star in the final title card with the following order lineup: D'Andra, Brandi, Stephanie, Kameron, Kary and LeeAnne.
LeeAnne: "Dallas is a pageant that I always win."
Kameron: "Just because I look like Barbie, doesn't mean you can play me."
Kary: "I'm bilingual, but I don't speak B.S."
Brandi: "When you mess with a ginger, expect some spice."
D'Andra: "I'm minding my business, so start minding yours."
Stephanie: "I never carry a grudge, it won't match my shoes."
What will Season 4 of 'RHOD' be about?
According to the Bravo website, Brandi will face a hard time connecting with her eldest daughter now that she has reached her "terrible tween" years. As the former Cowboys cheerleader struggles to juggle taking care of her kids, she will also ponder on the idea of continuing to grow the family.
D'Andra went up against her mother, known to Bravo viewers as Momma Dee, during Season 3 as she took control of the family business. Although the businesswoman always dreamed of running the company, in the new season we will see how she grapples with her added responsibilities. D'Andra's feud with LeeAnne will continue to get airtime in the upcoming season.
D'Andra had a hard time connecting with her castmates throughout the last season, but she has shown a softer side of her at times. As she prepares her impending nuptials in Season 4 an "unexpected betrayal and a shocking allegation" will rock her and might just trigger her to create havoc.
Stephanie shared one of her deepest personal issues with RHOD viewers last season when she opened up about her struggles with depression. Saying this in front of the cameras allowed viewers to connect with her on a different level and admiring her courage to talk about it publicly. Now, according to the network's website, "an unforeseen feud with an assumed ally" will threaten "to bring her to her breaking point."
Kary Brittingham joins 'RHOD' Season 4 cast
Kary is the new addition to the RHOD franchise and coming onto the show as D'Andra's neighbor. Kary is originally from Guadalajara, México and is married with four kids. According to Bravo's bio on the new housewife, she is a "self-proclaimed 'feisty' female that isn't afraid to speak the truth." Kary will have no issues making friends with the ladies, except LeeAnne.
Kary confirmed the news of her RHOD casting on her Instagram profile.
"As most of you have heard, I'm the new RHOD cast member! I was very conflicted at first if I wanted to do this but anyone who knows me knows that I like to live life to the fullest," Kary said.
"I love an adventure and this has been definitely that! I have met amazing new people and I'm making life long friends along the way. I'm learning every day and growing as a person. This will be the biggest roller coaster ride, so excited to share this with all of you. Thank you to everyone that have been supportive as I really needed it these past few months," she added.
Cary Deuber won't return to 'RHOD'
Cari Deuber won't be returning to RHOD as a full-time housewife but will take on the role of friend.
"I will be returning to RHOD as a friend this season," Deuber told Us Weekly in a statement. "Our practice has grown so much that I need to focus on managing what we built at Lemmon Avenue Plastic Surgery & Laser Center.  I'm also working on a new project that I'm super excited about and hope to share with you soon. Have no fear, you will still see me and my sarcasm on RHOD!"