'RHONJ': Joe Giudice Gives Fans a Peek Into Real Italian Cuisine
Now that Joe Giudice from The Real Housewives of New Jersey is in Italy, he's giving Instagram followers a little visual taste of what authentic Italian cuisine is really like.
Giudice is sharing videos and images of some of the culinary bounty from the beautiful countryside of Salerno. After Giudice was released from ICE custody, he immediately went to live with his grandmother, according to Bravo's Home & Design. Her home is located in Sala Consilina, which is in the province of Salerno.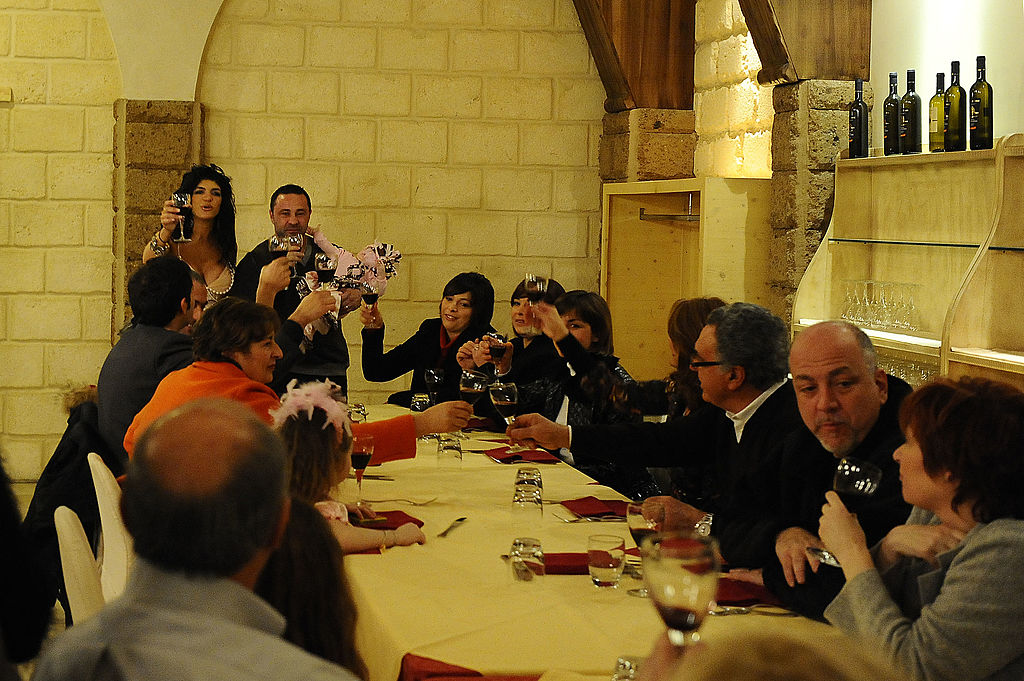 Since then, Giudice has landed his own apartment and looks forward to starting a new job. He gave Instagram fans a tour of his new digs in late November and then shared he was going to start work soon. Along the way he's been sharing images of the different cuisine he's been sampling and giving fans a peek into what it's like to "mangiare in Italia."
Now that's a seafood extravaganza!
Giudice is sampling some of the freshest seafood on the Amalfi Coast. He shared a mouthwatering video with Instagram followers of what could only be described as a seafood extravaganza. Giudice captioned the video, "Positano great place."
He recently visited a fish distribution center in the Tuscany region of Italy. Giudice posted a video of what could only be described as a giant shrimp. Giudice is heard asking where the shrimp was from. "Morroco shrimp," he's told. "That's a big shrimp," he remarks. Another person adds that the shrimp weighs a quarter of a pound and is $48 a kilo. Giudice says the shrimp is so big, it looks more like a lobster.
Guidice then gives fans an "after" shot once the shrimp was cooked. The plate includes the large shrimp and over a plate of citrus. He also gave fans a peek into how the shrimp is processed at the distribution center. "Lot of work manually even with all the technology of today," he wrote along with the video. Then he showed workers breaking up what appears to be frozen fish. "This is how I hit it in the morning 😏," he joked. He also samples another gorgeous dish. "This is a vacuum packed meal so fresh and delicious can't believe it 3 min in a pan to heat up and eat amazing."
He's also enjoying pizza and burgers
Even though he's in Italy he's still able to enjoy one American favorite: Burgers Italian style. Giudice shared a video of the tiniest cheeseburger ever. He removed the tiny bun from the small patty of meat to show fans how cute the burger was he was enjoying. "This is by far the smallest hamburger I've seen," he shares. "That's a tiny little burger." He picks the burger up with his fingers.
He's also diving into authentic Italian pizza. Giudice shared a photo of a fully-loaded pizza that included vine-ripened tomatoes and artichokes. The pizza is completely covered with toppings and seems to be more topping heavy than covered in sauce and cheese. "The best pizza 🍕 that I ever had," he shared.