'RHONJ' Season 10 Taglines: 'The Real Housewives of New Jersey' Are Back
An all-new season of The Real Housewives of New Jersey is upon us and taglines for season 10 of the show have been released. This season the cast consists of the following: Teresa Guidice, Melissa Gorga, Dolores Catania, Margaret Josephs, Jennifer Aydin, and Jackie Goldschneider.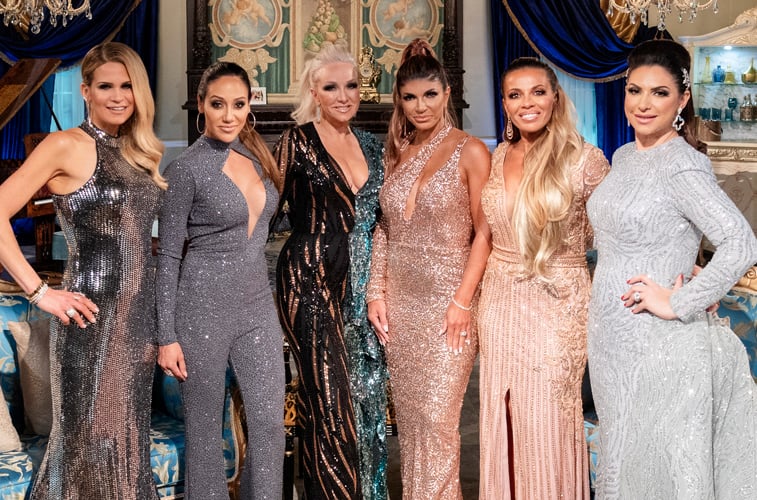 The taglines of each housewife represent their journey throughout the season. Past housewives have said that they are given a variety of options to choose from, they record them, and sometimes they don't know which one ends up airing.
These are the taglines in the order that they appear in the opening sequence:
Margaret: "If you can't take the truth, sue me."
Jennifer: "As I always say, 'plastic makes perfect.'"
Melissa: "Mirror, mirror on the wall, I don't think I look 40 at all."
Jackie: "Don't let the minivan fool you. This mom won't roll over for anyone."
Dolores: "Behind every strong man, is a stronger Jersey girl."
Teresa: "If you rub me the wrong way, there will be no more namaste."
At the end of the sequence, the cast is show once again and their placement is always a point of controversy. The center spot is always reserved for the top housewife and this time it was for Giudice. These are the placements from left to right: Jackie, Melissa, Teresa, Margaret, Dolores, and Jennifer.
Teresa Giudice drama for Season 10
In the last couple of seasons, Giudice has been facing real-life issues like that of going to jail. For season 10, she and her husband will be focused on the appeal of his deportation.
"We're all supporting her the best way we know how," Aydin told Hollywood Life about supporting her co-star through this difficult moment. "I send her messages every now and then. I check in."
The housewife also revealed that Giudice is planning a trip to Italy, where Joe is staying with family, so the father of four could spend time with his daughters.
Although Joe is living outside of the country, Giudice doesn't seem to be too worried about the situation. The reality show star was recently spotted partying in Florida having fun. A source says that as the breadwinner, she now needs to work extra hard for her daughters.
"Teresa is not thinking about Joe's thoughts when she's off in Miami or Vegas or wherever she may be because she's busy working," a source told Hollywood Life. "All of these appearances, trips, etc. are a part of her job and she's solely supporting a family of six right now, so she takes every opportunity that comes her way and does not miss a beat and Joe knows this. He doesn't do social media or read what's on the internet and he's halfway across the world, so he doesn't even really know where she is unless they talk, which they still do all of the time because of the girls and the ongoing case."
All the drama from The Real Housewives of New Jersey stars on Wednesday, November 6 at 9 p.m. ET on Bravo.