'RHONJ': Which One of Teresa Giudice's Daughters Struggled the Most With Joe's Deportation?
The Real Housewives of New Jersey cameras captured the heartbreaking reaction Teresa Giudice's daughters had when they learned their father would not be returning home.
The couple's four daughters have been under tremendous pressure after their mother was first sent to prison. Then their father was sent to prison, but because he never became an American citizen he was deported back to his home country of Italy. The couple was convicted of fraud. This included mail and wire fraud, bank fraud, bankruptcy fraud. They also made false statements on loan applications.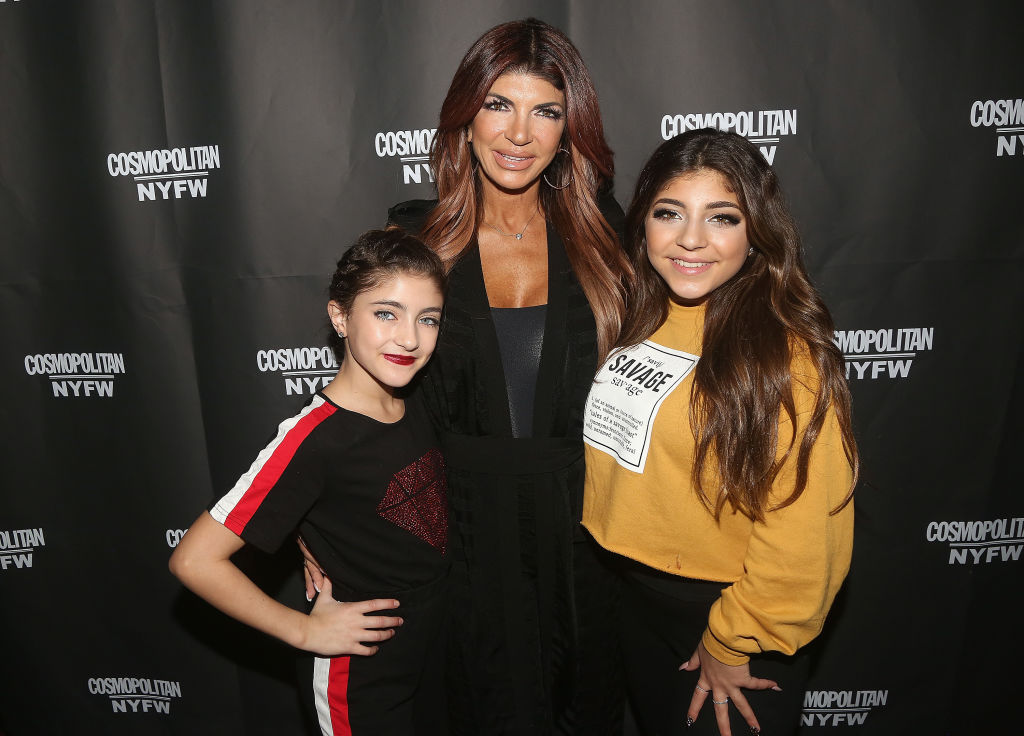 The Giudice daughters range in age from 18 to 10. Teresa recently shared how her girls were handling the new normal without their father. Plus which daughter struggled the most.
They are still fighting
When Joe's appeal was denied, Teresa shared on RHONJ After Show that the girls were obviously upset. "Who wouldn't be upset," she said. "But again, we're still fighting, the fight's still not over. We're still going to the third circuit but I told the girls it's going to be a year and a half before we hear anything."
"Don't think negative, always think positive," she added. "You have one life to live. And live it the right way. When one door closes another door opens." She reiterates toward the end of the segment to stay positive. "The laws might change, you never know," Teresa said. "And whatever is meant to be is gonna be."
Milania struggles the most
Teresa shared that of all her girls, 14-year-old Milania seems to be taking her father's absence the hardest. "Milania, she was like struggling the most over this," Teresa revealed. But the good news is she seems to be coming to terms with the ordeal.
"She's doing amazing," Teresa continues. "She started working out, she lost over 30 pounds. In school, she was like, acting out. But now she's doing amazing in school. She turned her whole life around."
However, Teresa's baby, Audriana who is only 10 was embarrassed, Teresa said. "I guess around her friends," she said. "A few kids asked her about her father, and she told me who the kids were. I spoke to the parents and I explained to them, the situation, so they could explain it to their child. So if they have to ask Audriana a question, they could rephrase it in a different way."
The girls share new and old memories with their father
Milania's Instagram is filled with photos and thoughts about seeing, but also missing her father. "we will never stop fighting for you daddy. It's not the same without you. I miss you terribly. I wouldn't be the person I am today with out you, I wouldn't know how to stay strong," she shared in April.
Gia, who is the oldest, was very vocal about her fight to keep her father in the country. "pictures, memories, and hope is the only thing that has gotten my family this far. we are fighters but my father is someone who is one of the most important people in my life. not a day goes by where we don't love you, miss you, and fight for you with all our hearts. you will be home with us soon daddy. I love you so much," she shared, also in April.
While Audriana has an Instagram account, her page is mainly filled with pictures of family, but also friends. During a recent episode of RHONJ, Audriana became emotional when she admitted to not having the same strong memories of her father as her sisters.