'RHONY': Andy Cohen Reveals That the Season 12 Trailer Is Ready
Real Housewives fans who think the current Bravo line-up is looking a little light can take heart. Bravo producer Andy Cohen confirms the season 12 trailer for The Real Housewives of New York City is ready for release. He just wouldn't say when viewers will get their first taste.
The Real Housewives of New Jersey is winding down, so Housewives fans only have The Real Housewives of Atlanta to quench their voracious thirst in the near future. Amid the seismic shakeup in the OC, cast members franchise wide have also expressed concerns about their own contracts, including cast members from RHONY.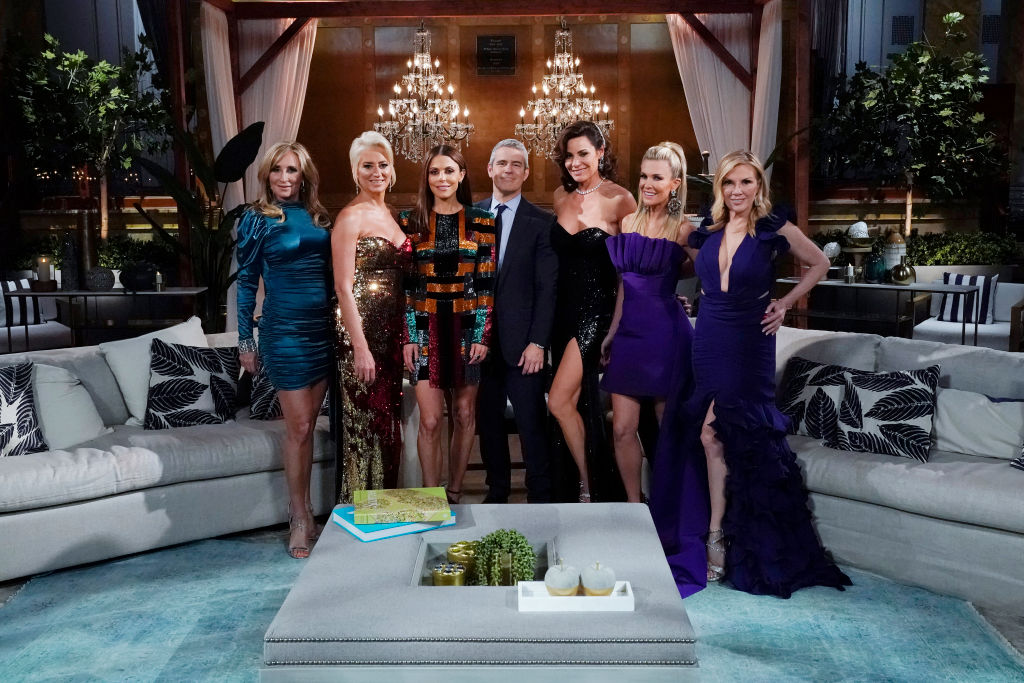 But for now, RHONY fans can count on season 12 to drop in the near future. The upcoming season will likely have a different feel after Bethenny Frankel left. Plus, this is likely to be Tinsley Mortimer's last season. Mortimer got engaged to Scott Kluth, who lives in Chicago.
Season 12 will include these cast members
In addition to Frankel, "friend" Barbara Kavovit also confirmed she will not return to the show. However, some of the usual suspects, plus a new cast member are likely to appear. Sonja Morgan, Ramona Singer, Luann de Lesseps, and Dorinda Medley will return. Also likely to make a guest appearance is de Lesseps' former boyfriend Jacques Azoulay. She recently hinted that fans will "see him soon."
Joining the cast is clothing entrepreneur Leah McSweeney. "She's quite a little number. I really like her. She's really good," Medley told Bravo. However, de Lesseps shared that McSweeney's tattoos threw the ladies off. "Leah has some tats, so the Housewives, you can imagine Ramona [Singer] and Dorinda's response to her, which was, 'Um, really, tats? We don't talk to people who have tats,'" she shared on Michelle Collins' SiriusXM show. "She has a lot of them."
While Mortimer will appear in season 12, this is likely her last season of the show. Thus far, Bravo also hasn't indicated if there will be a "friend" appearing this season.
Mortimer seems to have moved on
Mortimer shared that she and Kluth got engaged in late November. She posted a photo of the actual engagement along with, "I always knew it was you!!! ❤️." Since then, her Instagram indicates she's settled down in Chicago, which is Kluth's hometown.
Morgan dished with US Weekly about Mortimer's engagement. "Tinsley moved to Chicago, but she's not a New Yorker. She's from Florida, she lived in Florida — that's her residency," Morgan said. Then added, "She's never really been a New Yorker, she's been living in a hotel, and you know I'm happy that she's happy. She's much happier where she is, let me tell you that. I can see it. … I'm not going to miss filming with her — what I'm going to miss is seeing her often."
She continued by saying she'd still love to be in Mortimer's life. "I'll go to Chicago and see her! I'm happy that she's happy; that's all I want," she said. "When I invited her to come live at the townhouse it was to protect her from being co-dependent with guys that were mistreating her and not having her brand and not moving forward with herself, not being herself. I feel the time she did spend here with us, she did start to be herself again. … She modeled in the fashion show. She did her charity, she did the circus. We really did well and I think that's why she's getting married now to the man of her dreams."