'RHONY': Ramona Singer and Sonja Morgan Get Shady About Each Other's Weight
Ramona Singer from The Real Housewives of New York City felt the need to tell Sonja Morgan she should drop 10 pounds.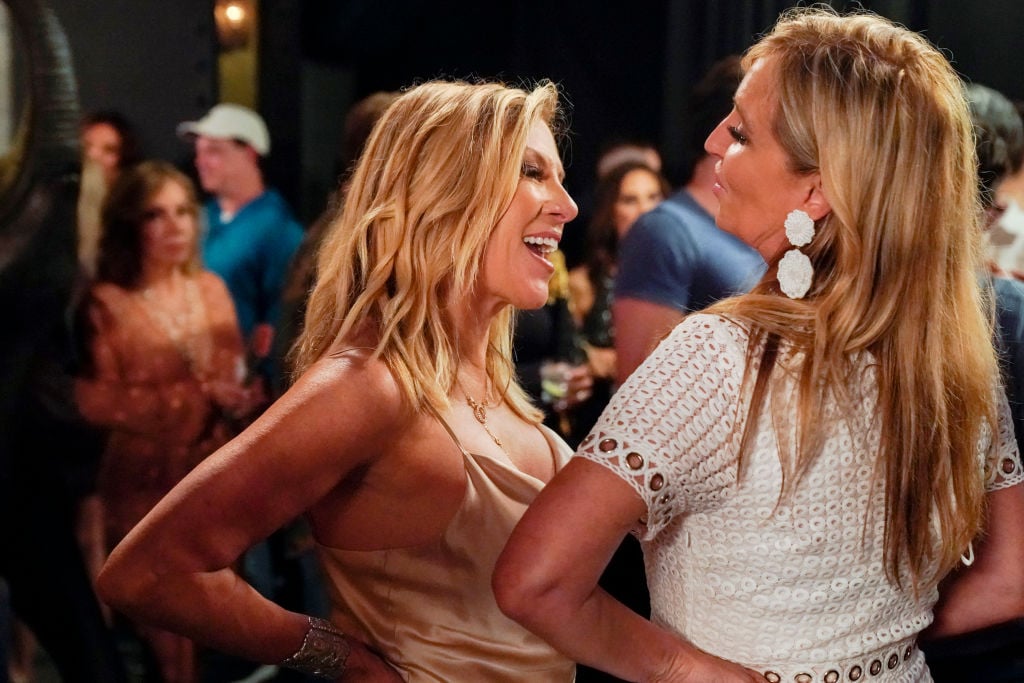 The women got a little catty with each other about weight and size during an upcoming episode as the two made ongoing passive-aggressive digs at each other. Weight is an unfortunate and ongoing theme throughout the franchise and has been featured on RHONY in the past.
Jules Wainstein openly discussed having anorexia nervosa. Plus, Singer and Morgan have sniped at each other about body image in the past. In fact, Morgan showed up at lunch, telling the cast she was on a liquid diet and admitted to feeling like she was going to pass out.
They exchange digs over a dress
Morgan and Singer exchange some pretty passive-aggressive comments about a dress Morgan offered to Singer. Singer couldn't zip the frock so Morgan announced she brought a larger size to Singer at a cocktail party.
"I brought you the dress that you couldn't zip up," Morgan announces to Singer in front of the group. Singer seems grateful. "Seriously, I love that dress," she replies. "I'm so excited."
RELATED: 'RHONY:' Who Upset Sonja Morgan Most During the Miami Trip?
"It's a large," Morgan says, emphasizing the word "large." But Singer lets it go adding that maybe she needs an extra-large. But then Morgan makes another dig. "It looked so good in the picture, you just couldn't zip it up, right? So this one I tried, on. You'll be able to zip it."
Singer says if Morgan can wear it, certainly she can wear it. But Morgan comes back with, "Well, I think I'm a medium. But you don't …"
Singer's earlier comment may have been the reason why Morgan was being shady
Normally making a public comment like this would have been a little rude. When Dorinda Medley arrives she approaches Morgan to say hello. But Morgan loudly whispers to her, "I gave Ramona a dress that I had given her in a medium but she needed a large so I brought the large." Morgan made a point to ensure that Medley didn't miss this fact.
RELATED: 'RHONY:' Has Ramona Singer Really Replaced Pinot Grigio with a New Cocktail?
So why was Morgan going out of her way to be so catty about the dress size? "I was so upset," Morgan says in a confessional. "When we were at the spa, in the locker room, Ramona tells me that I need to lose at least 10 pounds because I'm beautiful."
But Morgan exclaims, "I'm beautiful with weight on b*tich! I mean, really?"
Both Singer and Morgan have adopted a new health lifestyle
Since filming wrapped, both cast members seem to be taking their health seriously. As a result Morgan and Singer haven't looked (or felt) better. Morgan, who is stranded at a spa during the pandemic recently shared she's been working on her best self during lockdown.
RELATED: 'RHONY': Ramona Singer Has Lyme Disease
"Imma still in the desert 🌵," she wrote along with a video. "Working on being my best self. Reeling it in after going off the rails last season. Sometimes I come into a season HOT and sometimes not. This one definitely came in hot. So I need to chillax now. And line up my ducks. So when this dark cloud lifts I'm a lean mean fightin machine. What's your plan after #homeshelter lifts? Are you #sippinandwatchin or on a #healthkick?
#rhony girl #allinmoderation. Even moderation 😂."
Singer, who was recently diagnosed with Lyme disease is putting health first too. She's shared a number of photos and videos where she's working out with daughter Avery. Plus she's eating healthy at home. "Love making a quick, healthy, and tasty dinner! 20 minutes start to finish. 🥰," Singer shared on Instagram. She has a glass of red wine and it appears grilled fish and vegetables.