'RHONY': Ramona Singer Reveals the Real Reason Why She Thinks Her Marriage Broke up
Ramona Singer from The Real Housewives of New York City revealed in a new episode that she and ex-husband Mario Singer probably broke up over money.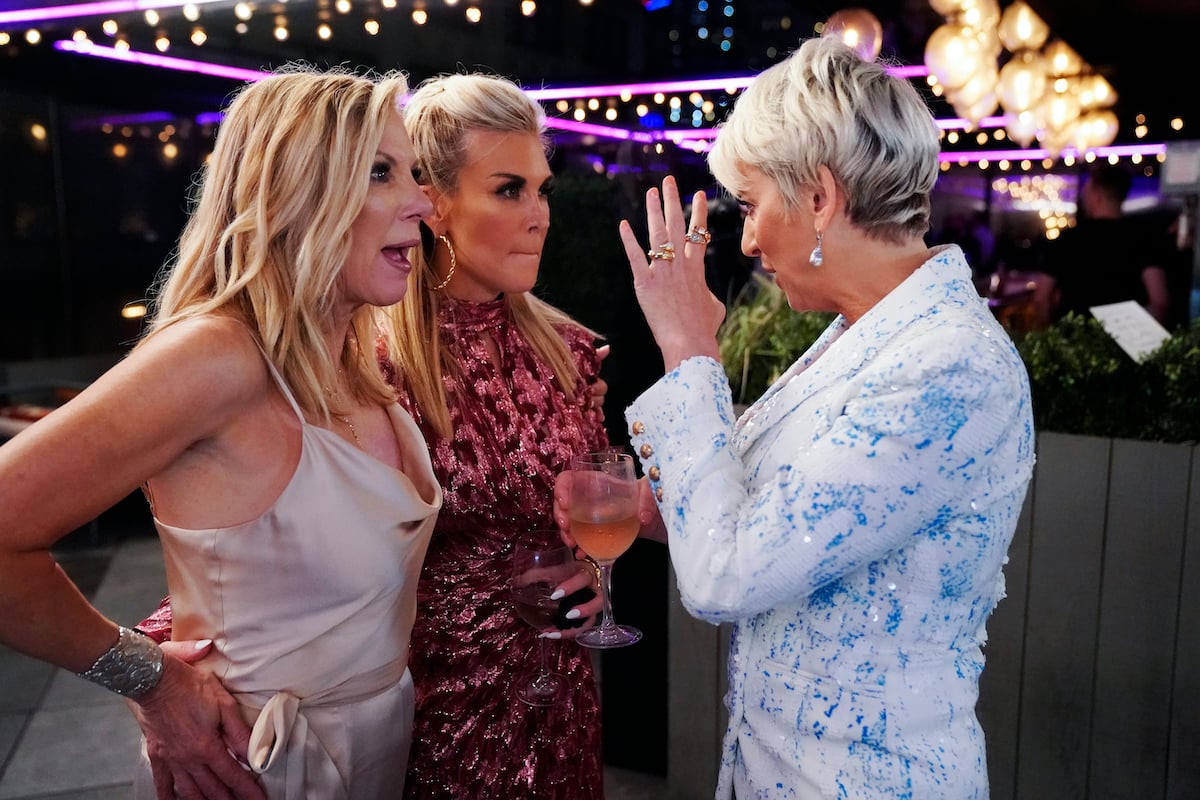 During a dinner party at Blue Stone Manor, Singer discussed why dating is a challenge from someone in her tax bracket. She insists the dating pool is extremely shallow for those in the top one percent because wealthy women aren't just the "average person."
She adds that dating apps are completely out. Singer doesn't think she'd be able to find a man of her same financial stature on any of the dating apps either. That's when she says she believes her marriage broke up because she made "10 times more" than her ex and it was emasculating.
She's not the average person
Singer dished about her dating status with a friend of Dorinda Medley during a dinner party. She launched into the discussion with another "new chapter" reference about her life. "Ramona, how long were you married for?" Medley's friend Sam asks.
"Over 20 years," she says nodding looking slightly forlorn. He says "Oh wow, that's a new chapter for sure. Well, cheers to the new chapter." She adds that she would love to find a partner but she's not just going to date just anyone.
RELATED: Is Ramona Singer from 'RHONY' Dating an Ex-Convict?
"That's why digital dating has become such a phenomenon," Sam tells her. Medley pipes in, asking Sam to help her get on an online dating site. But Singer makes it clear that online dating isn't for her.
Singer throws one arm around Sam's neck and pulls him closer. "We're the top one percent," she whispers into his ear. "You're not finding that on an online site."
Did she and Mario Singer break up over money?
But Sam asks why she doesn't just want to find a good guy? However, Singer feels as though perhaps she can't relate to the average guy. "I'm not the average person," she said in a confessional. "The average person doesn't have two residences. They don't travel all the time, they don't have my social network and my entrée. So, online dating is very difficult for me, that's all."
RELATED: 'RHONY' Star, Ramona Singer Is 'Self-Isolating' With Her Ex-Husband, Mario
Now that the conversation shifts to money, she tells him that men have "little penises and if you are more successful than them, they can't get hard. That's why my ex-husband and I didn't work out because I made 10 times more than him."
Sam jokes, "I'm not touching that with a 10-foot pole." But Singer insists it's true. So he returns with, "It sounds like you wish he had a 10-foot pole."
Mario Singer was having an affair
Ramona Singer opened up in 2014 about why her marriage dissolved. "We were working very hard on our relationship and making great progress," she told US Weekly. "It was really working well, and then I got the feeling that he started seeing [Kasey Dexter] again." Singer's ex-husband was allegedly seeing Dexter in 2013.
"He wouldn't admit to it. He said everything was great with us," she continued. "Then the next morning I pushed him on it and he admitted he [had seen her], and I just said, 'I can't do this anymore. Goodbye.'"
RELATED: 'RHONY': Ramona Singer on How Much Time She's Spending With Her Ex, Mario in Isolation
"I would never reconcile with him. No chance," she said. "I believe in marriage, I gave him a second chance, and he betrayed me and our daughter. You just don't do that."