'RHONY' Cast Season 12: Which New York Housewives Have Been Fired?
Season 12 of The Real Housewives of New York is expected to commence production in the coming weeks and there is already talk about which cast members will be returning and which ones were let go. Luann de Lesseps recently dropped some juicy gossip regarding the cast changed and we have all the details of the new season of the Bravo show here.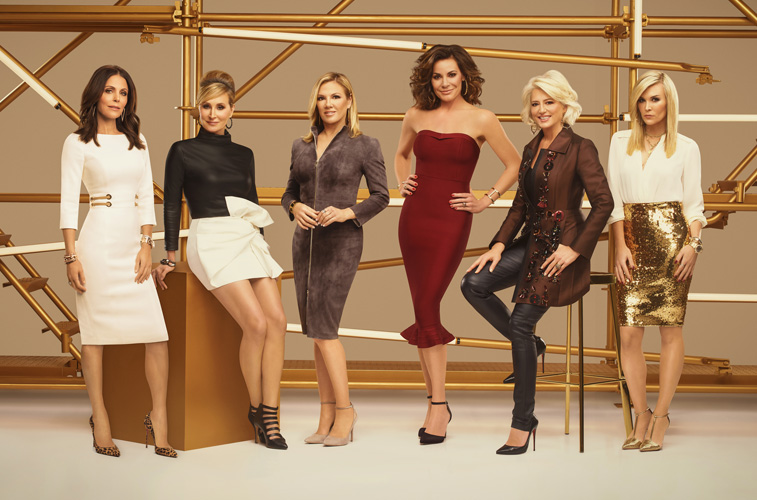 Which Housewives Have Been Fired From 'RHONY'?
The good news is that all six current RHONY housewives will be returning for Season 12 which would be: Bethenny Frankel, Sonja Morgan, Ramona Singer, Luanne de Lesseps, Dorinda Medley and Tinsley Mortimer.
"After a few of the ladies felt fearful about what would happen to their fate on Real Housewives of NYC, they are all satisfied and excited to be returning next season," an insider told Hollywood Life. "They all seem excited to get back to filming later this month. Everyone wanted to come back and everyone wanted everyone to come back, despite any tensions because at the end of the day, they love to film together. Ramona was a bit nervous since rumors were swirling she'd be let go as was Tinsley. They'd both like another ally going into next season."
According to that same recent report, all housewives were frightened by the demotion of the OG of the OC, Vicki Gunvalson, and are set to be more entertaining for the new season that should start filming soon.
"When Vicki Gunvalson got demoted from Real Housewives of OC, several women felt scared and realized they too could be demoted, especially the older ladies," the source added. "Nobody feels safe anymore to return. Because of this, expect the cast to bring their A-game. Ramona has no plans of stopping the drama between she and Luann. The two still haven't made up since the reunion."
Is Barbara Kavovit Returning To 'RHONY'?
Barbara Kavovit was introduced to RHONY fans at the beginning of Season 11 as Luann's friend. She was a close friend to the "Feeling Jovani" singer that was there for her during the most difficult of times in her sobriety treatment. Although she seemed to have roots with the ladies, she was not able to connect with the rest of the cast. During the cast trip to Miami it was especially evident when Ramona blatantly excluded her from an outing and making Barbara feel left out.
The RHONY-friend posted a photo on Instagram and one of her followers asked if she was coming back for another season. "Don't think so love," she replied.
Barbara's tune was much different back in June of this year when she was considering a return to the Bravo reality show.
"There's still things that are left undone. And I king of might want to get back into and, you know, they filmed so much of me on my job sites, but they never aired it. And I just think that I'm really grounded and I think I lend something to the group. At least that's what I've been told," she told Us Weekly in June.
Ramona Singer and Dorinda Medley Push For New Housewives
Dorinda said that when Barbara was added to the cast in a friend role, she wasn't aware that it was happening. The housewives are kept in the dark of who joins the lineup until they start filming and Berkshires resident says she wouldn't mind bringing in new ladies to the group.
"I always think it's great — not only for the cast, but for the audience — to see new blood. Sometimes it works out, sometimes it doesn't," she told Hollywood Life. "And when it doesn't work out, as you saw this year, it's pretty obvious fairly quickly. I'm always very open and welcome to new people coming. If it works, it works."
Ramone on the other hand, was not happy with Barbara. "It was impossible for Barbara to gel with the group. I don't think she knows how to gel with more than one person at a time," she told Us Weekly. "I think I even had a discussion with her in Miami about that."
Who Is Joining The 'RHONY' Cast For Season 12?
Ramona is trying to bring in a friend of hers that will surely make Luann upset as she is determined to get Missy Pool on the show. The aforementioned dated Lu's ex-husband Tom D'Agostino and this would surely cause tension between the group.
"Ramona knows that having Missy join would be great for TV. Ramona and Lu aren't in the best of places, and Ramona would like another ally for herself. Ramona knows how much it would get under Lu's skin if Missy joined. She thinks Missy would be a great fit, so she made the introduction and pitched the idea," a source told Hollywood Life.
Meanwhile, cabaret star Luann let it slip that a new face will be joining the girls for Season 12 and it's not Missy.
"I don't think that's going to happen," Luann said about Missy joining the RHONY cast during an interview on SiriusXM with Michelle Collins. "I think they already cast somebody else. Can't tell you who, but I think they did!"