'RHOP': Karen Huger Joined Monique Samuels' Live Podcast to Discuss Marriage After the Honeymoon Phase
'RHOP' star Karen Huger joined co-star Monique Samuels for her live Not For Lazy Moms podcast to discuss marriage after the honeymoon phase is over.
Monique Samuels joined the Real Housewives of Potomac cast in Season 2 after Katie Rost was fired from the franchise. She and Karen Huger, a housewife since the beginning, never seemed to have any problems with each other even though they had differing views at times.
After Samuels supported Huger at the Bloomingdale's pop-up for her new perfume line, the La'Dame owner repaid the favor and spoke at Samuels' live podcast as a special guest.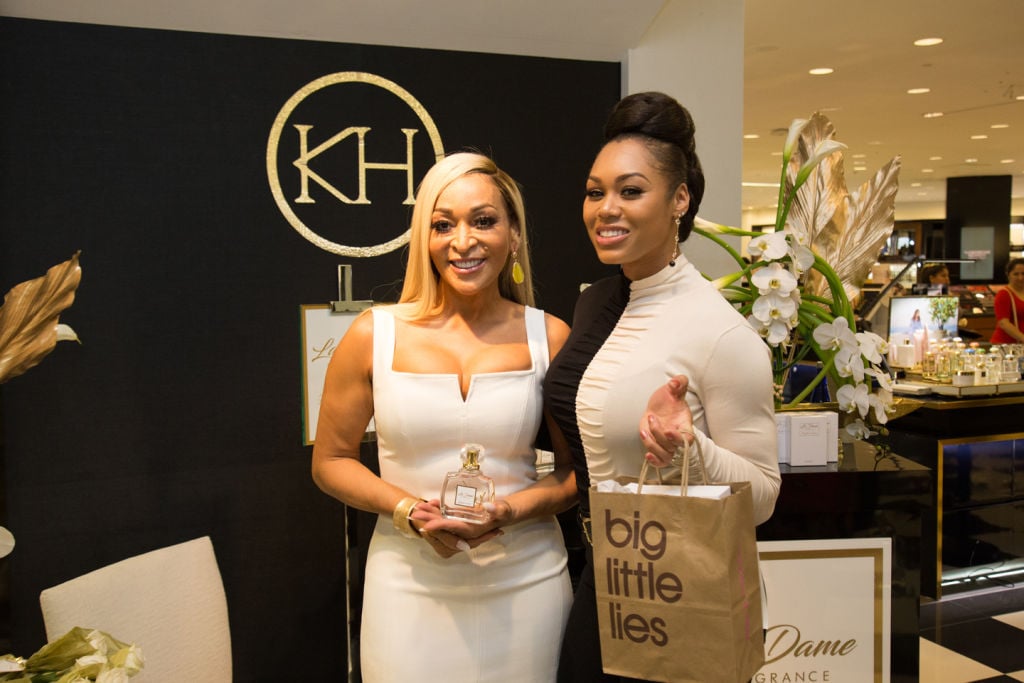 Monique Samuels on 'Real Housewives of Potomac'
Originally from Pleasantville, New Jersey, the entrepreneur moved to Washington D.C. after a few semesters of college to follow her dreams of becoming a singer.
She then met her future husband, NFL star Chris Samuels, and they have three children; six-year-old Christopher, three-year-old Milani, and newborn baby boy, Chase.
More than just a football wife, Samuels manages a real estate investment company, a business enterprise, and the Chris Samuels Foundation, which she shares with her husband.
Additionally, the mother-of-three launched her brand, Not For Lazy Moms, in 2018, which includes a podcast she hosts where she gives relatable advice and an accompanying website that also includes tips and sells essential oils.
Her podcast became so popular that she decided to take it on the road for a live event mini-series.
What is Monique Samuels' podcast, Not For Lazy Moms?
According to the website, Not For Lazy Moms is a "community of resourceful women who are determined to accomplish their goals and are dedicated to helping one another succeed."
Samuels explained that she birthed the company because people kept asking her for natural solutions for sicknesses, including the common cold, nasal congestion, earaches, and more.
Therefore, she wants to use her platform to share her tips, and allow others to share theirs, for keeping families healthy. Her website also includes monthly giveaways, lifestyle tips, parenting advice, natural living tips, sells essential oils, and allows visitors to write their "confessions."
Due to popular demand, Samuels recently started taking her podcast on the road, but this time, Real Housewives of Potomac co-star, Karen Huger, and her husband made an appearance as special guest speakers.
Karen Huger joined Monique Samuels' live podcast
On Saturday, October 12, Samuels held her live podcast party at the City Winery in Washington, D.C., with guest co-host, Ashley Silva, from Funtime Moms Podcast.
The entrepreneur's husband, Huger, and Huger's husband, Ray, joined the Samuels onstage to discuss what happens in marriage after the honeymoon phase has ended.
The La'Dame owner posted a picture of the four on stage to her Instagram feed, saying she was "supporting her girl" on her podcast.
Samuels commented, "So grateful for you and Ray! Y'all were awesome!!! Thank you for being supportive, no matter what! Not many out there like you who keep their commitments even through the B.S.!" She then closed her message with three kissy face emojis.
The event in D.C. kicked off her podcast mini live series as she plans on visiting other cities until the end of the year.