'RHOP' Karen Huger Seemingly Sided With Monique Samuels After Candiace Dillard Pressured Her
In an attempt to get Monique Samuels fired from Real Housewives of Potomac after a physical altercation, Candiace Dillard, Robyn Dixon, and Gizelle Bryant all refused to film with the mother-of-three for the majority of Season 5.
According to sources, Dillard also pressured Karen Huger and Ashley Darby into choosing sides that allegedly caused a confrontation between two husbands during the finale party. In an Instagram post, Huger seemingly picked Samuels' side.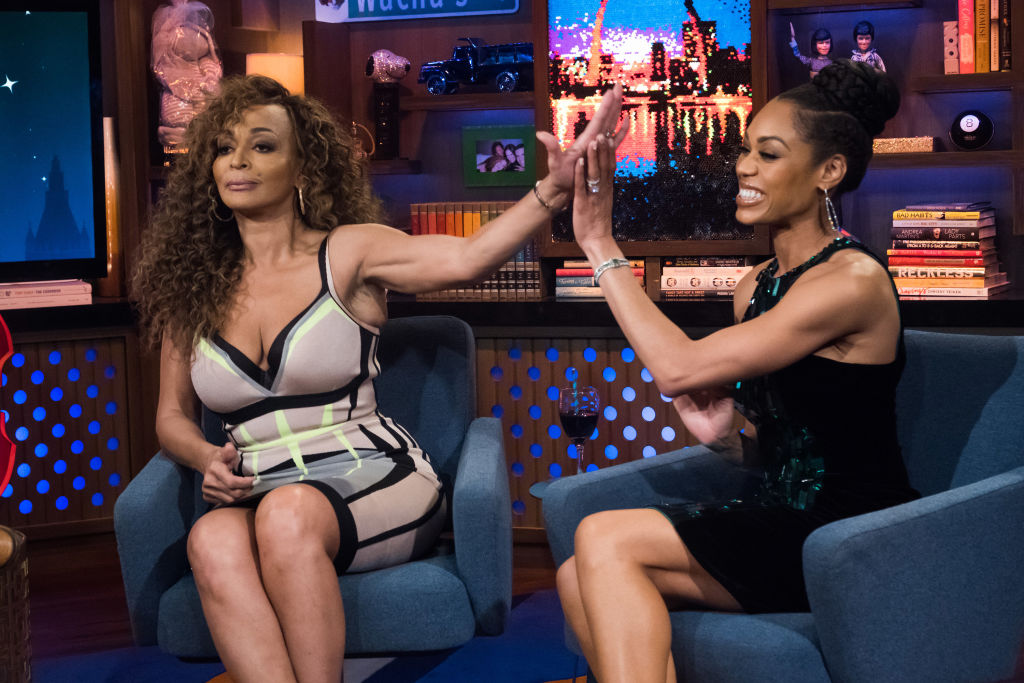 'RHOP' Monique Samuels and Candiace Dillard had a physical altercation
On October 16, Monique Samuels, Candiace Dillard, and some of the other housewives were filming at a winery when a fight broke out between the former friends.
According to sources, Dillard threw a drink, and the glass, in Samuels' face. The mother-of-four then allegedly responded by grabbing the pageant beauty by her hair and slamming her face on the table. Police arrived at the scene, but they did not arrest anyone.
A few weeks later, Dillard filed a complaint with the court, and they found probable cause to issue a summons for Samuels to appear in court on December 23, 2019, on a second-degree assault charge.
Even though the pageant beauty and her attorney claim Samuels attacked her first, the mother-of-three filed a counter criminal summons and asserted Dillard was the aggressor. The Atlanta-native has her day in court on February 6, 2020.
Candiace Dillard allegedly pressured 'RHOP' and the ladies to choose a side
According to insiders, Dillard attempted to get Samuels fired from Real Housewives of Potomac by calling the production company and claimed she did not feel safe around the mother-of-three.
Housewives Gizelle Bryant and Robyn Dixon sided with Dillard and refused to film with Samuels to try to force the company's hand and cut Samuels. Other co-stars, Ashley Darby and Karen Huger, have continued to film with the mother-of-three, which has allegedly infuriated Dillard.
Sources reported that the pageant beauty demanded Darby and Huger to pick a side, which resulted in a confrontation between Dillard's husband, Chris Bassett, and Darby's husband, Michael, at Dixon's Finale Party.
The Baltimore-native did not invite Samuels to the party as the three ladies are committed to getting the mother-of-three off the show. According to sources, the actions are disheartening to producers because they want Samuels on RHOP as she actually lives in Potomac and lives a housewife lifestyle.
Karen Huger seemingly sided with Monique Samuels
On December 6, one of Samuels' Instagram followers commented they were "rooting" for the mother-of-three and Dillard to resolve their differences. She replied, "I was too babe! But as the saying goes, when people show you who they are…believe them."
On December 18, a week after the finale party, Huger uploaded a quote by Maya Angelou to her Instagram feed, which reads, "When someone shows you who they are, believe them the first time." She also captioned it, "Truth! Game on… #RHOP."
Samuels and Dillard both liked the post, and the mother-of-three commented, "Literally" with the nail polish emoji. Even though the pageant beauty "liked" it as well, Huger seemingly sides with Samuels as they've filmed together throughout the season. Additionally, the Grand Dame and Dillard already had problems in earlier seasons of the installment. Did Huger side with Samuels?
Watch Real Housewives of Potomac in Spring 2020.